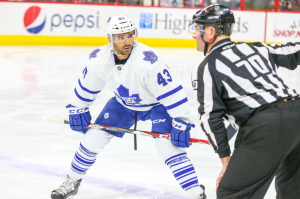 For me, and I realize this is entirely subjective, the Leafs hit rock-bottom sometime around 10:00 PM Eastern Standard Time on January 9th when they lost to the Hurricanes 4-1, with their single goal being just the second in five games.
Peter Horachek took over the team as they went on a brutal West-Coast trip without their best defenseman and while trying to play an entirely new  kind of hockey: the one were you play defense and don't allow almost 40 shots per game.  It was a thankless situation and one in which he had almost no chance of succeeding in.
Now, acknowledging that the team was in turmoil and that the only way to score just two goals in five games is to be extremely unlucky (for example, they had 134 shots over those five games and shot less than 2%, which is statistically unlikely even if you tried not to score on purpose) it still counts as rock-bottom because that is the point where you knew that not only were they a terrible team, but  that they were possibly even cursed.
From then on, the team was done. The Playoffs were an impossibility and the countdown to the draft began in earnest.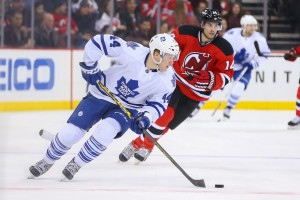 But What Happens After You Hit Bottom?
As much as it sucked to see the team hit bottom, it is also very freeing. As I wrote many teams prior to January, the Leafs were in an untenable situation where the best-case scenario was to finish 8th in the Conference and squeak into the Playoffs, while the most likely situation was that they would finish just far enough outside the Playoffs to cost them in the draft and end up with nothing, as we'd experienced several times in recent memory.
So, through that lens, the Leafs hitting rock-bottom was a good thing. Suddenly we were freed up from cheering for mediocrity, and given the hope that this thing could be done right. And by that, I don't mean finishing last for five years straight and hoping to get lucky in the draft, but rather, that the team could re-build with youth and a tenable cap position with focus on sustainable competitiveness.
So now that Nonis is gone, now that the team will almost certainly revamp it's core players and attempt to build around Rielly, Nylander, Kadri and whoever they pick this summer, times are changing drastically.
I don't think I am alone in feeling that a few more years of non-Playoff hockey is a small price to pay for having a team that is not haphazardly thrown together based on feelings and hunches. To see and hear that the team plans on being on the cutting-edge of data utilization is very exciting.
To have young executives like Kyle Dubas and Mark Hunter (not that young, but he's fresh to the NHL) is very exciting too.
To see what we can get for Kessel and Phaneuf, maybe even Bernier and JVR.
To see who will be the new coach and to see who the new GM will be and how he will fit into Shanahan's unique power-structure.
All in all, nearly everything that was frustrating about following this team (Dave Nonis and inept management, poor coaching, a lack of direction, a seeming satisfaction with just making the Playoffs, bizarre personal decisions, horrible cap-management etc.) is now either gone away or taken care of (yeah, Rogers and Bell still own the team, but what can you do?) and I think that not only does the future look very bright, but even the present is getting exciting.
I can't wait to see what happens this summer.
Thanks for reading.
Covering the Leafs for the Hockey Writers.