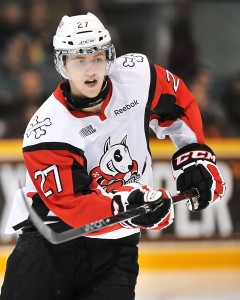 I'll be the first to admit that I normally do not follow junior hockey very closely. In fact, outside of the World Junior Championships, the last time I saw a major junior tilt was probably while I was growing up in Cape Breton. I can't remember the exact date of that game, but I do recall that the Screaming Eagles were still new in town, which would place it somewhere in the ballpark of a decade and a half ago.
However, two Saturdays back, with the lockout set to enter its fourth month and the itch for live hockey about to drive me crazy, I decided it was time to re-visit the CHL.  A good friend and I packed up the car and headed west towards Ottawa, with Scotiabank Place as our final destination. The 67s were set to host the Niagara IceDogs in an afternoon match-up, and tickets were unbelievably reasonable in their pricing. For less than the price of a single NHL ticket, two of us were able to drive to Ottawa, eat lunch, and purchase lower bowl seats.
As a sort of exercise in restraint, I decided not to look at any statistics, or even the rosters ahead of time. I wanted to simply sit down and watch the game, taking in the action for what it was, instead of constantly focusing on the players whose names I recognized. Of course, guys like Cody Ceci, Sean Monahan, and Tyler Graovac have reputations which precede them, so I couldn't help but notice as they took the pre-game skate.
But during warm-ups, it was a player on the far end of the ice who kept catching my eye. Although I couldn't quite make out the name on his jersey, there was one hulking defenseman whose perfect stride looked almost unnatural on such a large frame. There was a fluidity to his every movement which seemed so relaxed, he barely appeared to be moving at all.
Just before the opening face-off, he finally turned at just the right angle so that I could make the name and number adorning the back of his jersey; Hamilton, 27. The Boston Bruins first selection in the 2011 entry draft, ninth overall, Dougie Hamilton's name was instantly recognizable. I had watched him as a member of the 2012 Canadian World Junior team, and most experts had him picked as a can't-miss prospect all the way back to his early teens.
In describing the 6'5, 200lb defenseman, it would be easy to simply list off his impressive career statistics. He has produced points and taken home individual awards at every level he has played, but what I saw that in just a few short hours that afternoon told me more about Hamilton's on-ice presence than any statistic possibly could.
Dougie Hamilton, both literally and figuratively, stood head and shoulders above the competition that day. Despite registering just a single assist on the score sheet, he dominated the game at every level, each and every time he jumped the boards. There is a confidence and calmness to his game that seems to slow the pace of everyone else around him. Never panicked, and seemingly never out of position, Hamilton looks downright comfortable on the ice, both with and without the puck.
Whereas other players seemed to experience ups and downs as the game went on, number twenty-seven was the model of consistency. Although he never seemed hurried, he always arrived to the loose puck first. They say that great players make it look easy, and in somewhere in the second period of that game, I began to realize exactly they mean. Even with no fewer than five future NHLers on the ice at any given moment, Hamilton looked like a man among boys.
To capture the essence of how impressive Hamilton really is on the ice, numbers simply don't cut it. After all, he did register just the one assist that day… but still managed to leave a significant and lasting impression. Much of what Hamilton brings to the ice is intangible. It is his presence, the fact that opposing players don't even consider his side of the ice as a viable option for dump-ins, and the effect he has on the teammates who surround him. It's the kind of thing that needs to be seen to be understood…and honestly, it's the kind of stuff Norris Trophies are made of.
Without a single preconceived notion about what to expect, Dougie Hamilton absolutely blew me away with his ability to dominate the game. The Bruins have always had a propensity for finding and developing franchise-caliber defensemen, and in Hamilton, it appears that the tradition is certainly alive and well.