If you're a hockey fan you probably remember David Ayres, the emergency backup goalie (EBUG) in Toronto who played a game against the Maple Leafs for the Carolina Hurricanes. Ayres, 43-years-old, was the operator of the ice resurfacer (Zamboni) at Ricoh Coliseum and often suited up for the Leafs and Marlies when they needed a goalie at practices.
Ayres won that game 6-3 for the Hurricanes, forced into action after both of their goalies were injured, and a legend was born. That was one of the last feel-good moments we had in the hockey world because little did we know that less than a month later the entire planet would be in the middle of a pandemic and the sport would be shutdown.
Last season in the NWHL Mariah Fujimagari was a goaltender for the Buffalo Beauts. Before that, the 26-year-old Markham, Ontario native had played professionally in the CWHL (Worcester) as well as in Slovakia (EWHL).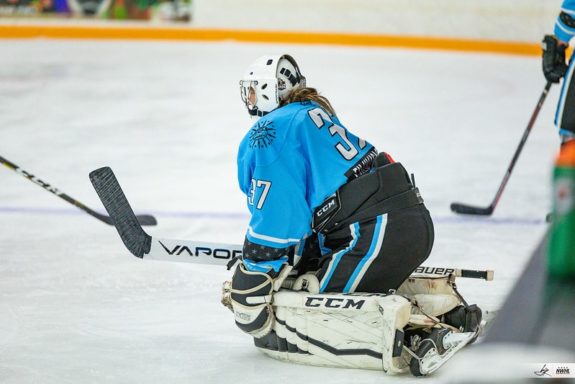 This upcoming season the NWHL has compressed their schedule into a two-week span (Jan. 23-Feb.5) in Lake Placid, New York. A few teams will be carrying more than two goalies on their roster, but the majority will have just two. 
So what happens if someone tests positive for covid while in Lake Placid? What happens if a goalie gets hurt in a game and is unable to play in the remainder of their team's games? What happens if both goalies get hurt? These are all real possibilities in a world filled with more unknowns than we have ever encountered before.
Enter Fujimagari. 
The Hockey Writers chatted with the netminder to find out about the journey she took to become the NWHL's EBUG for Lake Placid, and how she stayed involved with the league despite not having a contract for the majority of the off-season.
How it Started
"There was a lot of uncertainty at the end of last season because of the pandemic, rinks closed down, and the world was in this unfamiliar place," recalled Fujimagari. "I was still in Buffalo for about four months following the end of the season."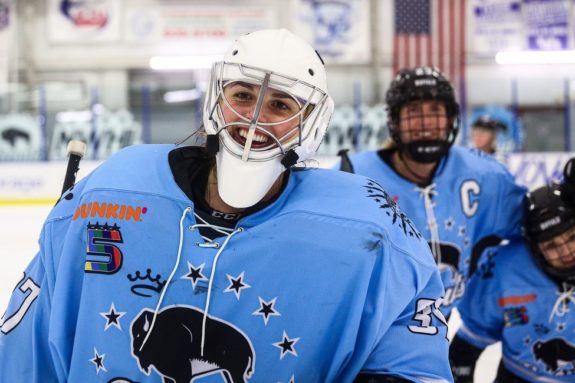 There was no ice-time available. All of the usual off-season routines have been thrown out of whack. But those are just minor hurdles. Fujimagari got a Peloton bike. She started deeply focusing on areas of training (mobility, soft tissue, hand-eye coordination) that during normal times maybe she wouldn't have. 
As the months went on nothing was getting better concerning the pandemic. So she packed up, relocated from Buffalo back to Massachusetts in the summer, and set up her home base there.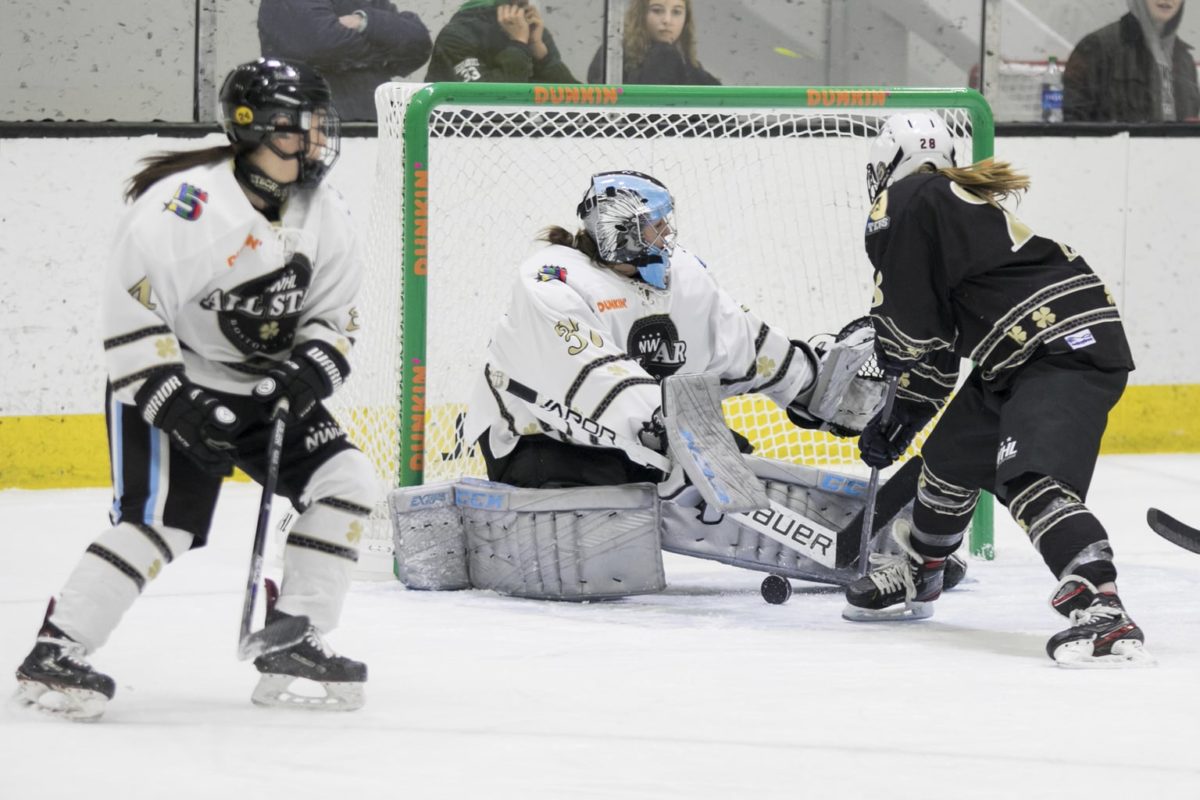 "I started reaching out to the NWHL teams in the Northeast. When I spoke to the Connecticut Whale, specifically with (assistant coach and former goaltender) Laura (Brennan), it was just…I just got a good vibe. They have a cohesive vision about their program, and where they want to take it and I felt my core values really aligned with their program."
There was no ill will or bad blood towards the Beauts despite her departure. Fujimagari says they parted on great terms and has the utmost respect for what the organization has become over the past two seasons. From her perspective, there just wasn't a mutual fit between herself and the team for the upcoming campaign.
"I appreciate everything that Nate, Pete, and Rhea do for that team and I had a phenomenal experience playing there and I learned a lot," she added.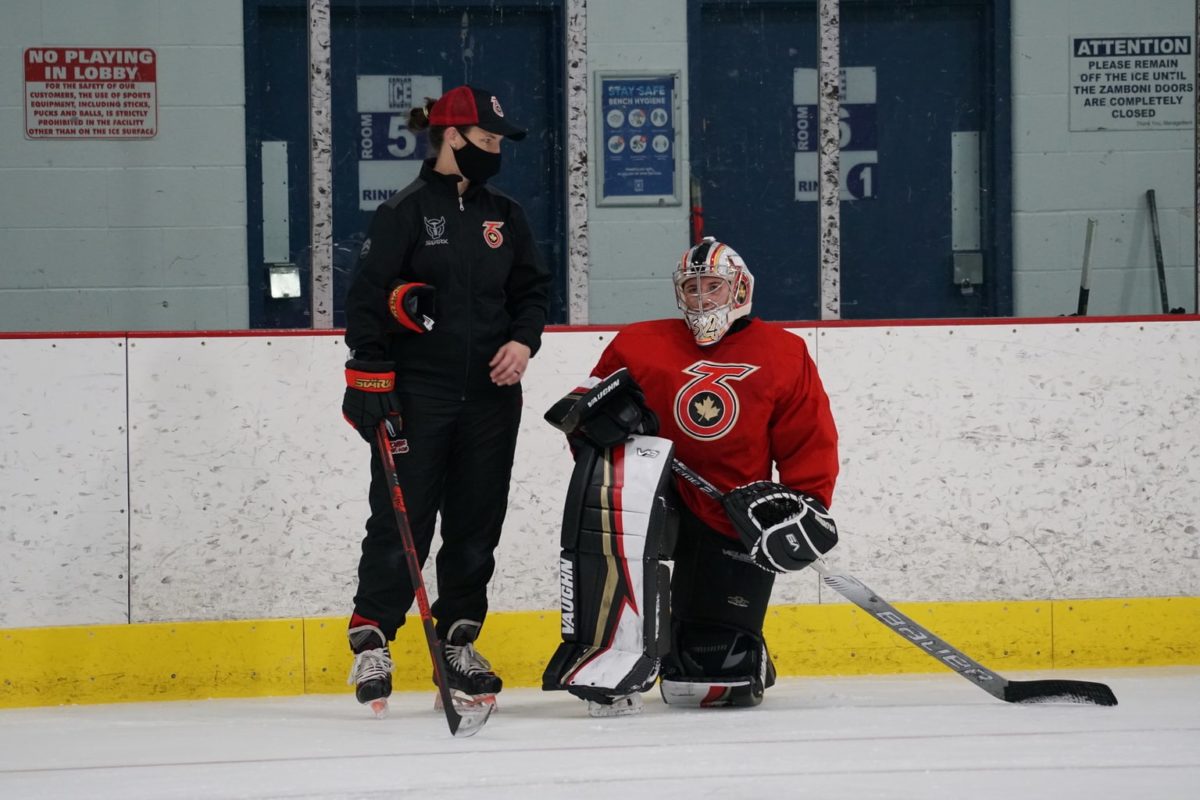 Nate Oliver took over as the Beauts' GM when their former GM, Mandy Cronin, took the same position with the NWHL expansion team in Toronto. With Fujimagari being from Markham, Ontario, and her previous relationship with Cronin, how much of a possibility was it that she would sign with the Toronto Six?
"We talk often and I've known Mandy since I was 16-years-old. We had some conversations after she took that job, but that wasn't really an option that was on the table for either side," said Fujimagari. 
It won't happen this season with all of the NWHL's games being held in Lake Placid, but she is looking forward to playing in her home country again in the following season. "It would be surreal," she said. You could just about hear her smiling through the phone.
"I got to experience that a little bit playing in the CWHL, and played in Markham and Toronto. It was a special moment in my career. I've always played far away from home."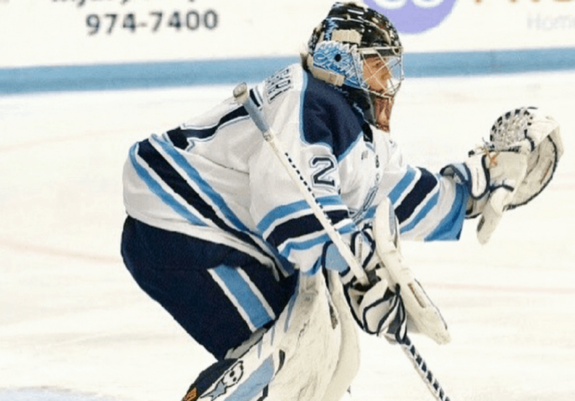 Maine (college), Slovakia, Massachusetts, Buffalo. Her family and friends have been committed though, and yes they even went to Slovakia to see her play. "If I get that opportunity to play there (in Toronto) next season professionally it would just be a dream come true," she added.
When asked if she'd like to continue playing in the NWHL next season, "Absolutely! I'm looking to get a few more years out of this horse," she replied.
Lending a Helping Hand
While she was unsigned and training in anticipation of joining the Whale, Fujimagari was still heavily involved on the NWHLPA side of things. 
"I've gotten the opportunity to give a voice to the players. Anya Packer (Head of the NWHLPA) is incredible at being a trailblazer for women's hockey and really helping to take the NWHL to the next level," she said.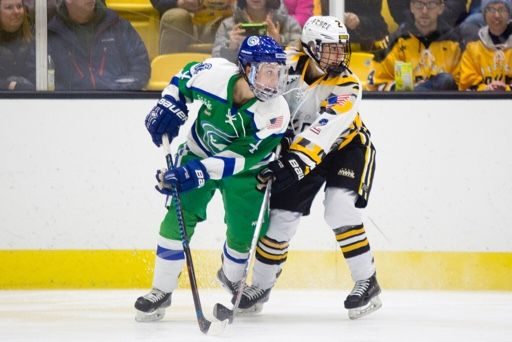 "It meant a lot to me to continue to have that involvement (despite not being signed or assured of a contract for herself), to continue to bring that vision to life. I'm basically Anya's right hand for all of the social media," Fujimagari added, and explained that is something she did at the University of Maine as well. 
"For me, it really comes down to the faith that I have in not only my journey as part of my career but my journey in assisting in the progression of women's hockey. I'm in control of what I can contribute and I just really enjoy every step of this journey. We're all a piece of this puzzle that is bringing the NWHL and women's hockey to life, and to bring that professionalism and respect that it really deserves."
Trust the Process
Fujimagari obviously connected with the Whale in her conversations with their staff and was on the ice with the team back in late September, early October when they began having organized skates. She was already making trips from Massachusetts to Connecticut to train with Brennan once a week, so once the team's practices started she was now making four trips per week.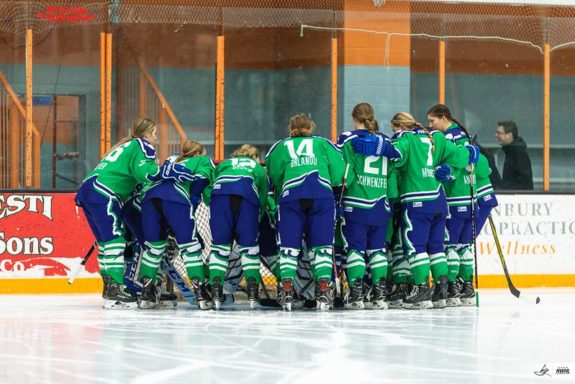 "I can't say anything other than positive things about the entire Whale organization, right from the top and all the way down. They really take care of all of the details, whether it be a practice plan being sent out before practice, or having video as a resource, everything is taken care of before we get to the rink. So when we get there it's all about that camaraderie, enjoying each other, and the special time together because we don't get that time away from the rink as much because of the pandemic," Fujimagari said.
"We have some fun in the locker room, but once we hit the ice we get down to business and try to maximize the practice time that we have."
How it's Going
So how exactly did the process unfold of Fujimagari becoming the EBUG, not just for Connecticut, but for three other teams as well? If we've learned anything about life over the past ten months it's that you have to be able to adapt to the environment, have an open mind, and be flexible.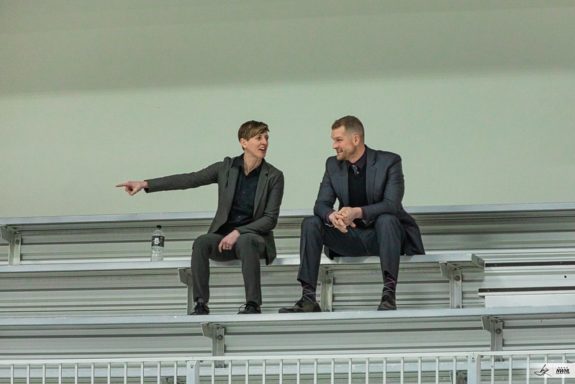 "I was really humbled and honored when (Head Coach) Colton (Orr), (GM) Amy (Scheer), and Laura came to me. They said that between my work ethic, my positive energy, and my dedication to show up for weekly practices with the team that it was evident to them that I was there with a mission to be able to contribute to the team however and in any way that I could," she explained.
"They wanted to reward and acknowledge me for that. So they said they figured out a unique way for me to be a part of the season in Lake Placid and asked if I was interested. I was very appreciative of them taking the time to go to bat for me. I'm excited to be able to contribute and jump in there if I have to."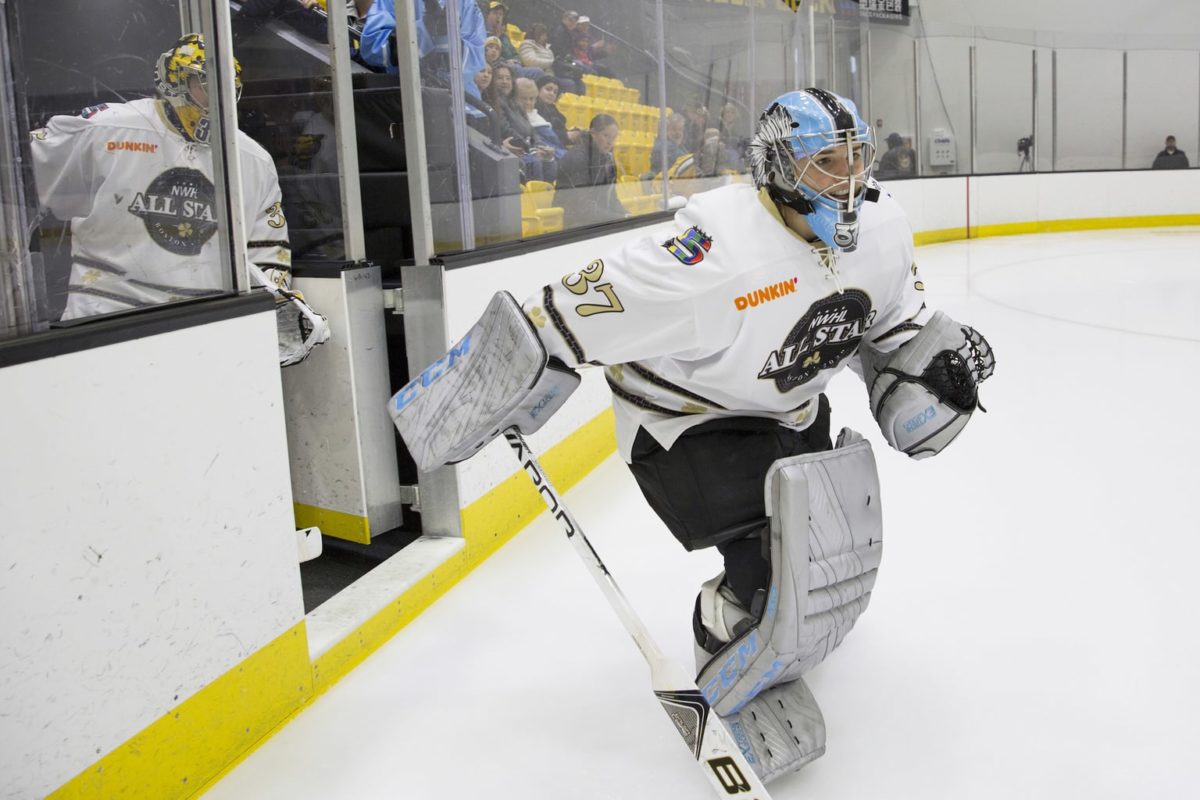 The Whale staff, the NWHL, and the Board of Governors came up with a plan for Fujimagari to be the EBUG for not only Connecticut but also Boston, Metropolitan, and Minnesota – if and when a goaltender was unable to suit up. To her knowledge, Buffalo and Toronto will be bringing three netminders. No one wants to see games canceled, or postponed because of someone getting sick or injured and you can't get a goalie (with a negative test) into Lake Placid. So Fujimagari is that insurance policy, for lack of a better term, for the league.
On the Road Again
"I've been on the ice six times a week leading up to this. Three times a week with the Whale for practices. Once a week with Laura for a goalie session, and twice a week for goalie sessions in Boston," explained the well-traveled tendy. "It's just been phenomenal to have that much ice-time and stay game-ready. I also do a four-day lift program. Just trying to keep my body sharp and I'm on the Peloton bike twice a week. Mind exercises, eye exercises. It hasn't been a year off by any means! I am committed to this journey of being a professional goaltender."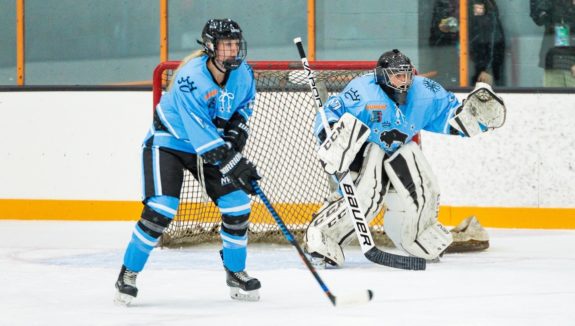 Recovery has also been a huge part of Fujimagari's offseason regiment. Using the Hyperice and Normatec products as well as the sauna in her basement at home. Also, yes, in her car after practices during her commute home. On any given day that she goes to Connecticut from Massachusetts, her commute is at least six hours round trip. She generally gets home around 12:30 a.m. after practice. Practice is in Danbury. Training days with Brennan are in Fairfield. 
"Between August when I got a brand new car and January, I have put 18,000 miles on my car," said Fujimagari. Holy Moly! 
Friday is the lone day of the week she isn't driving around the New England area to train. 
"My commitment to hockey and the NWHL is unwavering. I am doing whatever it takes to be the best goaltender that I can be and if that means jumping in my car for four hours a day then so be it," she added. "If this is what it takes to set the groundwork for a younger girl that in ten years will be able to make a living wage as a professional athlete – then I'm all game for it."
Team Chaos
Way back in February when Ayres suited up for the Hurricanes he did so with his Toronto-themed and colored goalie gear. So what happens for Fujimagari? If she is pressed into duty for example Minnesota, will she be wearing Connecticut colors?
"If and when the opportunity arises and I have to jump in the net then I'll show up for whoever is in front of me and I'm excited about that," Fujimagari said. "I'll be at the rink for every game, but I won't be warming up on the ice three times a day," she added with a laugh. "I'll have my gear at the rink. I'll be ready mentally. And it'll be a fun time if I have to play against the Whale! As far as travel and accommodations though, I'll be with the Whale, staying on the same floor as them in the hotel."
"I moved on from my silver pads and went back to my black and white set. So now that I'm with the Whale I put on the blue and green pad skins/wrap. In the scenario that I have to jump in the net for another team, I will just take them off and have the black and white look. You have to be flexible during these times!"
We suggested that she revert to an all-white mask with stickers of the league logo and maybe all six team logos as well, but Fujimagari revealed that she got a new mask from Goalie Parts, a company in Chicago. 
Year of the Whale
Of the NWHL's Founding Four teams, Connecticut is the only one without its name etched on the Isobel Cup. They are hoping to change that this season. With the talented team they have assembled over the off-season, the circumstances of the compressed schedule, this may be their year. This writer loves a good underdog story, and a storybook ending, so how neat would it be to see Whale captain Shannon Doyle hoist the Isobel Cup in her final game as a pro? 
Related: Doyle Back with Whale For One Last Shot at the Cup
Fujimagari has obviously gotten to know the team very well over the past five months and believes the talent and the right people are in place to make that scenario a reality come Feb. 5.
"I am so stoked for the Whale! They are just such fierce competitors. Colton and Laura drive a high-energy practice. We compete during practice, just a gritty team. We have vets on the team like Elena Orlando, Doyle, and Janine Weber – they set the pace," explained Fujimagari. "The new blood on the team are all contributors, and they've brought focus and creativity to the group. Such incredibly skilled gals who really want to make their mark on Season 6 of the NWHL."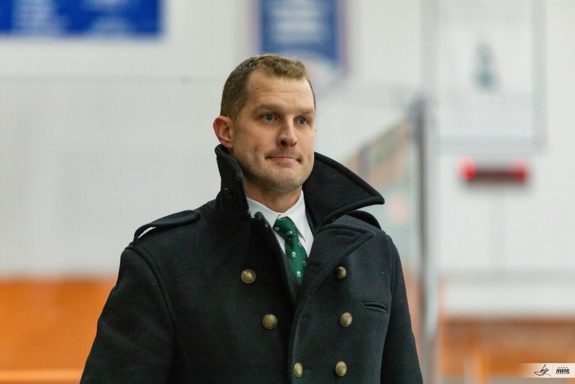 "They want to show that they can compete in this league. A huge part of our team is having this team-first mentality and togetherness. That's really what Colton, Laura, and Amy have emphasized throughout this all. It's the year of the Whale," she added.
"I'm very appreciative of everything the league, the board, what everyone does to make the NWHL what it is," said Fujimagari as she hopped in her car to go get some more goalie training in. "We get to have a season during this ever-changing year and that just goes to show the resilience of women leaders and the leaders of the NWHL."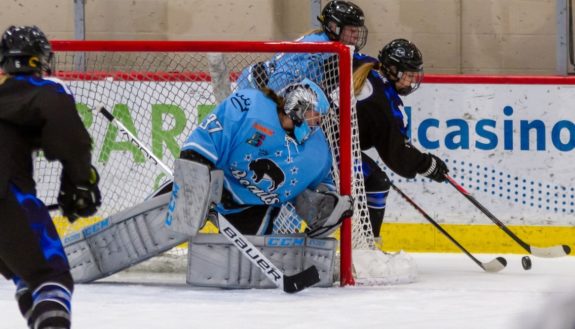 "We're not going down. It doesn't matter if it's a pandemic, this, that, or the other. We're giving the fans and the upcoming generation what they want to see. Hopefully, we can give people some excitement and hope during these tough times. It gives me goosebumps just thinking about it."
If the Whale win the Cup you can bet Fujimagari will have earned the shot to have her name etched on that glorious trophy. And if someone else wins it, well she may just get her name on it that way, too!