After a disappointing loss to the Anaheim Ducks, the Edmonton Oilers heavy reliance on goaltender Cam Talbot is once again being scrutinized. Going into Wednesday's game, the Oilers were tied with the Ducks at 87 points and playing for second place in the Pacific Division. Talbot has also been one of the hottest goaltenders in the NHL with back to back shutouts and hadn't allowed a goal in seven periods before the game against the Ducks.
The game was widely billed as the Oilers biggest game of the season to this point, and probably the most important game in Oilers history since March 2006. The Oilers would go on to lose on Wednesday, 4-3, with Talbot giving up four goals on 18 shots in just 31 minutes. Talbot, for his part, should've had all three of the Ducks first three goals by Patrick Eaves, Hampus Lindholm and Josh Manson.
Laurent Brossoit would backstop the Oilers the rest of the way and stopped all 16 shots to keep the Oilers in it. Talbot has been an absolute workhorse for the Oilers, so much so that the last game he didn't play in was against the Tampa Bay Lightning on Feb. 21. Yup, you read that right, Talbot hasn't sat in a month.
---
Talbot's Been the NHL's Busiest Goalie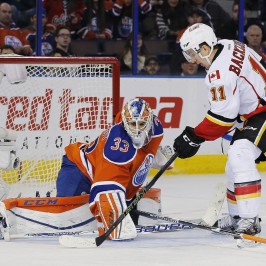 Heading into last night's game, Talbot led all goaltenders with 65 games played, that equals to 90.3 percent of the Oilers' schedule.
In comparison to his counterparts, Fredrik Andersen (Toronto) and Devan Dubnyk (Minnesota) are tied for second with 59 games played, followed by Tuukka Rask (Boston) and Martin Jones (San Jose) at 58 games.
Andersen is the next busiest goaltender with 83.1 percent of his team's starts, followed by Dubnyk (81.9 percent), and Rask and Jones at 79.5 percent.
TALBOT'S STATISTICS BEFORE DUCKS GAME

G
Min
W
L
OTL
GA
GAA
SA
SV
SV%
SO
65
3861
37
20
8
149
2.32
1919
1770
.922
7
In Talbot's last five games prior, he had stopped 159 of 166 shots and was 4-1-0 with a 1.40 goals-against average (GAA) and .957 SV%. Talbot currently leads the league in most shots against (1,937), and minutes played (3,892). He's also three wins away from tying the franchise record for most wins in a season set by Grant Fuhr (40 wins) in 1988.
The fact that Talbot has now suddenly found another gear is nothing short of incredible. As Jason Gregor mentioned, Talbot isn't tired, he's not worn down, he looks just as fresh now as he did in November, and the numbers back up the claim — except for Wednesday night.
---
Limited Opportunity for Rest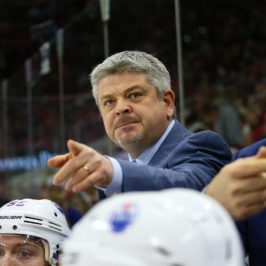 So should the Oilers give Talbot some much-deserved rest? Sure, but when? For the first time in a long time the Oilers are in the midst of a playoff push and playing meaningful games in March.
The Pacific Division crown is still up for grabs. San Jose sits first with 91 points, followed by Anaheim (89 points), Edmonton (87 points) and Calgary (86 points). Neither of these teams has a game in hand, and the Oilers play three of their remaining nine games against the Sharks and Ducks.
You can bet your bottom dollar the Oilers will need Talbot for those three crucial games.
EDMONTON'S REMAINING SCHEDULE

DATE
TEAM
RECORD
SERIES
LAST 10

March 23

@  Colorado (7th CEN)

20-49-3 (43 PTS)

1-0-0

3-7-0

March 25

Colorado (7th CEN)

20-49-3 (43 PTS)

1-0-0

3-7-0

March 28

Los Angeles (5th PAC)

34-31-7 (75 PTS)

2-1-0

4-4-2

March 30

San Jose (1st PAC)

42-24-9 (91 PTS)

1-1-1

4-6-0

April 1

Anaheim (2nd PAC)

39-23-11 (89 PTS)

2-2-0

7-2-1

April 4

@  Los Angeles (5th PAC)

34-31-7 (75 PTS)

2-1-0

4-4-2

April 6

@ San Jose (1st PAC)

42-24-9 (91 PTS)

1-1-1

4-6-0

April 8

@ Vancouver (6th PAC)

29-34-9 (67 PTS)

2-0-1

3-5-2

April 9

Vancouver (6th PAC)

29-34-9 (67 PTS)

2-0-1

3-5-2
There's also the March 28 and April 5 games against Los Angeles that could figuratively put the nail in the Kings' coffin and guarantee the Oilers a playoff spot. Edmonton will need Talbot for those two as well. What you're left with is four games, two home and home series against both Colorado and Vancouver. The first game against the Avalanche is Thursday, and the second is Saturday in Edmonton. McLellan can afford to rest Talbot in one of those, and one of the games against Vancouver in their back-to-back.
That means Edmonton can adequately afford to give Talbot just two of the remaining nine games to rest. Talbot would then see his total number of games played jump to 73 this season. The only two goaltenders in Oilers history to play that many games in a season are Grant Fuhr (75) in 1987-88 and Tommy Salo (73) in 2000-01. The last goaltender in the league to play that many games was Braden Holtby in 2014-15.
It's been a busy season for Talbot, and it's about to get busier. A rough start against the Ducks should be mentally locked away into a box and forgotten about. With a series of crucial games remaining on the schedule, we've effectively reached the point in the year the Oilers simply can not rest their best goaltender. Talbot's already posted some Vezina-worthy numbers, and before last night's loss, he's posted a sparkling 1.86 GAA and .939 SV% in March. The only goaltender in the league with more shutouts than Talbot in March is Sergei Bobrovsky (Columbus) with three.
As Talbot goes, so do the Oilers, and they need their co-MVP more than ever as they look to clinch the franchise's first playoff berth in 11 years.