I can't speak for Edmonton Journal journalist Jim Matheson, nor do I know why he seemed to personally attack Edmonton Oilers' goaltender Mikko Koskinen on Thursday during a media avail about the upcoming season, but I can say Matheson doesn't speak for everyone when he tells the Oilers' netminder, "the fans such want a different goaltender other than you. Are you upset about that?"
---
---
This question came after a series of questions asking Koskinen what he thought about his own play during the 2020-21 season and why he thought he didn't play as well as he probably would have liked. Matheson even followed up the inappropriate comment by stating the goalie lets in too many early goals.
Koskinen did his best to stay professional and answer the questions, but you can tell he was taken aback by the directness of the questions.
See the video below:
Not only am I having a hard time understanding why Matheson went at Koskinen like this, but I find myself asking why there's such vitriol for certain players on this organization or decisions the franchise makes before really ever seeing how things play themselves out.
Koskinen Didn't Play That Badly
Koskinen knows he'd like to play better. It's probably fair to say everyone hopes he takes a step in a positive direction this season. And yes, he has a tendency to leak early goals. That said, he didn't play terribly and not all Oilers fans want another goalie to take his place. In fact, Koskinen has played decently over his time with this franchise and any 2020-21 warts in his game were partially not his fault, nor are they likely anything more than warts.
Related: NHL Must Stop Punishing McDavid & Other Stars For Being Too Good
Yes, Koskinen has shown a tendency to break down a bit when he's scored on early. Yes, players know the book on him is to shoot high glove. He's also shown that he might not be able to handle the load an NHL starter is often asked to handle. That said, as part of the right tandem and with the right amount of games, he's fine. His weaknesses can be worked on and with good game management, he's not a negative or hindrance to the team being successful. Again, he's actually better than some of the options the Oilers might have been looking at to replace him this offseason.
Cut Koskinen a Little Slack
Some Oilers fans are focused on the .899 save percentage from last season. Fair enough. Matheson didn't specifically talk his stats, but he might as well have read them out to Koskinen during his series of questions since he hammered him on pretty much everything else. Key to remember though is the struggle early on when he was asked to carry the full load of the season after learning Mike Smith was injured and there was no third-string backup due to the taxi squad situation and travel restrictions related to COVID. Once Smith returned, Koskinen settled down.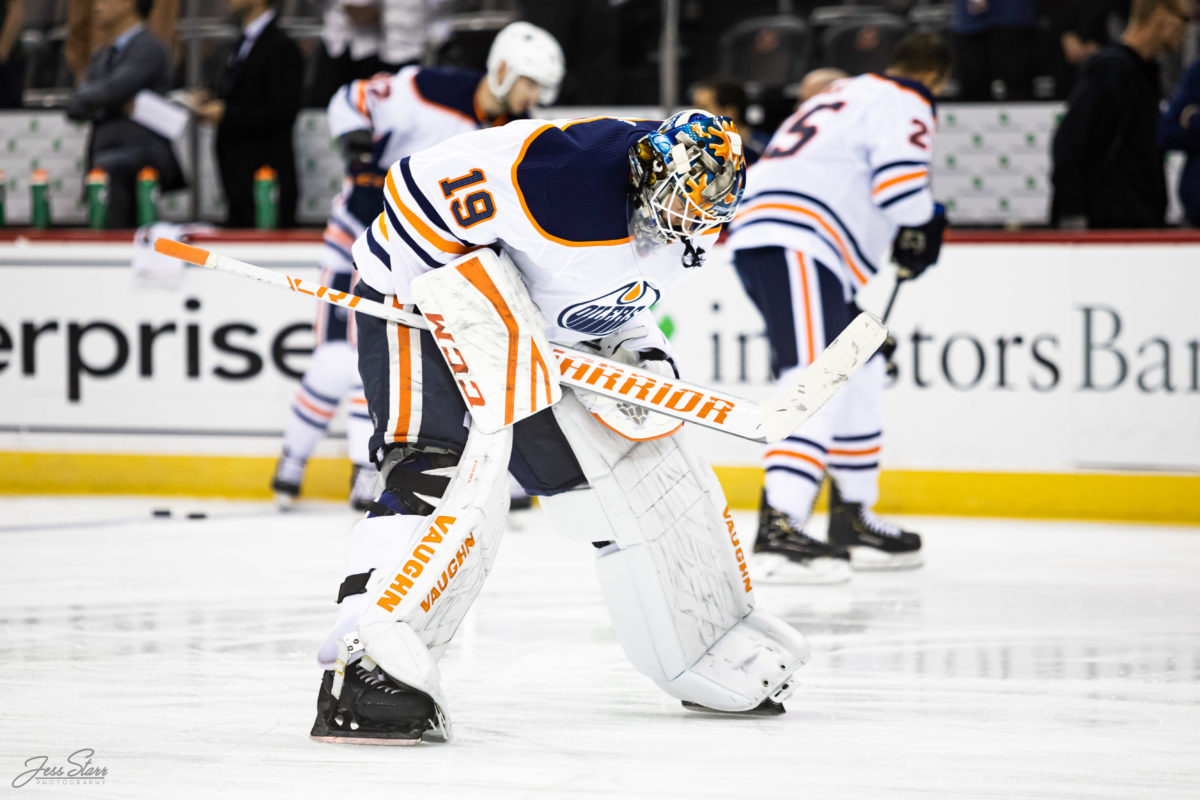 Not to mention, in 2019-20, Koskinen played 38 games and had a .917 save percentage and a 2.75 goals-against average. In both years, his play in partnership with Smith was enough to get the Oilers into the playoffs. He'll need to have an incredible year for the Oilers to consider him part of the long-term solution, and even if few people inside the organization expect that to happen, Ken Holland has shown confidence in his goalies.
If Koskinen plays 10 games and comes out flat, the same problems are obvious and the Oilers aren't winning… ok, criticize all you want. That said, training camp literally started today.
The Koskinen Outcome Is Predictable, But Really?
Again, Koskinen as part of the Oilers' long-term future is unlikely. Does that mean it's necessary to really show players like him up during a media avail and as there's a ton of excitement in the air about a new season, with hope the Oilers can go deep with a successful playoff run? In other words, why the unnecessary hate?
I write this not just personally addressing Matheson. This interview and what feels like a personal attack on Koskinen feels all-too-familiar when it comes to how a number of fans and media talk about this team. There's an obvious passion for the franchise, the history of the team, and the game of hockey in Edmonton. Yet, there seems to be a need to draw out every negative from this roster (Koskinen included) and set the season off on the wrong foot.
It's potentially one thing if an analyst or media member does it from outside the organization. It's also something if a credentialed media member inside the Oilers locker room asks a tough question immediately following a poor performance or a bad decision that leads to a loss or a bad game. Was this really necessary? What was the overall objective here?
Frankly, the Oilers should really consider allowing Matheson access to the team at this time if these are the types of questions he's going to ask. This organization is so tight when it comes to credentials, it feels like a sin to let someone come in before a single game is played and essentially tell a player no one wants him here.
---
---