In an Edmonton Oilers news and rumors update, there is talk surrounding a few important players on the roster. After the trade deadline came and went and the Oilers added Mattias Ekholm and Nick Bjugstad, will they be getting what feels like another deadline addition in Evander Kane back this week? Also, what's the plan for the struggling Jack Campbell? How incredible is Connor McDavid, who hit a new career-high point total? Finally, what was Ken Holland's thinking behind trying to acquire Timo Meier at the trade deadline?
McDavid Breaks His Own Season-High Totals
Connor McDavid hit 124 points for the season with a two-goal performance in a 3-2 win over the Buffalo Sabres on Monday night. He has now broken his previous season's high in just 65 games. 150 points are well within his reach, as are 60 goals on the season. Could he hit 70? He would need 16 more in 17 games to do it.
McDavid is otherworldly when it comes to finding ways to improve his game. Last season it was learning how to improve his slapshot. This season it's been scoring off of the rush. What will it be next season? When you think about the fact he has more four-point games this season than he has zero-point games this season, it's hard not to marvel at what he's accomplishing.
Jack Campbell Struggling At the Wrong Time
If you ask most insiders, the net is now firmly Stuart Skinner's to lose as he's come up with some big performances of late and Jack Campbell has struggled. Campbell is a hot and cold goaltender who has, once again, gone cold. The question about how to get him back to the level where he had won nine starts in a row is going to be important for the team to figure out and the hope is that Skinner can maintain his level of play until Campbell gets out of his own head.
---
Latest News & Highlights
---
Some fans wondered if sending him down the AHL would be an option, but it isn't. As Jason Gregor of TSN 1260 points out, "He can't go to AHL. Have to be on the AHL roster on trade deadline day to be sent down after the deadline. It is why they moved [Philip] Broberg and [Devin] Shore down on Friday, and recalled them right away."
Campbell is going to have to work through his mental game while a part of the team. If he doesn't the Oilers can look at options in the offseason.
Bjugstad Went 10-For-10 On Faceoffs Monday Night
One of the reasons the Oilers went and acquired Nick Bjugstad from the Arizona Coyotes was to help with the two-way game, penalty killing, and faceoffs. There was some doubt his stats with the Coyotes in regards to the faceoffs meant he could be what the Oilers needed, but Monday night he went 10-for-10, winning every draw he took.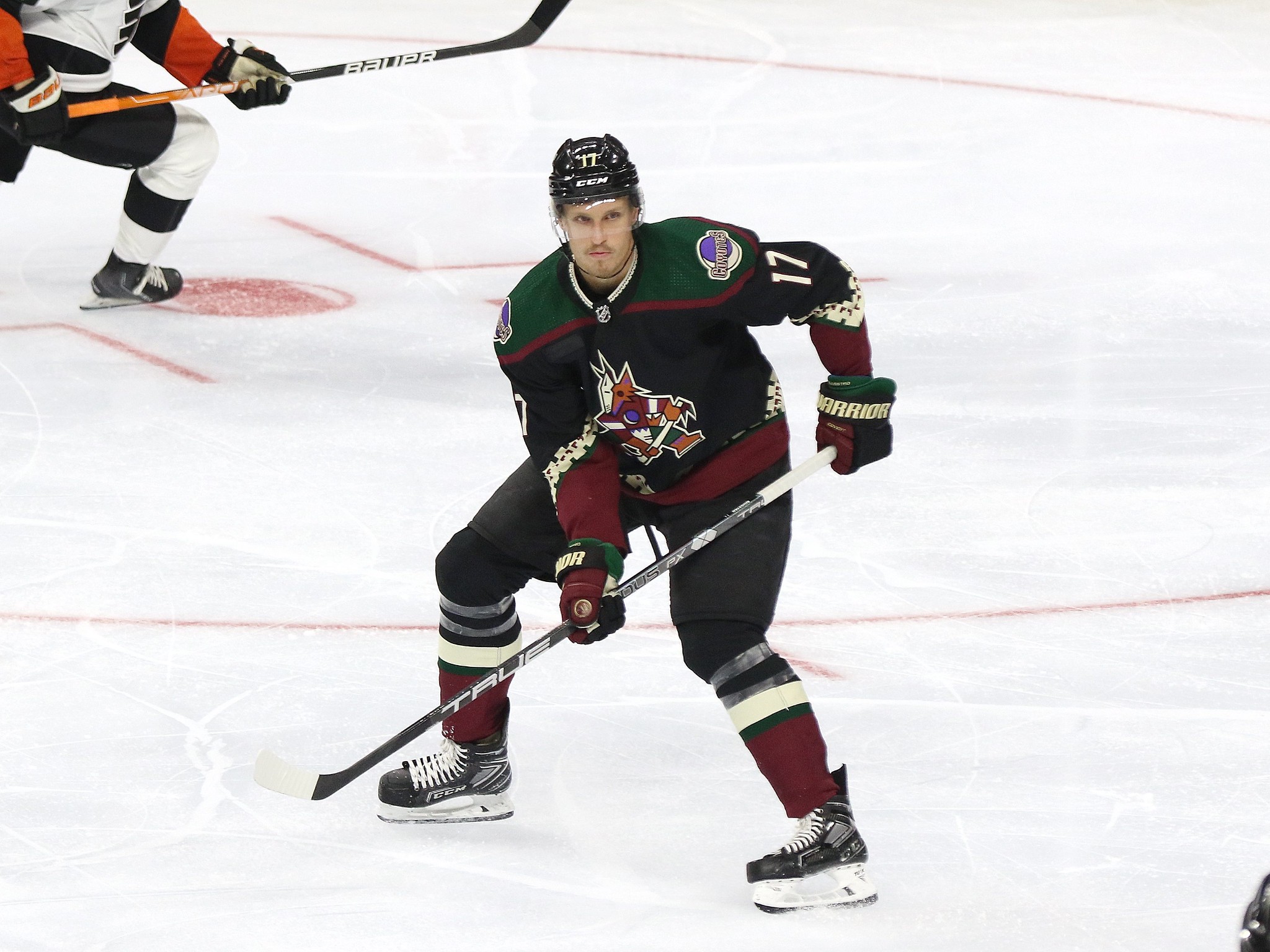 He's been a great addition to the Oilers so far. He's scored a goal, played more than 14 minutes against the Sabres, and is giving the team what they need. Of the total faceoffs he's taken for the Oilers since his arrival, he's sitting at 75%. He certainly isn't going to 100% every night in the dot, but if he can be above 50% on a regular basis, that's a nice upgrade for the team.
Evander Kane Expected Back This Week
Having missed the team's last eight games with a rib injury, forward Evander Kane participated in the Oilers' morning skate prior to their game against the Buffalo Sabres on Monday, reports Tony Brar. He's been out most of the season and he'll be a welcome addition if he's back this week.
As per a few sources, including Mark Spector of Sportsnet, the expectation is that he could play Thursday when the team takes on the Boston Bruins. Kane has nine goals and 19 points in 24 games this season.
Oilers Made a Pitch for Timo Meier
Elliotte Friedman dropped some huge news on Saturday when he mentioned Ken Holland made a serious pitch for Timo Meier ahead of the NHL Trade Deadline. He explains that Holland's thinking was that Edmonton could add Meier, he would help the team make a huge run in the playoffs and then the Oilers could figure everything else out in the offseason, likely trading Meier at the draft, for a net profit.
Marek said the feeling was the Oilers might have actually been able to get more back in return than they gave up to get him if Meier had a huge postseason. It was certainly some innovative thinking by Holland, proving he was willing to push all his chips in at the deadline this season.
---
---