In an Edmonton Oilers news and rumors update, Sidney Crosby made it clear he wants to play on the same line as Connor McDavid if another Team Canada is formed. Meanwhile, one analyst has pegged Ryan McLeod as a possible standout this season. Finally, the Young Stars Rookie Tournament is underway and Beau Akey is standing out early for the Oilers.
Crosby Wants to Play with McDavid
Crosby is ready to do whatever is necessary for the opportunity to share the ice with McDavid, widely regarded as the current greatest player in the game. Saying he'd be open to playing the wing on McDavid's line if it meant having a shot to be on Team Canada with him, Crosby said, "I'll go there. I'll play my off-wing, no worries." He added, "Listen, I've skated with him and I've played both, so I think I'm good either way with playing center or wing, whatever he wants to do. He can carry the mail. I'll just find the opening."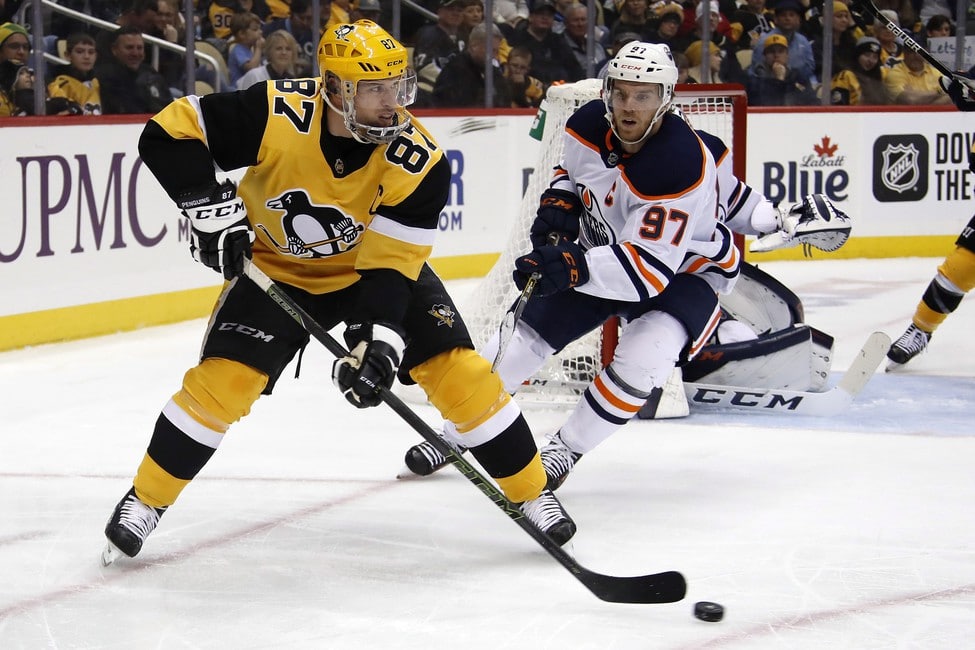 Crosby's comments spawn from the news that the NHL and NHLPA have recently unveiled plans to hopefully reinstate a regular international tournament schedule, with the first event scheduled for 2025, marking a return after a hiatus since 2016 when the World Cup of Hockey was held. During a conversation on Sportsnet's "32 Thoughts" podcast, Crosby emphasized his eagerness to officially team up with McDavid in a meaningful game.
Ryan McLeod Pegged as Oilers' Underrated Player to Watch
Mike Gould of Daily Faceoff has labeled Ryan McLeod the most likely underrated Oilers to stand out this season. It's an interesting choice considering the offensive firepower the Oilers have and the attention drawn to McDavid and Leon Draisaitl, but Gould makes a couple of good points in choosing McLeod.
---
Latest News & Highlight
---
Having signed a two-year bridge contract worth $2.1 million, McLeod is set to assume the role of the team's third-line center, with occasional opportunities in the top six as a winger. He has shown continuous improvement since his debut with the Oilers in the 2020-21 season and last season, he scored 11 goals and 23 points in 57 games, followed by five assists in 12 playoff appearances. If any of the top-six wingers pegged to start the season falter, McLeod may be the first forward elevated to a top-six role.
He's got speed to burn and could get spot duty on the second power-play unit.
Oilers' Rookie Tournament Begins
The rookie tournament is underway and the Oilers cruised to victory, in their first game against the Winnipeg Jets rookies, outshooting the Jets 36-14, including 15-2 in 3rd period. Beau Akey, Edmonton's highest draft pick this summer (56 overall) has stood out early. Bob Stauffer noted he looked, "Smooth and skilled. Finished with 1-1-2 in Oilers Rookies 3-1 win over Winnipeg Rookies." When asked about playing for the Oilers, he noted after the game, "It was definitely pretty cool. Obviously, I was super excited out there. I felt good and felt I played well, so it's always good to make a good impression right off the bat."
Related: Craig MacTavish Believes Oilers Are NHL's Best Team
Edmonton's young stars haven't lost in regulation at this tournament since 2013 (14-0-2). That said, this isn't the tournament it used to be where the Oilers have huge names like Connor McDavid, Leon Draisaitl, Ryan-Nugent Hopkins, and others in attendance. For the longest time, this was more like the 'Oilers' tournament than anything because fans would flock to the games to see what were sure to be future NHL stars.
Jujhar Khaira Getting Shot With the Wild
According to Sportsnet's insider Elliotte Friedman, "Hearing Minnesota and Jujhar Khaira working on something. Don't be surprised to see him in camp with the Wild." The former Oiler has had his share of issues with concussions, which have, in some ways, derailed what could have been an otherwise solid NHL career as a depth forward.
Here's hoping he has a great season in Minnesota and makes the team.