The Chicago Blackhawks are participating in the Tom Kurvers Prospect Showcase in St. Paul, Minnesota, this weekend, where they will face the St. Louis Blues on Saturday (Sept. 16) and the Minnesota Wild (Sept. 17). The Blackhawks have 23 prospects participating in the event, including highly sought-after prospects Connor Bedard and Kevin Korchinski. Besides them, the roster is full of fun names like Marcel Marcel, Ethan Del Mastro, and Drew Commesso, so fans can get a good glimpse into the future. With a lot of anticipation for the event, here are some things to watch.
The Blackhawks That Are Making Noise
One of the intriguing storylines from the showcase practices is that two players have been really standing out to the coaching staff: Ryder Rolston and Wyatt Kaiser. Against the Blues, Rolston will be on the third line, and Kaiser will be the second-pairing defenseman.
Rolston signed a three-year entry-level contract from the University of Notre Dame in March, where he put up 20 points in 27 games last season. He came to the Blackhawks from the Colorado Avalanche in 2021 when the Blackhawks sent Carl Soderberg to the Avs, and the Hawks got Rolston's signing rights in return. In Charlie Roumeliotis' NBC Sports Chicago press release, he immediately noted him as a "great skater."
As for Kaiser, he made his NHL debut last season after signing from the University of Minnesota-Duluth in March, with 23 points in 35 games. The Blackhawks used him as a second and third-pairing defenseman with Connor Murphy and Nikita Zaitsev. He looked uncomfortable initially but started to find a rhythm and ended the Blackhawks' season with three points in nine games. He's one of those fast and skilled defensemen who is reliable and can slot in anywhere.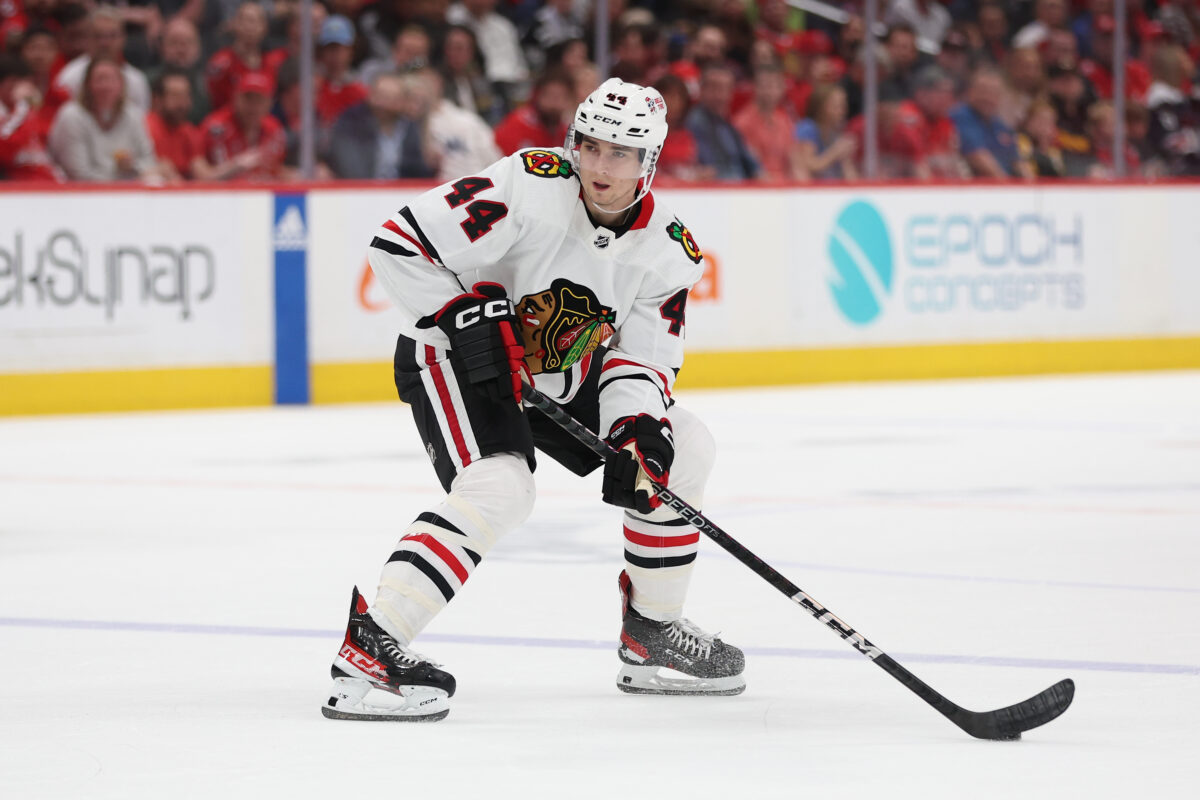 Rockford IceHogs head coach, Anders Sorensen, who is also in charge of Chicago's showcase, reported with Kaiser's play, "Really like him. His habits, instincts off the puck, with the puck. Really like him." When talking about Rolston, he stated, "He's so fast out there, it's insane to watch. And everything he does is fast. His hands are quick, he's got a great shot, so I think that's very good, we obviously hope that as well and I think that's a possibility for sure [to push for an NHL spot] (from 'Connor Bedard eager to let his play do the talking again: Blackhawks, The Athletic, 09/14/2023).
Kaiser and Rolston are in different positions because Kaiser will likely make the team out of training camp, while Rolston is expected to be with the IceHogs. Still, you never know how these things will play out, so look for these two to see if they can continue to impress during the showcase.
Korchinski and Allan Pairing Will Be Put to the Test
Something fans always wondered about defense prospects Kevin Korchinski and Nolan Allan is if they could be a possible future pairing. After all, they're both first-round picks of the Blackhawks, and they had success together on the Thunderbirds last season, but they played on different pairings. Korchinski was on the top pair, while Allan was the second-pairing defenseman. In November 2022, when the Blackhawks assistant general manager of development was asked about them being a possible Blackhawks' d-pairing, he responded, "Who knows if they end up playing together this year [in Seattle], and you never know what the future holds, but you know, could be potentially a pairing going forward for the Blackhawks in years to come. You never know" (from 'Blackhawks prospect notebook: Could Nolan Allan and Kevin Korchinski be an NHL pair? – The Athletic – 11/18/2022).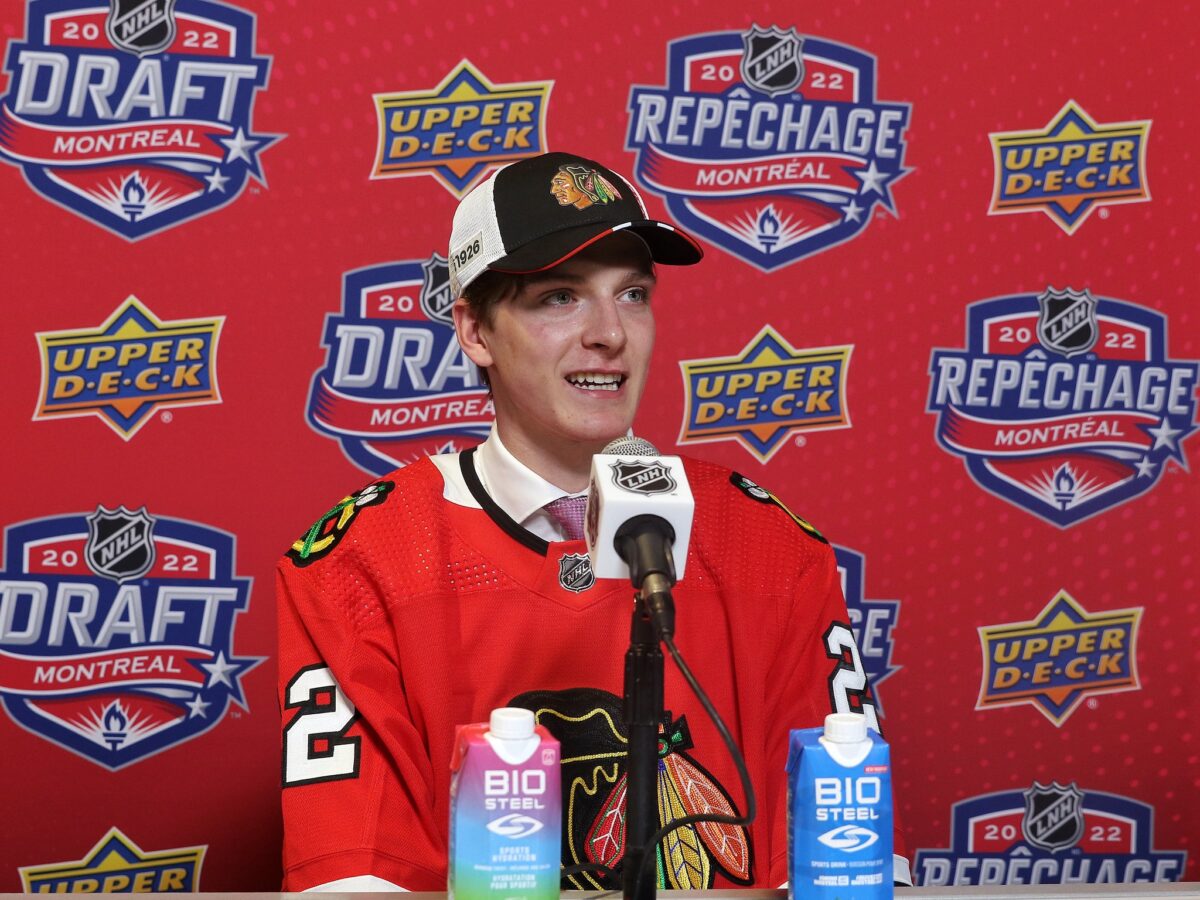 Usually, teams put like-minded defensemen together as a pair, but Korchinski and Allan are different and will be the first to admit it. However, something about this could work, and that has to do with the fact that Allan can play his off-side. He is a left-handed shot, as is Korchinski, but Allan has been playing the right side in practice. The Blackhawks don't have many right-handed defensemen on the team right now, but that versatility helps, and he has taken it like a pro. They will be the top-pairing defensemen for the first game against the Blues, and it will be interesting to see how they do.
They have both grown as players in Seattle during their deep playoff run, and they're looking forward to showing their chemistry. Allan said, "Kevin is more of an offensive defenseman – he likes to join the rush a lot and create a lot of offense – and I'm kind of Steady Eddy back there. I hang back a little bit and make sure the pucks aren't going in on our side of the net."
Related: Blackhawks' Korchinski Showing Why He's Chicago's Top Prospect
For reference, Korchinski had 73 points in 54 games, while Allan had 16 points in 41 games for Seattle last season.
If Korchinski can contribute on offense and Allan can keep the pucks out of the net, then what more can you ask for? It's the best of both worlds. Also, the Blackhawks should do something with the "Steady Eddy" nickname!
Blackhawks First Line Magic
Most are curious about who Bedard's linemates will be during the regular season, but for the showcase, he will be centering the first line with Nick Lardis and Colton Dach. The line made its debut during practice on Thursday (Sept. 14), and the coaching staff wants to keep it going. Sorensen mentioned that Lardis' quickness and smarts, combined with Dach's size and ability to create space, inspired the line, and he liked how they looked. This line, just by names alone, stood out to me immediately.
The Blackhawks selected Lardis in the third round of the 2023 NHL Draft. The 18-year-old had a career year last season in the Ontario Hockey League (OHL). He started the season with the Peterborough Petes with 19 points in 36 games. He ultimately got traded to the Brantford Bulldogs in January, and his production exploded as he recorded 46 points in 33 games. He has not missed a step, as he has had an impressive preseason with the Bulldogs. In one game against the Kitchener Rangers on Sept. 8, Lardis had three points and 10 shots on goal in a 5-3 win.
Lardis being paired with Bedard reminds me of his draft spotlight video I came across after he got drafted. Calum Ritchie (Colorado Avalanche prospect) said, "He can make you look silly when you watch the puck." So, the team knows they have another possible elite scorer in Lardis, and they already know Bedard can make opponents look silly. Why not not give it a go? That pairing could be fun and effective as their fast-paced, offensive game styles could complement each other well.
When it comes to Dach, he is one to watch in this showcase because last year, he suffered a concussion in the first game of the prospect showcase in the first period. So, he didn't get the showcase or training camp he hoped for. But he is coming off of a strong postseason with the Thunderbirds, with 14 points in 19 games in which they made the Memorial Cup Final. He also netted 10 points in nine games after being traded from the Kelowna Rockets. The 2021 second-round pick is looking to make a statement, and he can surely make one playing with Bedard. They are already familiar after being teammates at the 2023 World Junior Championship for Team Canada. The 20-year-old brings a physical, skilled game to the line. If needed, he can act as a bodyguard for Bedard and Lardis and help create chances. He usually is a bottom-six forward, but I like this addition to the first line for this event.
Related: Blackhawks Line Options for Connor Bedard
---
Latest News & Highlights
---
Even though Bedard will play against St. Louis, it's still up in the air if he will play against Minnesota. Therefore, this is as good a time as any to see if this first line can do some damage.
Overall, there is a lot to be excited about with the prospect showcase. It doesn't mean much in the grand scheme of things, but it's an excellent opportunity to see how the prospects have grown. It will be exciting to finally see Bedard make his first mark in a Blackhawks sweater and see all he can do while also seeing the potential the rest of the players have. It should make for a memorable weekend.
---

---