The Montreal Canadiens 2023 Rookie camp has opened, and it marks the official beginning of the NHL season for the club. It also provides an opportunity for players to get themselves noticed by management. One of those players is Rockland, Ontario native, Cedrick Guindon, who was selected by the Canadiens in the fourth round of the 2022 NHL Draft. 
Related: Canadiens Prospect Pyramid – Summer of 2023  
---
Latest News & Highlights
---
The 19-year-old forward is entering his third and final Ontario Hockey League (OHL) season. Thus far, he has shown growth in his game each year, and the 2023-24 season cannot be an exception. Guindon needs a contract offer from the Canadiens before June 2024 or he could re-enter the draft or even become an unrestricted free agent (UFA). But players who get overlooked to that point rarely get an NHL contract right away, meaning he would have to take a less direct route to reach his dream. This is why this training camp and season are essential for him to stand out. 
Canadiens' Guindon Strengths and Weaknesses 
Guindon followed up his solid rookie campaign with improvements in nearly every area of play in his second season. In 2022-23 with the Owen Sound Attack of the OHL, he finished second on the team in scoring behind Winnipeg Jets 2023 first-round pick Colby Barlow, with Guindon scoring 22 goals and 69 points, a 10-point improvement over his rookie season. He followed that up with five points in four playoff games in a crushing first-round loss to the London Knights, who swept the Attack.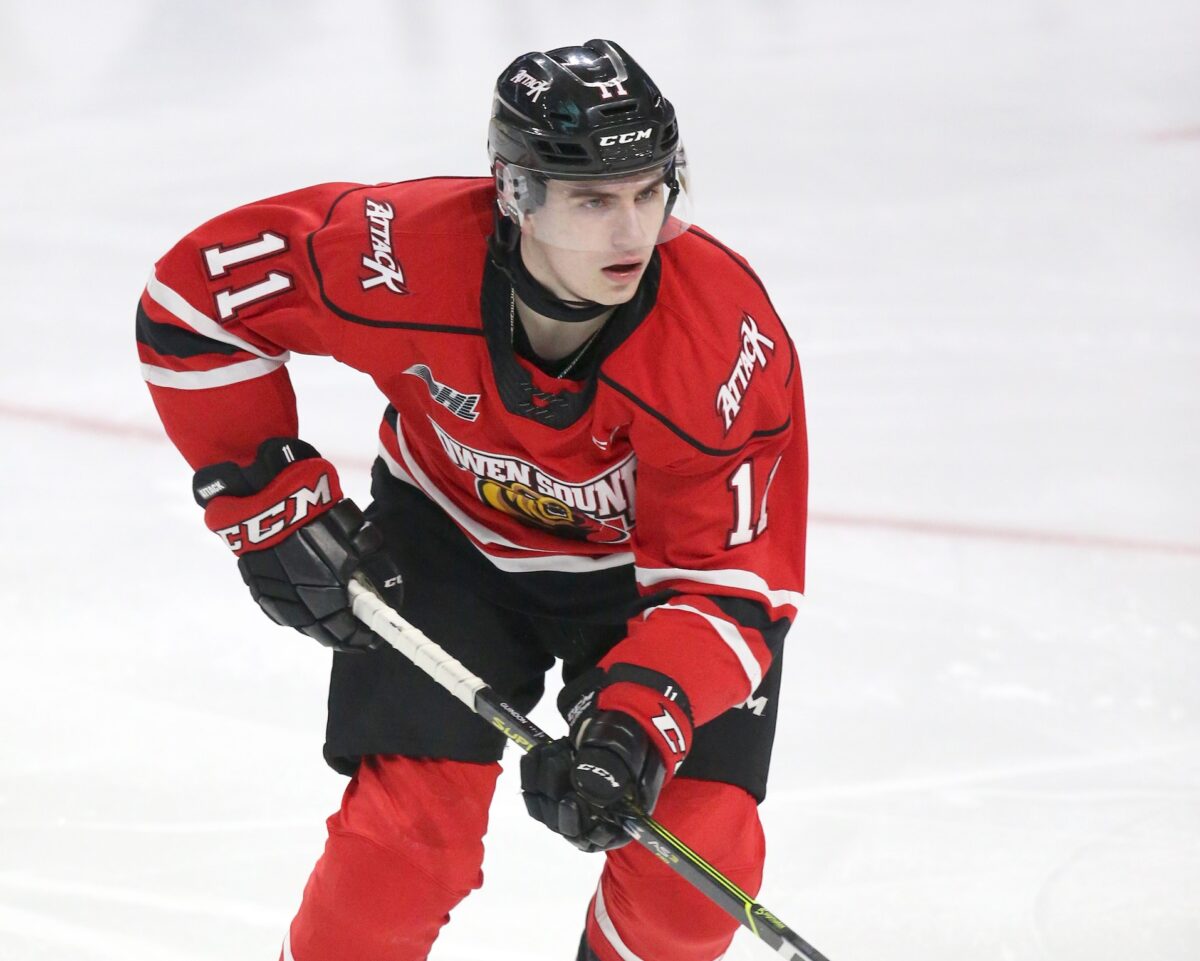 Guindon is a small-statured forward, who is now listed at 5-foot-11 and 176 pounds, meaning he has added some size and strength, two things he will need to help him improve this season. His biggest strength however is his versatility, his ability to play at center or on the wing, not only at five-on-five, but also on the power-play (PP) or on the penalty-kill (PK). His hockey IQ allows him to excel as he can read and develop plays well, and has an excellent skating ability that allows him to react to those reads. He is an ideal middle-of-the-lineup two-way forward that coaches love to have on their roster. 
His intelligence allows him to be a very crafty forward. He uses deception with his shot or his passes to open scoring opportunities and to flash his scoring ability. When he appeared on The Hockey Writers affiliated podcast Habs Unfiltered, Guindon spoke of his focus to improve his shot and his overall game stating "My assist total this year compared to last year kind of just shows how I'm able to display my playmaking abilities way more this year. I think part of it is a lot of people saw me as a shooter. In minor hockey, I always saw myself as a playmaker and obviously, scoring 30 goals in my first (OHL) year kind of projected me as a shooter type of guy. But I always knew deep down that I was a pass-first type. And this year, I think I'm just more comfortable to kind of use my deceptiveness to make passes instead of shooting. I think it's a good tool to have, but sometimes I think I got to use my shot a bit more to score a bit more too. So, kind of goes both ways." 
His experience with development and rookie camps in the fall of 2022 with the Canadiens helped him see areas to improve upon, but he was also given advice and guidance to be able to make the necessary adjustments. He credits Canadiens head coach Marty St. Louis with giving him the tools he needed. 
"Montreal is such a young team. They kind of put everyone in the same boat. That's kind of the vibe I got. And they just focused on getting the best out of everyone at training camp. Marty St. Louis was big on practicing small area games that really reflected to game situations. Just working on areas that you'll see often in games. So whether it was three-on-three downlow drills or odd man rushes, all that stuff really focused on the things that will get you prepared for the next level. Just the speed, the passes, the execution, all that stuff. And obviously scoring right, that's something that everyone wants to do, but there's also so many other things that you can do to help you score goals. So I think they kind of took that approach with us."

Cedrick Guindon 
Part of what can help him get onto people's lists, and Canadiens' management's radar is international play. Gaining a Hockey Canada invite to the Under-20 summer program is the first step. Being identified as a potential Team Canada member for the 2024 World Junior Hockey Championship can be exactly what he needs to showcase himself, but he will need to earn that opportunity. 
"I am very honoured to have been selected to participate in the Program of Excellence for the under-20 program, it was a great couple of days of learning and getting to know a lot of great people. I had lots of fun and I have big goals for next season."

Cederick Guindon (Owen Sound Sun Times, Barlow, Guindon, Addy on Hockey Canada's radar for upcoming tournaments, 27 July, 2023)
A good showing at the WJC could only help him. One look at the meteoric rise of another Canadiens prospect, Joshua Roy, can in large part be traced to his impressive play in the 2022 and 2023 WJC.
Canadiens Seek Positive Outcomes 
If Guindon wants to earn that entry-level contract (ELC), he will need to improve on one of his best strengths, the ability to play in transition. He already sees the ice well and utilizes changes of pace and quick shifts in body positioning to generate open space. He is proficient at using his teammates to spread defences out and maintain possession. Most of all, despite his slightly smaller frame, he is highly competitive, using his speed and aggressive nature to force turnovers while on the forecheck. 
At this stage of development, he is a potential third-line NHL player who would line up in an energy role and provide some offence. While he has added some size this offseason, he will need time to add more as well as more experience. As he gains experience, he also gains confidence, which in turn breeds more opportunities for him offensively. His mental preparation will become crucial for him to focus on this season, not only to prepare himself to become a professional but also to demonstrate he can make the step into that role. 
Once he returns to the OHL he will play a top role, getting time on both special teams' units, and be relied upon by his coaches to be a leader in the dressing room as well. Guindon has the potential to become a valuable depth piece as a two-way forward capable of third-line responsibilities. His hockey IQ, skating and work ethic have allowed him to succeed so far, but to make the NHL, he will need more, he will need the mental acuity to be consistent on every shift. A strong rookie camp followed by an even stronger OHL season in 2023-24 would go a long way in earning Guindon his coveted ELC.
---

---