Ken Holland has done a solid bit of work this week when it comes to the NHL Trade Deadline and tackling the needs of his roster. The Edmonton Oilers added Mattias Ekholm as a defense-first left-side (but flexible) defenseman, and on Thursday, traded for a right-shot depth center in Nick Bjugstad. It's certainly possible the Oilers are done shopping, but there were arguably more than two needs for the team. The Oilers are improved, but the question now is, can Holland tackle them all?
What Holland Got Accomplished
Holland didn't have much in the way of salary cap space to work with and that meant pushing his chips in if he was going to add to this roster. That he did with the two deals he made. To get the top-four defenseman he needed, he had to move the Oilers' power-play quarterback, a top prospect, and a first-rounder. To get the depth center, he moved a third-rounder.
It was a hefty price to pay, but the window to win is now and in a wide-open Western Conference, this was the season to make a move.
Top-Four Defenseman Done
With the addition of Ekholm, the Oilers are a much better team defensively today than they were just 48 hours ago. Ekholm is a legitimate top-four, reliable, and big defense-first blueliner who will make Edmonton much better 5-v-5 and on the penalty kill, two areas where the team needed help.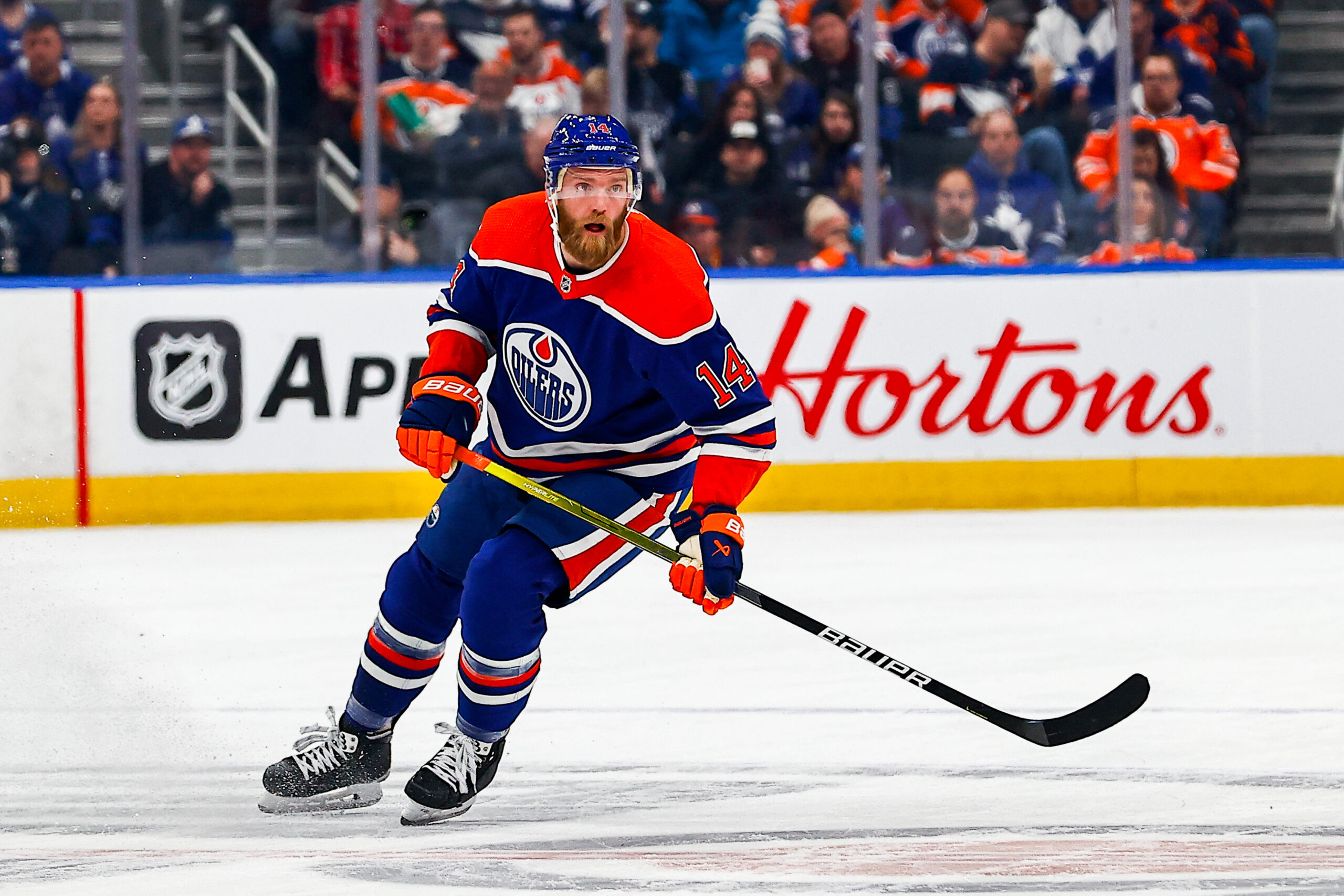 There might be some concern about how Ekholm's contract will age considering the $6 million cost that comes with his final three seasons, but at present Ekholm is the real deal. He's steady, he's a strong leader, and he'll be a mentor to players like Evan Bouchard and Philip Broberg.
Right-Shot Center Done
Bjugstad is a right-shot depth center with size (6'6). He's got 22 even-strength points and has potted 13 goals for the Coyotes. Known as somewhat of a Swiss Army Knife, the Oilers will be able to use him in multiple roles, even if he's not got the best penalty-killing numbers. Bjugstad's minutes can vary as he's got the ability to play top-six minutes or a depth role in the bottom-six. He's got a high hockey IQ and should be reliable in key moments when the Oilers wanted a bit more certainty.
---
Latest News & Highlights
---
There have been some knocks on Bjugstad based on last season's numbers, but he wasn't 100% healthy and he appears to be trending in the right direction this season. Like Ekholm, Bjugstad is known to be a great person, a strong leader, and someone who is well-liked in the locker room.
What Holland Could Still Accomplish
Edmonton has absolutely no cap space left to do anything else. That said, if Holland chooses to trade an active player from their roster, there is a chance he could add again before Friday's deadline. In the final 24 hours of the deadline, prices for certain players will come down and names like Max Domi, Radko Gudas, and John Klingberg are still out there.
Right-Shot Defenseman?
Edmonton didn't need a right-shot d-man until they moved Tyson Barrie in the Ekholm deal. Now, Evan Bouchard is going to be asked to take on a larger role and there's some question about whether he can do so. He's struggled this season and while the power play runs through Connor McDavid, Leon Draisaitl, and Ryan Nugent-Hopkins, having someone on the point that won't hurt the best power play in the NHL is key.
Even if Bouchard steps up, do the Oilers need to add some depth there? It certainly wouldn't hurt. If an injury occurs on that ride side, the depth isn't there.
Upgrade in the Top-Six?
If the Oilers elect to move someone like Kailer Yamamoto or Warren Foegele, there is a chance Edmonton can make an upgrade to their top-six at right wing. The team has plenty of scoring, but there is a bit of a hole there and Edmonton was linked to names like Patrick Kane in trade rumors prior to his moving to the New York Rangers.
More scoring will be a luxury, so it will be interesting to see if Holland looks around the market in the last few hours before the deadline closes.
---
---