The Edmonton Oilers have cleared up some much needed cap space and shed some salaries that were not going to be part of the long term plans.
It started with the trade of Shawn Horcoff to the Dallas Stars for defenceman Philip Larsen and a 7th round pick. A good move by MacTavish as the only viable move was thought to be a buyout of the Oilers captain.
The team says farewell to a valuable and loyal member of the franchise and more importantly to his 5.5 million dollar cap hit. They also get back a 23 year old player with a lot of offensive upside.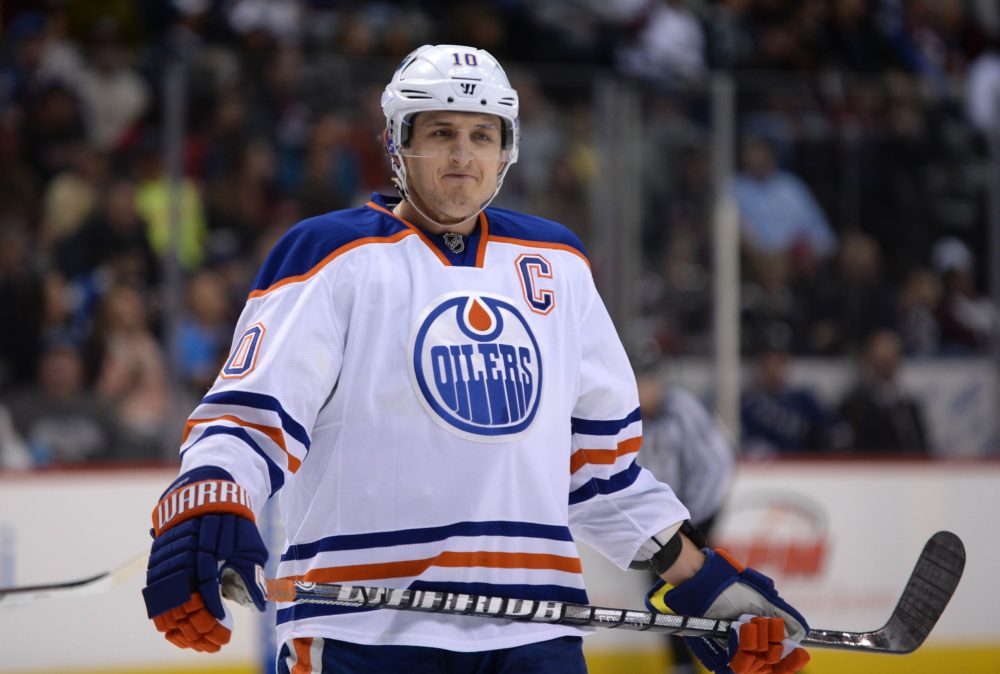 The other significant move was the compliance buyout of Eric Belanger. A solid 4th line centre, Belanger simply did not contribute enough and again was a player that was not going to be part of the ongoing future of the Oilers.
The move also opens up the fourth line centre spot for Anton Lander, who the Oilers have been grooming for that role.
So what does it all mean?
MacTavish has not been shy about his desire to make big changes and willingness to pull the trigger on something significant. He has been furiously trying to acquire assets, but to no avail so far.
Even with the new contracts to Taylor Hall and Jordan Eberle kicking in, the Oilers are still in an excellent position with relation to the cap to add pieces.
They shed in the neighbourhood of 15 million in cap space from a year ago with the trade of Horcoff, buyout of Belanger and Ryan Whitney and Nikolai Khabibulin headed to unrestricted free agency.
Some of that money is reserved for signing RFA's Sam Gagner and Magnus Paajarvi and they will no doubt want to earmark some for 2014 RFA's like Ryan Nugent-Hopkins, Justin Schultz and Jeff Petry. They do however, still have space to make some moves this summer.
MacT will turn his attention today to the opening of free agency and trying to attract a piece or two that will help improve the club. A top six winger with size will be on the top of his free agent shopping list, someone like a David Clarkson or Ryan Clowe could fit the bill there. Nathan Horton, the top target this summer, appears not to be an option for the blue and orange. Clarkson, however has met with the Oilers and they could be on the short list for the Toronto native.
Sources confirming David Clarkson met with the Edmonton Oilers today in Edmonton. #TSN

— Aaron Ward (@NHL_AaronWard) July 4, 2013
The biggest need for the Oilers still remains a top four defenceman. With the free agent market thin in that regard, MacTavish will no doubt be hoping that once the free agent frenzy begins, there will be a domino effect and more trade possibilities may open up.
He has already been linked to many defenders rumoured to be available. Names like Dion Phaneuf, Braydon Cobourn and Keith Yandle among others have all been churned through the rumour mill, but nothing with any concrete fact behind it yet.
The Oilers certainly have holes to fill, a top defenceman, a power forward, depth scoring and goaltending are all on their priority list. All of which are areas the Oiler management are actively trying to fill, but not all likely to be fixed in the next few weeks, to the dismay of many impatient Oiler fans.
They have the cap space to do it though and a GM that appears willing and aggressive in seeking change. If they don't land their desired targets it looks as though it won't be for lack of trying.
The first moves have been put in motion, Oiler fans eagerly await what is still to come.
__________________________________________________
Follow Carl on twitter @maloney3383 and Google+ for more articles.  
Carl covers the Edmonton Oilers for THW as well as providing additional prospect coverage. Follow him on twitter @carlTHW, connect on Facebook or contact at carl.maloney@hotmail.com for questions, comments or if you're interested in him writing for you.