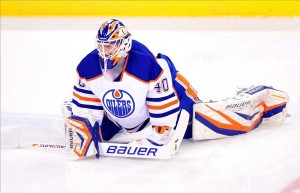 The "Devan Dubnyk as number one goalie" experiment in Edmonton is officially over. On Wednesday the Oilers announced they had dealt the former first round pick to the Nashville Predators for forward Matt Hendricks. The trade makes sense from the Preds perspective, who are dealing with the absence of goalie Pekka Rinne. And in front of a stronger defensive structure, there's a real chance for Dubnyk to shine.
The Oilers probably felt this was the best return they could get, considering Dubnyk wasn't having a great year. He is an unrestricted free agent this summer, and the writing was pretty much on the wall after Ilya Bryzgalov was brought in.
Matt Hendricks, who is signed through 2017, is a serviceable bottom six forward. He can fight, he's decent in the faceoff circle and he has some offensive upside, albeit not according to his stats (62 points in 307 games). He's not the biggest guy, but he's got grit, something the Oilers can certainly use.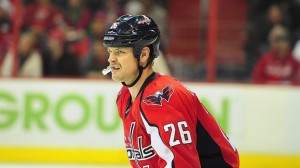 Now to suggest the Oilers gave up on Dubnyk would be misleading. He was drafted 14th overall in 2004, meaning he's been with the organization for nearly 10 years. They knew what they had with him. He's shown flashes of brilliance but failed to convince the team he was a legitimate number one goalie in the NHL. His supporters will cite Edmonton's poor defense for his lackluster play, but it just didn't seem like he was going to be the type of goalie they needed.
Hendricks' salary is a little steep, ($1.85 million per season) and he's 32 years old. A draft pick may have made more sense, but MacTavish obviously values the toughness that Hendricks will bring to the lineup. The winner of the trade may be Nashville at this point, because they unloaded a bad contract and got some help in their goaltending situation.
*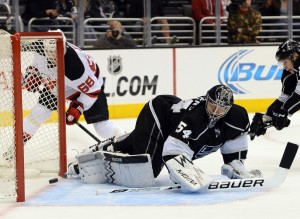 Not long after the Oilers traded away Dubnyk, they quickly replaced him, acquiring goalie Ben Scrivens from the Los Angeles Kings in exchange for a third round draft pick. Scrivens has been playing well for the Kings, but rookie Martin Jones' stellar play when Jonathan Quick was injured made him expendable.
Scrivens, who is a UFA this summer, knows coach Dallas Eakins from his time with the Marlies and is also an Alberta native. The Oilers are likely thinking there could be a possible long-term fit here, especially considering Bryzgalov is also an UFA.
Definitely a whirlwind day on the goalie front in Edmonton. Are there more deals with other positions on the way?