The regular season is winding down, and the Edmonton Oilers are gearing up for the off-season. It's been a long and disappointing season and it's time to begin the evaluation period. Edmonton might not be making wholesale changes this summer, but there's a lot that needs to be done; the most pressing is to find a winger for Connor McDavid's line.
Oilers general manager Peter Chiarelli might also be inclined to find a suitable backup to assist their starter, Cam Talbot. They've had a revolving door of players fill the backup role and haven't found anyone head coach Todd McLellan can trust. Talbot's a workhorse, but how much of that is because they don't have any other options? God forbid Talbot gets injured for a long stretch and the Oilers don't have someone else who can play.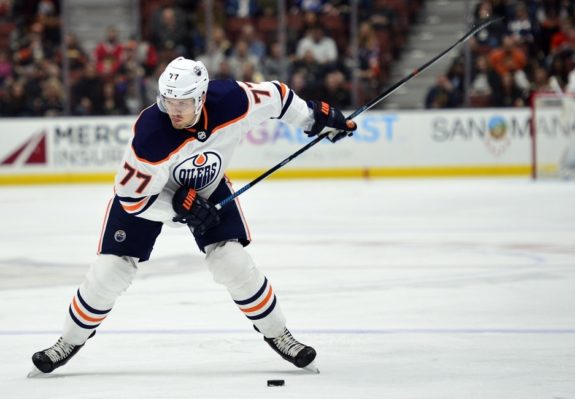 Next, management will need to evaluate a defense that's underperformed and is getting more and more expensive. This summer both Darnell Nurse and Matt Benning will need new contracts. Will the Oilers shuffle the deck on the backend? We'll find out this summer. In the meantime, Chiarelli will have to look at his roster and decide what trade chips he has.
What's the trade value of Edmonton's roster? Let's take a look at the goalies and defense in the first part of this series. A green arrow pointing upwards means the player's value has increased. A red arrow pointing downwards means the player's value has decreased. A blue line indicates their value is the same as last season.
Oilers Goaltenders
Cam Talbot (▼) – Despite being an absolute workhorse and leading all NHL goaltenders in games played since 2015-16, Talbot's value is down. His 3.03 goals-against average (GAA) and his .906 save percentage (SV%) are well below his career numbers. He's allowed too many soft goals this season and was very inconsistent until this month. 
Al Montoya (▼) – In the six games with the Oilers, Montoya has yet to have a game where his SV% is over .900. The 33-year-old improved after being acquired from the Montreal Canadiens in January, but his 3.15 GAA and .894 SV% since joining the club isn't inspiring. In three of his starts, he's allowed four or more goals. He carries a digestible $1.06 million cap hit through next seaso, but Montoya's best years might be behind him.
Oilers Defensemen: The Top Four
Oscar Klefbom (▼) – Injuries seem to be the asterisk next to Klefbom's name since he became a full-time player with the Oilers in 2014-15. He's missed 79 games in that span due to various ailments. Last season was the first and only time he played all 82 games. This season he's played hurt and his numbers have been affected by it. He is shooting the puck more but his advanced metrics are down across the board. Klefbom needs to find a way to stay healthy if he wants to solidify himself as a top-pairing NHL defenseman. Until then, other teams will be buying low.
Darnell Nurse (▲) – Nurse has been a revelation and took advantage of Andrej Sekera's early-season injury. The 23-year-old is having a career year with 20 points in 68 games and has emerged as a solid top-four option on any NHL club. There have been nights where Nurse has been the Oilers' best defenseman. He's faster, he's more mobile, and he's making better decisions with the puck this year. The question now is what his next contract will cost.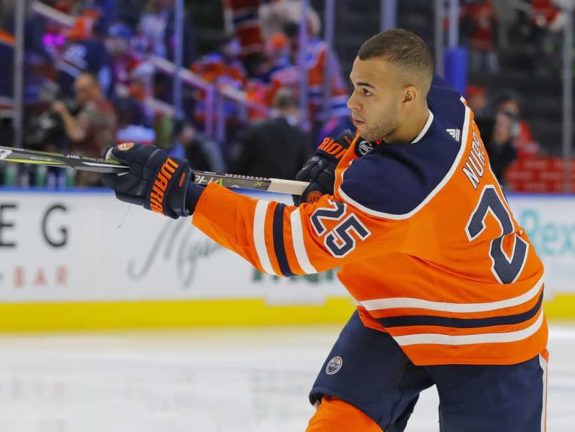 Adam Larsson (▼) – It's no secret that Larsson doesn't have a real offensive aspect to his game but the fact that his points-per-game this year is the lowest of his career is concerning. The 25-year-old is a good shutdown defenseman, but it's debatable if he truly is the top-pairing defenseman that Chiarelli thought he was when he traded for him in July 2016. He's signed long-term with a $4.1 million cap hit, which isn't bad but Edmonton's going to need more from him.
Andrej Sekera (▼) – Coming back from a serious knee injury has proven to be quite difficult and explains Sekera's struggles this season. He's far less mobile, hesitant to get physically engaged, and hasn't been the same defenseman he was last year. He's averaged just 16:04 TOI through 26 games this season, only Eric Gryba (14:44) and Yohann Auvitu (13:24) have played fewer minutes. He also carries a $5.5 million cap hit with three years left. That hinders his value and the Oilers would likely need to retain a portion of his salary in any trade.
Oilers Defensemen: Depth Chart Trade Value
Kris Russell (▼) – Matt Henderson's favorite Oiler has been a whipping boy for fans. You either love him or you hate him. Many fans were up in arms this summer when Russell's contract was renegotiated and he was given a $4 million cap hit and a four-year term. It's a million too much for most fans and too long for others. The fact he has a no-movement clause (NMC) makes it worse. Russell's a No.5 defenseman on most NHL teams but he's being paid as a top-four. His possession metrics aren't favorable either.
Related: Oilers Shouldn't Make Long-Term Commitment to Kris Russell
Matt Benning (▲) – Benning's game has subtly improved this season but that storyline gets lost in the shuffle. He's already set a career-high with 17 points in 62 games. The 23-year-old is also playing more minutes this season (17:46) and shooting the puck more (93 shots). However, he'll need to be more consistent. That was a major reason why Nurse passed him on the depth chart despite that Benning had the first crack at Sekera's top-four spot to start the year.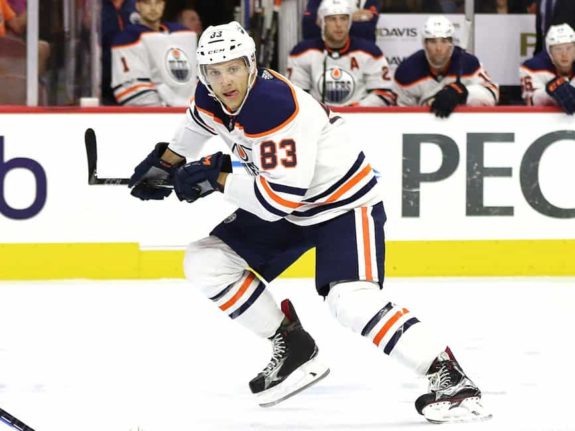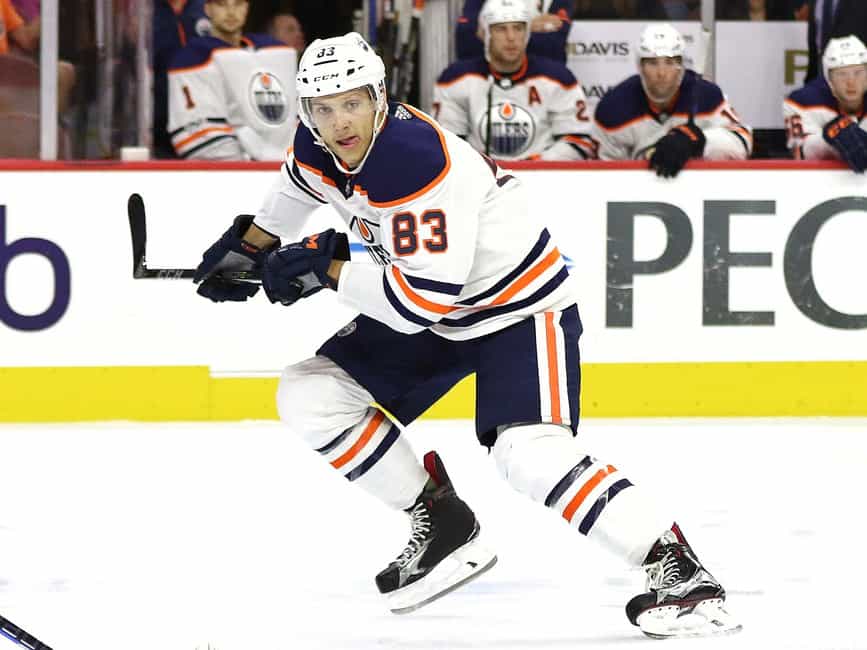 Ethan Bear (▲) – What's not to like? The 20-year-old has been a late-season surprise and could be in the conversation for a third-pairing job next season. The Oilers' fifth-round pick from 2015 posted 16 points in 34 games with the AHL's Bakersfield Condors, was playing top minutes in the AHL and quarterbacking the Condors' power play. He's looked good during his short-stint to end the season with the Oilers. Bear looks like a steal so far.
Related: Ethan Bear and Other Great Finds From 2015 NHL Draft
Yohann Auvitu (▼) – The issues that plagued Auvitu when he was with the New Jersey Devils have carried over to the Oilers. He's got great offensive instincts but his defensive game is a work in progress. The 28-year-old is a one-dimensional defenseman and a UFA this summer. Auvitu has been scratched in five straight games and seven of the last ten. He likely won't return next season and might be hard-pressed to find an NHL job next season.
What do you think? Do you agree with the assessed trade value of these players? Let us know in the comment section below. We'll be back with the trade value of the forwards tomorrow.