After 613 games and playing for four teams in the NHL, Tyler Wright found himself back in Columbus, Ohio in July 2007 as the new Development Coach of the Blue Jackets. With not only the league getting younger, but also the club, he is an integral liason between players and coaches.
Tyler Wright began his pro career after being drafted by the Edmonton Oilers in 1991. He was then traded to the Pittsburgh Penguins in 1996. On June 23, 2000,  he was picked in the expansion draft by the Columbus Blue Jackets to help usher in their inaugural season. In 2005 he was traded to the Anaheim Ducks, where he would finish his career with 79-70-149 and 854 PIM.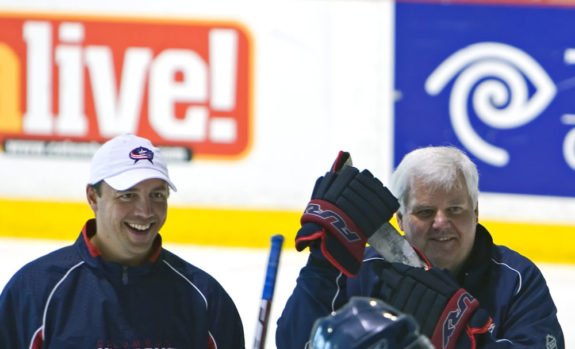 I recently sat down with Tyler to find out what exactly he does as the Development Coach for the club and the changes he's seen throughout his time in the NHL.
What is it that you do as the Development Coach for the Columbus Blue Jackets?
     I think it's kind of an expanded role for a coach. I deal with all of our drafts that are in Juniors and in college, and from Europe to Syracuse (AHL affiliate). I work with the growth of our young kids that started in Junior and then have gone on to Syracuse to eventually make it to the NHL; with the likes of Russell and Dorsett, Brass (Brassard) and Boller (Boll). You know, really talk with them and give them insight about things they have to do. Throughout the course of their career there's such a fluctuation of highs and lows and being able to deal with that. I think that through my experiences of not only being a young guy but also as a player, it helps having gone through the majority of these transactions from getting sent down to understanding what their emotions are at that time and how we're going to deal with that and what we have to do to get better. I really want to give them every resource possible to become the best NHL player that they can be.
     So you see yourself as a liason between coaches/management and the youngs guys about what to expect?
     Yeah, for sure. I think with our coaching staff that they have a game plan that they're so focused on, on what needs to be done and what's expected. I think that I just broaden that more on a one on one personal level as far as each guy is different. Each guy has strengths and weaknesses and how we're going to make those weaknesses into positives. It's about how we're really going to exploit the strength of their game to become the best that they can be. Not only on the ice but off the ice as well and about how to be a professional, representing the organization as a whole and what we expect through hard work and passion for the game. I think it's evolved over a period of time for these kids. They just don't become NHL level players. They've got to learn through trial and error and make sure that when they get that opportunity to expand their role that they're ready for it.
     How much time do you spend tavelling to see and meet with the players throughout the season?
     This year's been a bit of a diffence being with the bigger team (Columbus) than the last little bit. Obviously, going through a coaching change, I thought that some of our younger kids have struggled more this year. So, really trying to help them work through that. But, from September through June it's pretty much on the road. I don't see my family that much. But that's the way it is. When you're a player, it's really no different. I think the thing that people don't understand is with my wife and my kids, that's all they've known from me being a player. You have opportunities to go home. I'm probably on the road 25 out of every 30 days each month.
     You've seen John Moore (CBJ 1st round pick, 2009 draft) play more than most of us. Is his game coming along to where you would expect it to be?
     For sure. I've spent a lot of time with John this year and many conversations with him. Pretty much after every weekend, if I haven't seen him play, we'll get an update on how he played. He'll give me his personal view on how he played and I'll talk with his coach. Sometimes, those views aren't the same. John's had a good year. He's done everything that we've asked him to do. His development has progressed this year; as far as going from the U.S. Junior program, he's played more games. Points-wise, we're really not concerned with how many points he gets, but just overall to be a really good defenseman. He's learning more how to defend in the defensive zone. And he's done it. He's definitely going to be an NHL player. It's just a matter of when.
     Where do you see his (John Moore) development leading to next year?
Once training camp comes he's obviously going to fight for a spot (on the roster). He's a guy that has the tools to play in the NHL right away. But I think with his development, we perceive he got to continually play. The pro game is a lot different than junior, so he's made a good transition from the U.S. Junior to Canadian Major Junior and now turning into the pro level. I think you've got to be really careful on how fast you give these kids too much, too soon. Now, whether that's at the NHL level or the AHL level, that's yet to be determined. As far as playing pro next year, it's going to be another jump for him, and if he can handle it right away, that's great. If there are going to be times that he's not playing a lot, I don't think that's a great way utilise him. We want this kid to be great player, not a good player. There are steps that need to be taken and he'll really determine that in training camp.
     You've seen players rushed into the NHL. What role do you play with Scott Howson in slowing that trend?
A big part of my job is to have that input with Scott Howson. Obviously, at the end of the day, Scott and the management team are going to make that decision. I think, for myself, I was a 1st round pick, played at 19 years old and I wasn't ready to play (at the NHL level). I really think that hurt my development as far as being the player that I should have been at that time. With the salary cap world now, you have to be careful because you have to develop these kids into good players. You have to make sure that you're growing your own kids (versus free agent signings and trades) and developing them the right way. On the cautious side of not giving them too much too soon, if you do that, it's a step backward for a lot of these kids.
Do you have aspirations of becoming an assistant or heaad coach in the future?
Not really. I love being part of a group discussion and looking forward to where the organization is going. About what we're going to do and how we're going to get there. I love being a part of that. Hockey has been my life. I think I've been a student of the game since I was 15 or 16 years old. I like my job and I like where I have this input and when our young kids become good players, you can have that relationship with them where they listen to you and understand where you're coming from. It's not always the positives, you know? Criticism comes into play and when you can be a part of that you get some good self-gratification. It's great when these kids go on to be good players because you're helping them to fulfill a dream.
Rick Gethin was an Associate Editor of TheHockeyWriters.com.