Mario Lemieux, Jaromir Jagr, Ron Francis, Bryan Trottier and Larry Murphy were an imperious offense together. Add Tom Barrasso, Kevin Stevens, Ulf Samuelsson and Rick Tocchet. You've got yourself a distinguishable group there.
Pittsburgh's second consecutive Stanley Cup Title in 1992 was one of dominance. The Penguins lost five games on their way to the championship and swept their last two opponents.
Secondary scoring is a fundamental for any postseason contender. Shawn McEachern was taken 110th overall by the Penguins in the 1987 NHL Entry Draft and joined Pittsburgh for his first 15 games during the 1991/1992 regular season.
Come playoff time, McEachern provided that necessity (secondary scoring) with two goals and seven assists in 19 games. At the time just 23-years-of age, his wait for the transcendent opportunity in hockey didn't stretch too long.
He attained a long fine stay in the NHL with over 900 games played and nearly 600 points produced.
Shawn was kind enough to speak to me about his career, success and hard-work on the ice.
Shawn McEachern's Interview with THW – 2009
What was your initial reaction being drafted by the Pittsburgh Penguins while you were still in high school?
I was excited, but knew it was a small step in making it to the NHL.
How valuable were your years at Boston University in terms of taking the next step from there?
Very valuable, I played with great players there and learned a lot from the
coaching staff. I couldn't have asked for a better experience.
Many players go their entire career without a Stanley Cup ring. You earned one in your first year joining the Pittsburgh Penguins. How special was that for you?
Very special, I was lucky to join a team full of all-stars that were committed to winning.
Did that experience give you a bit of an edge the following year when you compiled 61 points as a rookie?
Yes, I went into that season with a lot of confidence. I felt like I belonged in the NHL.
You played for five different NHL teams. Some players tend to struggle with new teammates and a new system, but you were an effective forward where ever you competed. How did you accomplish this so well?
I think you have to learn to adapt to playing with different players. It's always about winning and sometimes you have to do different things to fit in with a new team.
A lot of your fantastic seasons came with the Ottawa Senators. Did any part of your game change when you made the move there?
Yes it did, I was lucky to play for a great coaching staff. They were good teachers of the game and helped me tremendously. Playing with guys like Daniel Alfredsson helped as well.
Having competed in the NHL prior to the lockout and for a short time after its conclusion, what can you say about the rule changes from your experience, better or worse?
I think it's better, it allows the skilled players to make plays.

You competed with many great stars over your career but which teammate of yours would you say was the most underrated?
I'm not sure. Mario (Lemieux) would be the best I ever played with. Maybe Ron
Francis, he was great at both ends of the ice.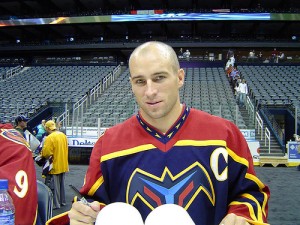 What was it like captaining an Atlanta Thrashers team only a few years after they had been introduced into the league?
It was a tremendous honor to be a captain of an NHL team. We had a great group of guys in Atlanta. I think if we hadn't had the accident involving Dany Heatley and Dan Snyder we would have been a playoff contender. But we lost a great teammate in Dan Snyder and that was tough to recover from.
Given your experience in the Olympics and playing with the United States national team, do you believe NHL players should continue receiving permission to represent their country?
I think if every country sends their best players it's a better tournament, so I like the NHL guys going.
Is there a player you see in the game today who reminds you a little of yourself in terms of their style of play?
I never think about that really. I like a lot of the players in the game today. They don't remind me of myself but I like Lucic in Boston, Hossa, I could list too many.
Finally, how has the transformation from player to coach been working for you?

I really enjoy coaching. I take what I learned from all the places I played that worked for me and pass it on to our players. I really enjoy working with the kids at UMass Lowell because they are so committed to the team and each other.
I'd like to thank Shawn very much for taking the time to speak with me and wish him the best of luck in his coaching with the University of Massachusetts in Lowell.