By Mike Miccoli
The names on the score sheet will only tell you so much. For an injury-depleted Boston Bruins team, it's more than just goals, assists, and saves–it's where they came from.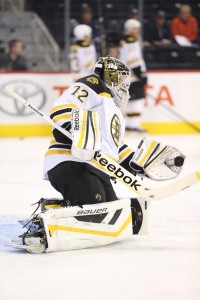 Out of the 19 players that the Bruins dressed on Thursday night, 11 have spent time playing with the Providence Bruins, Boston's AHL affiliate. Six of them played an important role in Thursday's 3-2 overtime win against the Nashville Predators. One of them picked up his first career NHL win in his first start with Boston.
Called up from Providence earlier in the day, Niklas Svedberg made 33 saves in the Bruins overtime win.
"Every since I started playing, this is where I wanted to be so I'm real happy with this win," said Svedberg. "It's just one game but it's real fun to get the win in my first game."
Svedberg was called up a week ago with intentions to play the second game of the Bruins back-to-back, home-and-home series against the Ottawa Senators. Because of a season-ending injury to Dennis Seidenberg, Svedberg was sent back down to Providence to make room for a defenseman call-up.
"Obviously they want every player to come up here, and they said it would happen in camp but in this business, nothing is for sure," said Svedberg, who won 37 games in his rookie campaign with Providence last season. "You can't go on thinking about that. Last weekend was more tough luck for everyone. You can never do that in hockey.
"They want me to play, they saw me, and I kept going and stuck with it."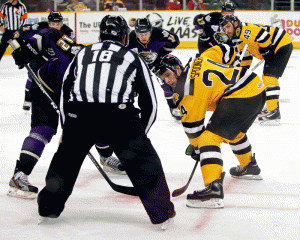 Fellow teammate in Providence and recent call-up, Ryan Spooner continued to make a case to stay in Boston after his call-up with another impressive game. His assist to Johnny Boychuk's goal, the Bruins' first of the night, showed off his holistic package of speed, patience, and vision.
"First couple of games I was here, I was kind of just not really making anything happen," said Spooner, who has nine assists in 14 games with Boston. "But I feel like I've kind of went like this a little bit, kind of up and down, and I think if I can maintain creating chances and using my speed I think I'll be fine."
Acting as the center of the third line alongside another Providence teammate Matt Fraser and Carl Soderberg, Spooner has five assists in his last five games. His play has been garnering the attention of his teammates too, including Brad Marchand who scored the game-winner for Boston in overtime.
"He's a phenomenal skater," said Marchand. "He's really shifty, very tough to hit, and he makes a lot of things happen because of that. He's got very good vision on the rush and Johnny [Boychuk] did a great job to finish it off."
But there's a common thread here. Svedberg, Spooner, Boychuk, and Marchand, all played pivotal roles in the Bruins win. Add in Matt Bartkowski who was second in ice-time for the Bruins with 23:51, only 25 seconds behind Zdeno Chara, and Patrice Bergeron who set up Marchand's game-winner and what do you get? All have passed through the Providence Bruins team to get to Boston.
And that's without mentioning Fraser, David Krejci, Torey Krug and Adam McQuaid.
The Providence Bruins have done a remarkable job developing players and preparing them for NHL play in Boston. Even with some of the players who have since been returned to Providence, the staff has provided them with the tools they've needed to fill roles and responsibilities when called upon.
At a time, the injured list for the Bruins would include names that could be a vital part of any team. The Providence players have done well in filling holes and plugging gaps and eventually, becoming crucial parts of the Boston Bruins organization.
Thursday night was just another example.
Mike Miccoli covers the Boston Bruins for The Hockey Writers and has been a credentialed member of the media for all Bruins' home games for the past five years. As a former player, coach and official, Miccoli has been around the game of hockey since the age of three. Along with his work on THW, Miccoli has also been published in the New England Hockey Journal, Improper Bostonian magazine and on BostInno.