OSHIE ABSENCE MAY HELP BLUES.
By Craig Phelps
St. Louis, Mo- The St. Louis Blues star forward, T.J. Oshie, is finding himself riding the bench yet again.  Oshie missed 31 games earlier this year because of a broken ankle, this time around he is missing two games because of a lapse in judgment.  Reports say that the Blues energizer bunny missed practice on Monday morning at the Blues practice complex located in the St. Louis Mills.
The puck dropped for the Blues game against the Minnesota Wild on Tuesday evening and Oshie was nowhere to be found on the Blues bench.  Oshie is expected to receive a two game suspension for his absence from practice.
Oshie, 24, could have missed practice for a number of reasons; maybe his alarm clock didn't go off, maybe he had one too many the night before, or maybe he just didn't dress out in time for practice, but none of these reasons are the story here.   The bigger question to ask after this is whether the Blues have the right attitude at the end of the season.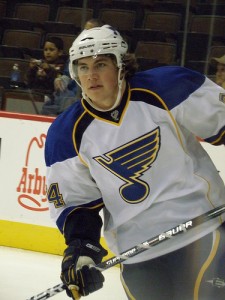 Let's not be coy with ourselves here, the Blues season has been a struggle.  It's been a tough thing to endear at times for both fans and players alike.  Any team that has played through the season that the Blues have had to endure is going to have its fair share of problems.  Injuries have played a huge role in the Blues 34-32-9 record and the realization that they are out of the playoff hunt.  That can be a tough item for any young athlete to handle; to know that your best was not enough and that your injury helped to contribute to a disappointing season.
With that being said, it's hard not to read into Oshie's missed practice.  Despite his youth, Oshie is a key part to the core of the 'Notes squad.  Even when he does not have a great offensive night, he manages to spark his teammates through his energetic play.  When a guy that is looked at as the leader of your team misses practice, it is big news.  It makes fans question what is happening in the locker room and it makes some players question each other, not to say that Oshie's teammates are questioning him.
The Blues seem to be taking that theory and throwing it out the window.  They were playing with an extra chip on their shoulders against the Wild on Tuesday.  They were making the hard hits and effectively setting up scoring chances.  Chris Stewart and David Backes seem to be the leaders of this team now, not Oshie.  They are stepping up and letting their play speak for itself.  It would not be an unreasonable assumption to say that Stewart or Backes had a nice talk with Oshie about coming to practice.
The Blues need a leader, and this situation may have just created two strong candidates to wear the captain "C" on their chest next season.
Sports Director at 89.9 WLCA.
Sports Reporter.
TheLCBridge.com
Fox Sports utility and cameraman.
Sports Journalism student.
St. Louis Cardinals, Rams, Blues, and SIU Salukis.
www.twitter.com/Craig_Phelps