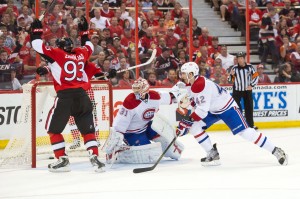 The Ottawa Senators hold a commanding 3-1 lead against the Montréal Canadiens in the Stanley Cup Playoffs and will look to finish off the Habs on Thursday. Ottawa has played extremely well at times throughout the series but have benefited from a lot of lucky bounces as well as the injuries the Canadiens have faced. The pesky Sens have battled from injuries all season and the team has remained to be successful because of the terrific depth this organization has. Depth players have stepped up all season long for the Ottawa Senators and that's definitely been the case in the postseason. With all that being said, let's take a look at four unlikely Senators who have really stepped-up their games in the postseason.
Jean-Gabriel Pageau:
Relatively unknown to hockey fans before the start of the postseason, Pageau has quickly become a household name for Senators fan after his Game 3 hat-trick in which he had one of the most dominating performances in Sens history. He has elevated his play to another level and has consistently been one of Ottawa's best players. Not only is he great defensively, but he has provided much needed offense and uses his quickness to generate a lot of scoring chances. It will be interesting to see how he handles himself for the rest of the series, but he stepped-up at a key time and was a main contributor in Game 3.
Jared Cowen:
Coming off an injury it was questioned how effective he would be in the playoffs after missing the majority of the NHL season. Jared Cowen has been one of Ottawa's best defenseman so far in the playoffs and a crucial part of shutting down Montréal's dynamic offense. He is surprisingly great at makes plays in own end and the amount of patience he shows is very impressive. He does have a slow first step, but overall he is a decent skater for someone his size and he provides much needed physicality on the backend. Cowen has already had a fantastic postseason so far and if he can continue to improve his play throughout the playoffs, he will certainly become a valuable player for the Senators during the stretch.
Chris Neil:
A player like Chris Neil becomes very effective in the postseason because of his physical style and his ability to impact the game at times. On a line with Zack Smith and Matt Kassian, Neil and his line mates have been very effective at times throughout the series whether it's banging and crashing bodies or cycling the puck and generating scoring chances. He made a very nice play on the Mika Zibanejad goal in Game 4 and while he is not known for his offense, he can chip in with a goal every once in a while. Every team wishes they can have a player like Chris Neil in the playoffs and he has certainly been a factor so far in the series.
Mika Zibanejad:
Mika Zibanejad is quietly coming off a great rookie campaign and has been one of Ottawa's most consistent centers throughout the year. Zibanejad has looked comfortable in his first couple playoff games and has great chemistry with fellow Swedish rookie, Jacob Silfverberg. Zibanejad has provided the Senators with secondary scoring and has not looked out of place playing against Montréal's top defensemen. Mika's best asset is his speed and he uses it effectively even though he has an awkward skating style. He plays very well in own zone for a rookie and has a very good transition game often using his powerful skating stride to outmuscle opponents. Zibanejad is only going to get better and has been a major reason why the Senators have a 3-1 lead over the Canadiens.
Follow me on Twitter @ConorTHW