On Thursday afternoon the Ottawa Senators traded Erik Karlsson to the San Jose Sharks. After months of rumors, the Senators opted for another transaction with the Sharks, to whom they traded Mike Hoffman earlier this summer (he was dealt to the Florida Panthers hours later).
In the aftermath, it is important to remember the Senators got more than just picks in this trade. Yes, the picks are important but the assets that can hit the ice now are the most important pieces of this trade and we should get to know the new players and see how they can help the Senators in the NHL, AHL or in future trades.
Josh Norris
We begin with the player who the Senators received the rights to. Josh Norris is a 19-year-old, left-handed center from Oxford, Michigan. He's 6-foot-1 and 195 pounds. He was selected 19th overall by the Sharks in the 2017 NHL Entry Draft and plays for the University of Michigan Wolverines, entering his sophomore year. As a freshman, he played in 37 games, recording 8 goals and 15 assists.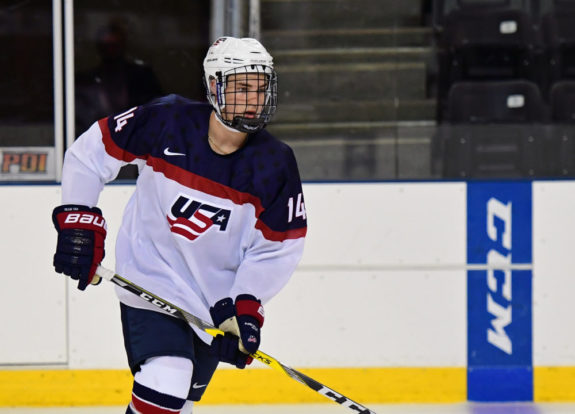 In 2017, Norris was an alternate captain on the USA's U-18 team. That team, including Brady Tkachuk, won the gold medal at the 2017 World Junior Championships. He contributed 3 goals and 4 assists.
Norris has been said to, "select his shots and passing lanes well" and has an "ability to make plays in all three zones and shows grit as well." If he can develop in the NCAA and adapt well to the NHL, the Senators may have a solid center in the future.
Dylan DeMelo
The only defenseman acquired by the Senators in this deal, Dylan DeMelo was a sixth-round pick by the Sharks in 2011 after playing for the Mississauga Steelheads in the OHL. He's a 6-foot-1, 185-pound right-handed defenseman who played in 63 games for the Sharks last year and put up 20 assists in the process. DeMelo also played in all 10 of the Sharks' playoff games, adding one assist. He carries a cap hit of $900,000 over the next two years.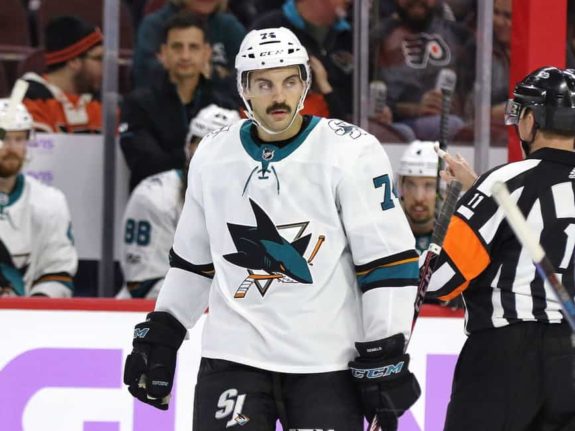 DeMelo has NHL experience and can slot into the lineup immediately, possibly on the right of Christian Wolanin on the second defensive pairing. He's not Karlsson but he is a decent depth defenseman that the Senators can use for the next two years.
Chris Tierney
Another player with NHL experience, Chris Tierney has played in 284 games, all with the Sharks. Taken in the second round of the 2012 NHL Entry Draft, Tierney is 24 years old and coming off a career-high, 40-point season where he also won 51.0% of his face-offs. He has two years left on his contract making $2,937,500 per year.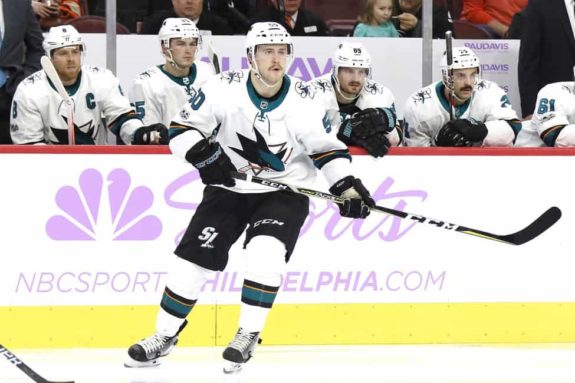 With Jean-Gabriel Pageau's recent injury, Tierney will likely be used as a third or fourth line center. If can repeat the kind of season he had last year, or even put up 30-plus points, he would be a useful addition to the Senators. Another plan for Tierney would be to trade him at the deadline to a contender looking for depth up the middle, hopefully trading him for future picks.
Rudolfs Balcers
Finally, there is Rudolfs Balcers. From Latvia, Balcers is a 21-year-old left wing who was a fifth-round pick in 2015. He's 5-foot-11, 174 pounds and entering his third season playing North American hockey. After being drafted, Balcers came over from Norway and played in the WHL for the Kamloops Blazers. In 66 games, he was second in team scoring with 77 points during the 2016-17 season, leading all WHL rookies in goals with 40.
Balcers then signed a professional contract and joined the San Jose Barracuda, the Sharks' AHL affiliate, for the 2017-18 season. He played in 67 games and led the Barracuda in goals (23) and total points (48), being named to the AHL All-Star team as a result. Balcers' cap hit is $925,000 with two years left on his ELC.
With how poor the Belleville Senators were last year (29-42-2-3), having Balcers' production will help, especially since he scored those 48 points on a Barracuda squad that finished last in goals scored last year (186). If he can continue to score and grow while he is in Belleville, Balcers could be a nice player for Ottawa in a few years' time.
📹 Want a glimpse at what @rudolfsbalcers can do #BellevilleSens fans? How's this for evidence? pic.twitter.com/6tZ8rvfxQL

— Belleville Senators (@BellevilleSens) September 14, 2018
The Return Isn't Enough
While we can be excited about Balcers and Norris, the return for Erik Karlsson, the best defenseman of his generation, was not enough. If this trade involved a player like Matt Duchene or Mark Stone, it would be easier to stomach, but for a two-time Norris Trophy winner and four-time All-Star, it isn't anywhere close. This trade is a clear indication that management cared more about quantity than it did quality when it came to what they got in return for their captain.
A hockey fan straight from the Lonestar State. No matter the team or league, I'm always here to spread the word on the world's greatest sport.