Two months ago, Ottawa Senators prospect Maxime Lajoie was gearing up for training camp. He was getting ready for a camp where most assumed the defensive roster spots were taken, with Lajoie on the outside looking in.
But now? The defender stole a spot in the lineup and has exceeded expectations by so much that he should be considered in early Calder Trophy conversations for rookie of the year.
Related: Senators' Prospect Lajoie Has Earned a Roster Spot
Lajoie's become an offensive threat from the blueline and has held his own defensively. It's hard to believe that just one year ago, he was in the ECHL with the Brampton Beast, albeit for just one game. He played the rest of the year in the AHL with the Belleville Senators, playing 56 games and collecting 15 points. That's just slightly over a point every four games with a 0.27 point per game average. Through Lajoie's six games this season, his first in the NHL, he has four goals and three assists for 1.17 points per game.
Lajoie's Remarkable Start for Senators
The Senators have had some solid defenders over the years, but Lajoie's start beats them all. That includes current teammate Thomas Chabot and former Senators' Wade Redden and the recently departed Erik Karlsson. The difference though is that these players came with a pedigree of putting up the points and were all first-round picks. In the 2016 NHL Entry Draft, Lajoie was drafted in the fifth round, 133rd overall.
Maxime Lajoie has collected 4-3—7 through the first six games of his NHL career (1.17 P/GP).

No defenseman in @Senators history, regardless of status, has recorded more points in their first six games with the club. #NHLStats #DALvsOTT pic.twitter.com/75Hz1FiyuC

— NHL Public Relations (@PR_NHL) October 16, 2018
The rookie's hot start didn't take very long. In his first NHL game, he collected his first goal and first assist – in the first period. He has two multi-point games on the season, in that first game versus the Chicago Blackhawks and three games later he had two goals and an assist in a 7-4 loss to the Philadelphia Flyers.
Lajoie is currently third on the team in points, behind newcomer Chris Tierney and fellow defender Thomas Chabot. Both have eight points, just one ahead of Lajoie. He is leading the team in goals, his four just one ahead of rookie Brady Tkachuk. Lajoie also leads the team in power play goals (two) and is tied for first for power play points (four) with Tierney.
Looking at the NHL ranks, Lajoie is tied for fourth in points by defensemen, behind Toronto Maples Leafs' Morgan Rielly (13), Washington Capitals' John Carlson (nine) and Chabot (eight). Against rookie skaters, he's second in both points and goals to Vancouver Canucks' sensation Elias Pettersson. Lajoie's success up to this point has everyone paying attention, but the young player remains humble and doesn't have an explanation to his impressive start.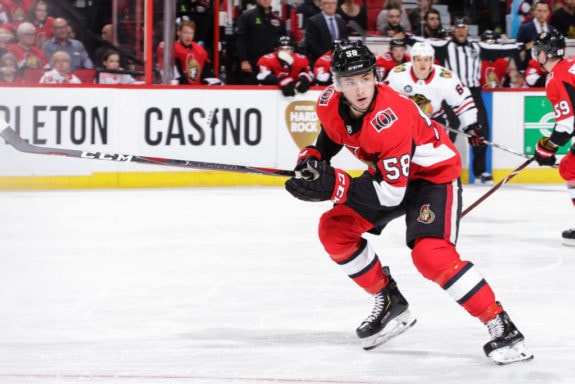 "It's kind of hard to explain. I'm not sure what's going on right now," said Lajoie on his hot start, "I guess I've been in the right spot at the right time. Guys are making plays for me. It's been nice. I don't think I've ever been on a heater like this for a while. Even junior, it was maybe every second game (with points) or something like that. It's a good feeling."
It's not just the fact that Lajoie has been putting up the points, it's how he's doing it. The 20-year-old is playing beyond his years, looking poised, patient and in control of most of the situations he's been thrown in. This can be seen in the video below, Lajoie's fourth goal of the season against the Dallas Stars.
The young defenseman is just one year removed from playing junior hockey with the WHL's Swift Current Broncos. Now, he's facing players such as Jonathan Toews, Patrick Kane, Auston Matthews, John Tavares, Claude Giroux, Jamie Benn, and Tyler Seguin. He's faced these elite players and yet remains a plus-one. On the defensive end, he also has 11 blocked shots and four hits so far.
There's still a lot of season left and Lajoie will need to keep up his production throughout the year. He probably won't get to Alexi Yashin's franchise rookie record of 79 points, but the defenseman could become the second player to win the Calder Trophy for the team. The first was longtime Senator Daniel Alfredsson in 1995-96. The two players even share an interesting connection, like Lajoie, Alfredsson was drafted in the fifth round and 133rd overall.
However, it's not going to be an easy road for the young player to win the Calder trophy. If Lajoie continues his stellar play and makes a push for the rookie of the year award, he'll have some serious competition along the way.
Lajoie's Rookie Competition
If Lajoie is to have any chance at winning the Calder Trophy, there are numerous names he'll have to work to out-impress. Two of those impressive rookies are injured, which may help his chances, but in the NHL there's always a long list of rookies that are worth a look. Here's just a few from the start of the season that stand in his way.
Elias Pettersson
The Canucks' forward shot out of the gates this season, not only putting up five goals and nine points but the majority of his goals have been highlight plays. Pettersson has played five games and has been shooting at a 38.5% rate. He won't be able to keep that up all season, but it's a great start for the young player.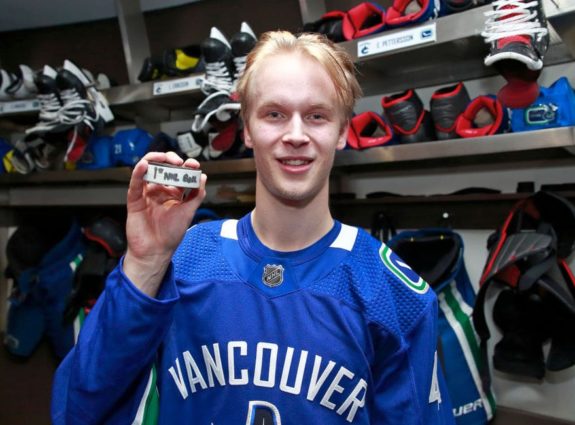 Many odds-makers had Pettersson as the favourite to win the Calder Trophy at the beginning of the 2018-19 season and if it was awarded now he would likely win. Unfortunately, as many hockey fans know, the Swedish player is currently sidelined with a concussion after taking a brutal hit from Florida Panthers' defender Mike Matheson that got him suspended for two games.
While it's been reported that Pettersson is recovering from the concussion, there's still no timeline for his return or how he'll play after the head injury. As long as he's not out long term and comes back with the same form as before the hit, he'll likely remain the favourite to win rookie of the year throughout the season.
Brady Tkachuk
Another player in the way of Lajoie winning the Calder Trophy is teammate Brady Tkachuk. Tkachuk sits just behind Lajoie in rookie points, with three goals and six points, and he did it in only four games after missing the first two games of the season with a groin injury. While he was just starting to shine on the Senators top-six, he was hurt again against Dallas, this time with a torn ligament in his leg that will see him miss a month.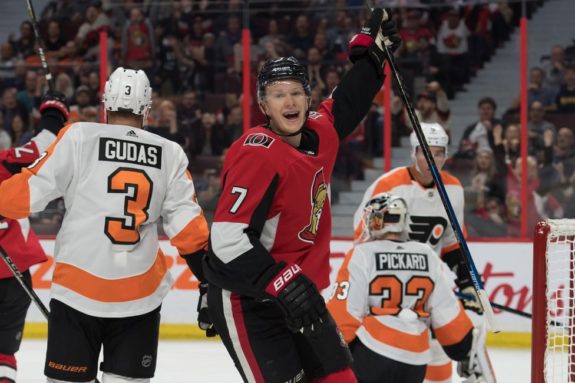 Tkachuk started the season in the top-10 for odds of rookies to win the Calder and his play early looks like he could do it. He'll need to make up some serious ground though after his injury to stay in the conversation with the other rookies. His point totals, along with his plus-five rating, second to only Dylan DeMelo on the Senators, two power play points and a game-winning goal show that Tkachuk is ready to compete at this level. Don't count him out of this race just yet.
Rasmus Dahlin
While he hasn't stood out on the point sheet yet, Buffalo Sabres' first-overall pick from last year's draft has the potential to turn it on at any time and could steal the Calder from any of the aforementioned. He's potted one goal and one assist through six games, although his one goal was a game-winner against the Arizona Coyotes.
Dahlin is on this list to compare another defenseman to Lajoie. While he's not the closest rookie defender in points (Chicago's Henri Jokiharju has five points, and Detroit Red Wings' Dennis Cholowski and Filip Hronek both have three), he's one of the biggest rookie defenseman names in the league right now.
Even if Lajoie doesn't win the Calder Trophy but has a better year than Dahlin, Senators fans should definitely consider that a win. Dahlin is considered by many to be the best player in a generation to come out of Sweden and was ranked second to win the rookie of the year honour this year, behind Pettersson.
Calder for Lajoie Won't be Easy
While his start has been impressive, Lajoie has the odds stacked against him winning the Calder Trophy. Only eleven defensemen have ever won the rookie of the year honours and it's a list that includes Bobby Orr, Denis Potvin, Ray Bourque and Brian Leetch. It's a Hall of Fame-filled list which is not easy for any rookie, let alone a defender, to win.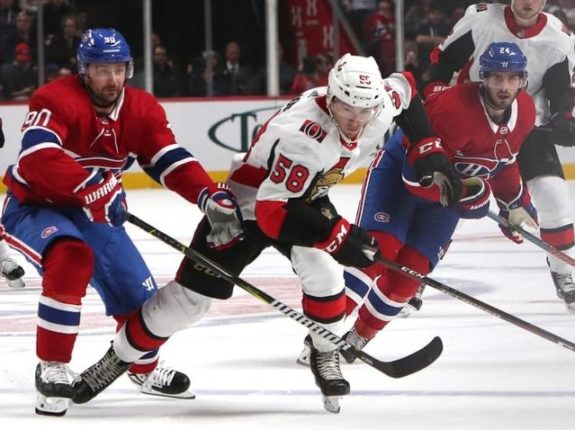 The most recent defenseman to win the award was Panthers' Aaron Ekblad in 2014-15. In that season, Ekblad had 12 goals and 39 points, Lajoie is already at about a quarter of those totals. The Panthers' defender set franchise records for points, goals and assists and remained constant through the year. That's the secret for Lajoie to win the award – consistency. While he won't have to keep up his current pace at over a point-per-game, he'll need to maintain his overall play throughout the season.
Whether he ends up winning the Calder Trophy or not, Maxime Lajoie is off to a hot start for the Senators. He's poised, he's confident and it's showing on the ice. He's a bright spot in the first year of the rebuild and should be a fixture on the backend in Ottawa for a long time if his play continues. A Calder Trophy, even a Calder nomination, would make for a historic end of the season to go along with his historic start.
Starting out as an Ottawa Senators contributor for The Hockey Writers, Josh is now an editor and at-large contributor, focusing on prospects, the NHL Draft, hockey history, and breaking news stories.