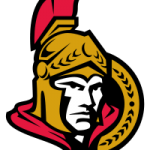 As the 2011-2012 season began, most expected it to be a long arduous season of rebuilding for the Ottawa Senators. Now at the mid-point of the season the Sens find themselves surprisingly in fifth place in the Eastern Conference with 50 points.
The season began as expected as the Sens had a 1-5-0 start in their first six games. However, they pulled it together and finished the month 7-5 with a series of dramatic come from behind and over time wins, becoming this seasons "Cardiac Kid" team
Since then, the Sens record in the month of November was 5-5-2. In December they managed a 7-5-3 record. So far in January they are an impressive 3-0-1 record for a season result of 22-15-6.
Looking at the roster at the start of the season compared to the same time last year, there were a lot of questions. Gone from the previous years manifest were Mike Fisher, Chris Kelly, Alexi Kovalev, Jarkko Ruutu, Ryan Shannon, Marek Svatos, Chris Campoli, and both goalies Pascal Leclaire, and Brian Elliott. All these departures made way for Bobby Butler, Erik Condra, Colin Greening, Stephane Da Costa, Zack Smith, and Jared Cowen who were all auditioned for regular roles on the NHL club.
In addition, GM Bryan Murray added Zenon Konopka, Nikita Filatov, Craig Anderson, and Alex Auld via trade and free agency. The most notable additions came on draft day however, as the Sens stocked the cupboard with Mika Zibanejad, Stefan Noesen, Matt Puempel, and Shane Prince.
Going into the season, Sens fans may have been embracing a season of loss and evaluation while looking to the future and a rebuild. Securing another lottery pick while developing, and identifying the talent of their young players. It is reasonable to think that Sens fans would be hoping GM Murray would continue to purge some veterans off the roster. Specifically defensemen Sergei Gonchar and Filip Kuba, who were both booed by fans at the season home opening introductions.
Here is a report card style breakdown, player-by-player of the Sens roster to evaluate each players performance year-to-date
Daniel Alfredsson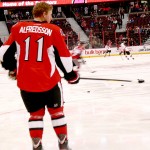 GP 37, G14, A 19, 33 Points, (+/-) 4
Grade: A-
The Sens Captain has played an inspiring season, overcoming off-season back surgery and an early season concussion. With the NHL All-Star game in Ottawa this season, and Alfredsson being the leading fan voted player, expect him to be one of the Captains.
Craig Anderson
GP 38, W 20, L 12, OTL 4, GAA 3.13, SV% .902
Grade: B+
Acquired late last season, Anderson was immediately labeled as the best goaltender in modern franchise history.  His play has been spotty at times, but overall he is getting the job done.
Alex Auld
GP 10, W 1, L 3, OTL 2, GAA 3.73, SV% .875
Grade: F
Auld's second stint in Ottawa has been a complete failure. He has started 10 games, but only finished six. His stats are awful. Auld has allowed future goalie Robin Lehner to develop properly in the AHL. If Anderson goes down to injury, Lehner will vault past Auld to be the starter.
Bobby Butler
GP 32, G 4, A 4, 8 Points, (+/-) 3
Grade: D-
After showing chemistry with Jason Spezza in last seasons second half, scoring 10 goals and 21 points, Butler has failed to produce this season. Butler is a scoring winger who is not scoring. Unless he gets hot, he will not be on the Sens roster next season.
Matt Carkner
GP 13, G 1, A 1, 2 Points, (+/-) -2
Grade: B-
Carkner missed the start of the season with a knee injury. His return has brought even more toughness to the most penalized team in the NHL. Carkner is an excellent fifth-sixth tough, character, shut-down defender.
Erik Condra
GP 42, G 7, A 10, 17 Points, (+/-) 13
Grade: B+
Condra is a defensive winger and is leading the Sens in +/- with plus-13. In addition to solid defense and penalty killing, Condra has chipped in 17 points.
Jared Cowen
GP 43, G 4, A 8, 12 Points, (+/-) 1
Grade: A
Cowen has been a tower of power on the Sens blue line. Cowen is exactly what the Sens defense has been lacking. He is a big, mean, stay at home, shutdown defender. Cowen has shown the poise of a veteran in his own end. Any offense he produces is a bonus! Going into the season there were Calder Trophy hopes in Ottawa for David Rundblad. But it is Cowen who will be the Senators nominee for rookie of the year.
Stephane Da Costa
GP 22, G 3, A 2, 5 Points, (+/-) -9
Grade: C-
Da Costa was unable to secure the second line center position despite injuries to Peter Regin and the demotion of Mika Zibanejad. With the addition of Kyle Turris, his future is now uncertain. Da Costa is still in his first pro season and can continue to develop in Binghamton of the AHL. Da Costa showed plenty of skill despite not being able to score consistently. If he can round out his game, and make the adjustment from college hockey to pro hockey he may yet make the NHL with the Senators, or elsewhere.
Kaspars Daugavins
GP 34, G 3, A 4, 7 Points, (+/-) -3
Grade: B-
Daugavins is an energy winger who brings more defense than offense. He was a surprise to make the team after being called up and staying with the team. Daugavins is a quality depth player who is very expendable.
Nick Foligno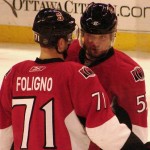 GP 43, G 12, A 13, 25 Points, (+/-) -4
Grade: A
Foligno is finally showing signs of the break-out the Sens were hoping for. Foligno has scored consistently since an experiment that saw him assume second line centre. He has carried that momentum in both his offence and physical game as he has started to deliver big time hits. He is now a legitimate top six forward in the NHL
Sergei Gonchar
GP 36, G 2, A 21, 23 Points, (+/-) 0
Grade: B+
Gonchar is having a bounce back season. After only scoring 27 points and posting a plus/minus -15 last season he has surpassed most expectations. However, with a cap hit of $5.5 million is he meeting his contract expectations?
Colin Greening
GP 43, G 9, A 11, 20 Points, (+/-) -4
Grade: A-
Going into the season, Greening was not a lock to make the team. Not only has he made it, he has clinched the top winger spot with Spezza and Michalek. Greening has developed into a solid NHL power forward. After a sensational start, he is showing signs of slowing down. For now, Greening is exceeding expectations.
Erik Karlsson
GP 43, G 6, A 35, 41 Points, (+/-) 7
Grade: A+
Karlsson is enjoying a breakout season. Not only has he become the Sens number one defenseman, he is arguably the best in the NHL. Leading the NHL defense scoring in points and All-Star votes, the future is bright for Karlsson
Zenon Konopka
GP 36, G 3, A 2, 5 Points, (+/-) -1
Grade: B+
Konopka was acquired as an off season free agent. His role is to play fourth line centre, providing face-off support and toughness.
Filip Kuba
GP 34, G 4, A 8, 12 Points, (+/-) 13
Grade: B-
Last season Murray could not give Kuba away as he played a poor season while struggling with injuries. This season has been a bounce back campaign for Kuba and he has reestablished some trade value. Given the Sens depth on defense he may still be trade bait at the deadline.
Brian Lee
GP 26, G 0, A 5, 5 Points, (+/-) -6
Grade: D
The former first round ninth overall pick has failed to meet expectations. It would be in both Lee's and the Sens best interest to move on.
Milan Michalek
GP 38, G 20, A 8, 28 Points, (+/-) -4
Grade: A
The combination of playing on the top line with Spezza, and being healthy has allowed Michalek to have an all-star season. Michalek was leading the NHL in goals before he missed time with a concussion.
Chris Neil
GP 34, G 6, A 8, 14 Points, (+/-) -8
Grade: B
Neil is a player lots of teams would love to have. Neil is consistently at the top of the league in hits and penalty minutes. His presence can influence the momentum, and outcome of a game.
Chris Phillips
GP 41, G 0, A 10, 10 Points, (+/-) -2
Grade: B
The Veteran shutdown defenseman logs big minutes for the Sens against the opposition's top line. Never much of an offensive threat, but at his best when you don't notice him
Peter Regin
GP 10, G 2, A 2, 4 Points, (+/-) 3
Grade: C-
After a breakout playoff performance in 2010 Regin has been plagued by a series of serious shoulder injuries. This season is all but done for him, and his career is now in question.
Zack Smith
GP 43, G 12, A 9, 21 Points, (+/-) 5
Grade: A+
Smith was not expected to make the team, but he has far exceeded expectations. Smith is very versatile; he has size, plays two-way, and has provided offensive support. He is an ideal third line center.
Jason Spezza
GP 43, G 15, A 27, 42 Points, (+/-) 0
Grade: A
A clean bill of health has allowed Spezza to reestablish himself as a premier center in the NHL. He is strong on the draw and has developed his defensive game, reducing his turnovers dramatically.
Kyle Turris
GP 16, G 1, A 6, 7 Points (+/-) 6
Grade: B+
After holding out in a contract dispute, then demanding a trade out of Phoenix, Turris was acquired for David Rundblad. Since joining the Sens, he has been thrust into the second line center position and played well. Expectations will be high for the former third overall draft pick. For now he is playing well. Expectations will be raised once the honeymoon era ends, then the pressure will mount.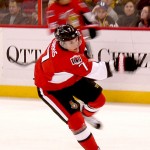 Overall Team Grade: A-
Going into the second half of the season and as we approach the trade deadline, the Ottawa Senators are exceeding the expectations of most. Some players have failed to meet expectations, while others have surpassed theirs. Overall, what looked like a season that had the makings of a complete nightmare has become a Cinderella story.