Picture it. April. Ft. Lauderdale. Almost exactly a month since the March 4th trade deadline. New goalie Roberto Luongo going up against former Florida goalie Tim Thomas for the first time since the trade. What a rivalry! What a great game this was going to be! Oh wait. Thomas is basically on the bench for the rest of the season barring unforeseen circumstances because technically he's the back-up goalie. So it was a hockey decision, but it seems as if this was also a calculated move to knock the Panthers off their game since there's no doubt fans (and probably players too) wanted to see this match-up. Dallas came to town with a different strategy in mind, but the Panthers found a way to foil it, though it wasn't apparent right away.
A goal just 45 seconds into the game by Stars Captain Jamie Benn took some wind out of the Cats' sails, and things went rapidly downhill from there. Through what felt like an impossibly slow first period, it seemed as though Dallas's decision to put in starting goalie Kari Lehtonen instead of going for a good-time bit of rivalry with Thomas's first trip back to Florida was the right one. They were on their way to being two points closer to clinching a playoff spot in the west.
Head coach Peter Horachek commented, "I think that we were just playing, and there wasn't enough emotion. I wanted the guys to care more about the end result. I wanted their energy to come back up and I wanted us to play harder."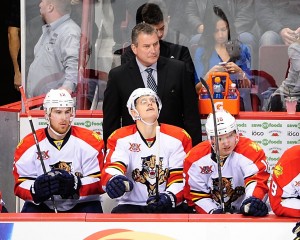 Slow Beginnings
It didn't happen right away, though. With just 6 shots on goal in the first period, things appeared a bit dismal for the Panthers. To make matters worse, 39 seconds into the second period came another goal, this time on the power play, by Tyler Seguin. In the meantime, the Panthers were piling up the penalties, including a double minor by winger Sean Bergenheim for high sticking. Dallas was running all over the Cats, and it wasn't pretty. Then Scottie Upshall turned everything around with the first goal of the night… and changed the course of the entire game.
Brandon Pirri already had a point from assisting on Upshall's goal, giving him points in four consecutive games, but he wasn't done yet. He tied the game with only seconds left in the period and suddenly it didn't matter who was in net for the Stars. The Panthers took the lead with a goal by winger Sean Bergenheim at 15:29 in the third, and that was all she wrote.
Spoiler Alert!
"We found a way to get that first one, which was, well, you can call them lucky or whatever it is," Horachek said. "But I mean, if it's a deflection, and if they go in, they go in. Getting that second one, tying that up, was a great one, at least for us. In the third period, I think they still carried a lot of chances, they still had too many great opportunities, and then had that one go through the crease. We got fortunate with that one. Sometimes you've got to be fortunate to win these games, but they certainly had more chances than we had to win this game."
It's not that Lehtonen isn't an excellent goalie, but this was a town waiting for a rivalry game, and instead, Dallas took the safe and easy path. Instead of going into a game they desperately needed with a full-blown goalie vs. goalie conflict, which would have certainly fired up the Panthers from the get-go, they chose to stay the course, using their regular starting line-up and keeping things simple. It might have been the right decision on paper, but on the ice things went an entirely different way.
"I'd just like us to play the way we responded later on," Horachek said. "Play that way from the start and play with that kind of emotion."
Whether it was simply getting to play spoiler to the Stars, a couple of great moves that changed the course of the game, or Peter Horachek's idea of good fortune, the Panthers took Dallas's strategy bait and ate it for dinner.
I'm a born and bred South Floridian who's been lucky enough to wander the U.S. a bit, broadening both my life and writing horizons. I've been writing since I was old enough to form letters, and don't plan to stop any time soon. I have a Bachelor of Science in Communications, two kids, a husband and a house in the suburbs of Atlanta. I worked in the music business for a decade, as a legal assistant for about as long, and was lucky enough to intern for the Manchester Monarchs in the mid-2000s. I like to think I'm well-rounded, but you be the judge.