The Florida Panthers entered the 2023-24 season with a chip on their shoulder as they lost the Stanley Cup Final to the Vegas Golden Knights. They've gained some depth this past offseason on defense and look to get back to the dance this season.

Speaking of defense, one of their top pieces, Brandon Montour has flourished in a big way since his arrival to Florida. However, he will be a free agent next summer as this is the last year of his current deal. General manager Bill Zito has to find a way to keep him around with what he's done over the past two and a half seasons.
He Had the Best Playoff Performance by a Defenseman in Panther History
The last playoff run was nothing more than a storybook-type performance for Montour. He had the most points by a defenseman in a single playoff run in franchise history with 13 points (eight goals, five assists) through 21 games. This included a big goal to tie Game 7 against the Boston Bruins in the First Round that would ultimately set the stage for an overtime victory.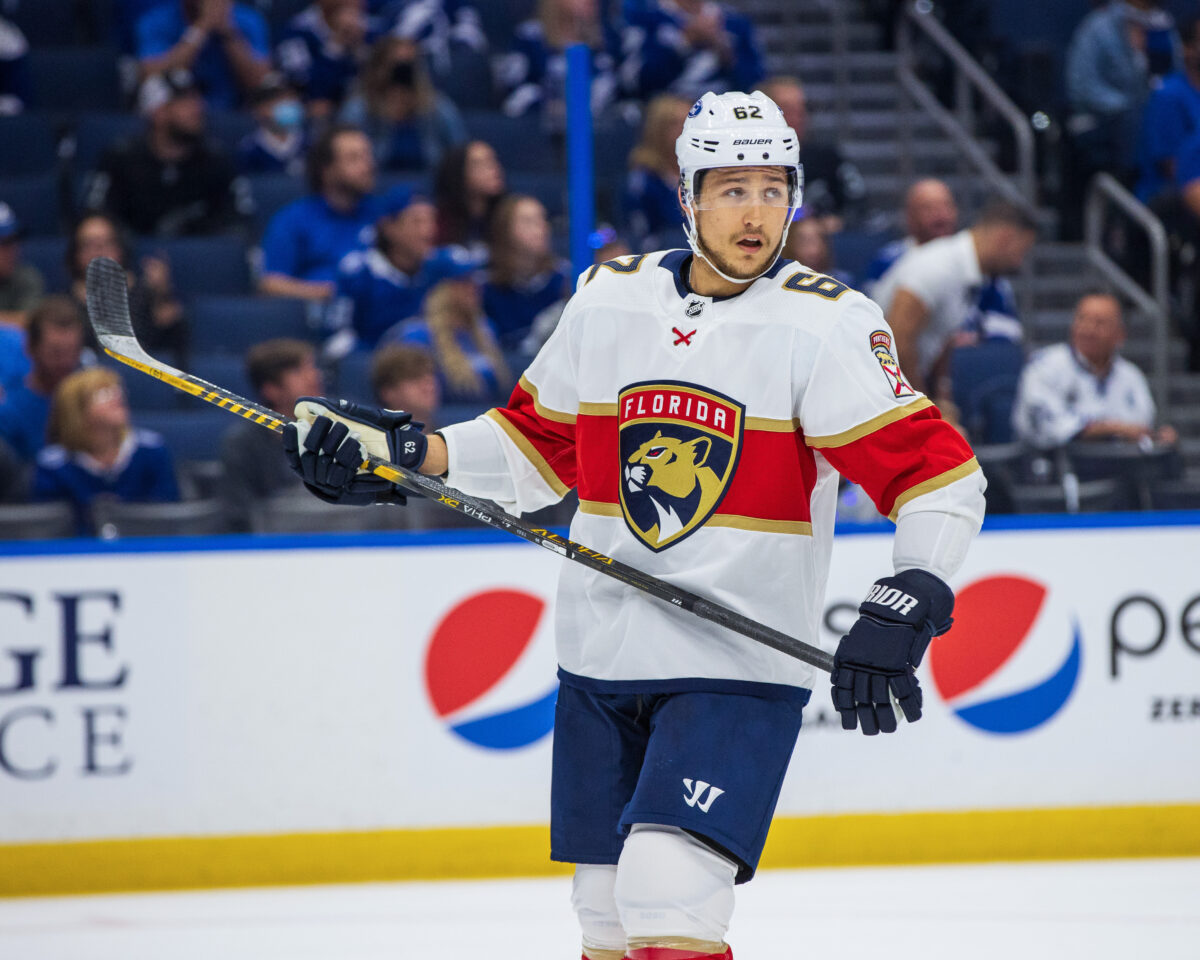 Additionally, he had one of the craziest player experiences ever during the Cup Final. While also suffering a torn labrum, he became a father after Game 1. This shows he's built for scenarios such as this.
He's Been the Best Panther Defenseman the Past few Seasons
After being traded to the Panthers at the trade deadline of the 2020-21 season, Montour has put up some big numbers. He's piled up 114 regular season points (29 goals, 85 assists) through 161 games across those two seasons. In the playoffs, he's tallied 16 points (eight goals, eight assists) through 37 games with the Cats. By way of comparison, he only had 87 points (29 goals, 76 assists) through three seasons with the Buffalo Sabres and three seasons with the Anaheim Ducks. This includes only eight assists through 21 postseason appearances with the Ducks. Over the past two seasons, he's had the 10th most points across all defensemen in the NHL with 110 (27 goals, 83 assists).
The only defenseman on the team who has come anywhere near the level of his production in that span has been the 2015 Calder Trophy winner Aaron Ekblad. He does have three more points with 117 (40 goals, 77 assists), but it's only because he's played in six more games.
Related: Panthers Looking Like They'll Stay Competitive This Season
---
Latest News & Highlights
---
He has successfully rejuvenated his career in Broward County, Florida after struggling in Buffalo and slightly declining in Anaheim.
What the Contract Numbers Could Look Like
Over the past three seasons, he's been carrying a cap hit of $3.5 million per season. This is the second biggest deal he's received with a one-year deal he signed in Oct. 2020, where he made $3.85 million for the year being the highest.
By comparing him to defensemen who have put up similar numbers over the past two seasons, he is more than likely going to get a massive raise. For example, Brent Burns of the Carolina Hurricanes currently makes $5.28 million per year and has put up 115 points (28 goals, 87 assists) over the past two seasons.
Related: Panthers' Stolarz Signing Indicates Spencer Knight Isn't Ready
He is deserving of such a raise, but Florida may find themselves in a pickle to get the money. Currently, they are in the negative by going nearly $1.2 million over the cap after this past offseason. If an extension is being worked on, a player carrying a big hit could be moved to the dismay of fans.
Is Montour Staying Put?
While the logistics seem difficult, the team has made it clear that they want him to stick around due to what he provides every single night he's on the ice. Zito has been pleased with giving Montour the opportunity to turn his career around.
"So much of it is opportunity, right? Where he was given the chance to play hockey and make mistakes and get right back out there, and not every player has the luxury of being afforded that playing time, independent of errors or what have you, and he got the chance and he just took it, he just went with it. His skating is so dimensional, he's a strong guy, he's got a big shot and I think maybe the combination of opportunity and confidence came together at the right time."

Bill Zito on Brandon Montour's breakout season.
It may take a ton of money or crazy moves to get the job done. But he is one of the biggest reasons Florida has had success over the past two seasons. It would be a shame to find him somewhere outside of South Florida.
---
---