The Florida Panthers enter their 30th season as the reigning Eastern Conference Champions. They look to get back to the Stanley Cup Final after losing in five games to the Vegas Golden Knights.
After this offseason, the team will look different from the one that made a magical playoff run this past summer. For example, one signing they made was the signing of former Anaheim Ducks goaltender Anthony Stolarz after losing Alex Lyon to free agency. But it seems they made the signing for another reason. Backup goaltender Spencer Knight went into the NHL players assistance program near the end of last season. Despite showing up to camp, he's still considered to be in the program. As a result, the signing of Stolarz almost confirms that he will not be on the roster come opening night.
Cap Restraints Could be a Factor
Stolarz was signed to a one-year deal worth $1.1 million. As of now, the Cats have no cap space to work with and are currently $1.175 million in debt. With Knight being still in the program, the team has $4.5 million in cap relief.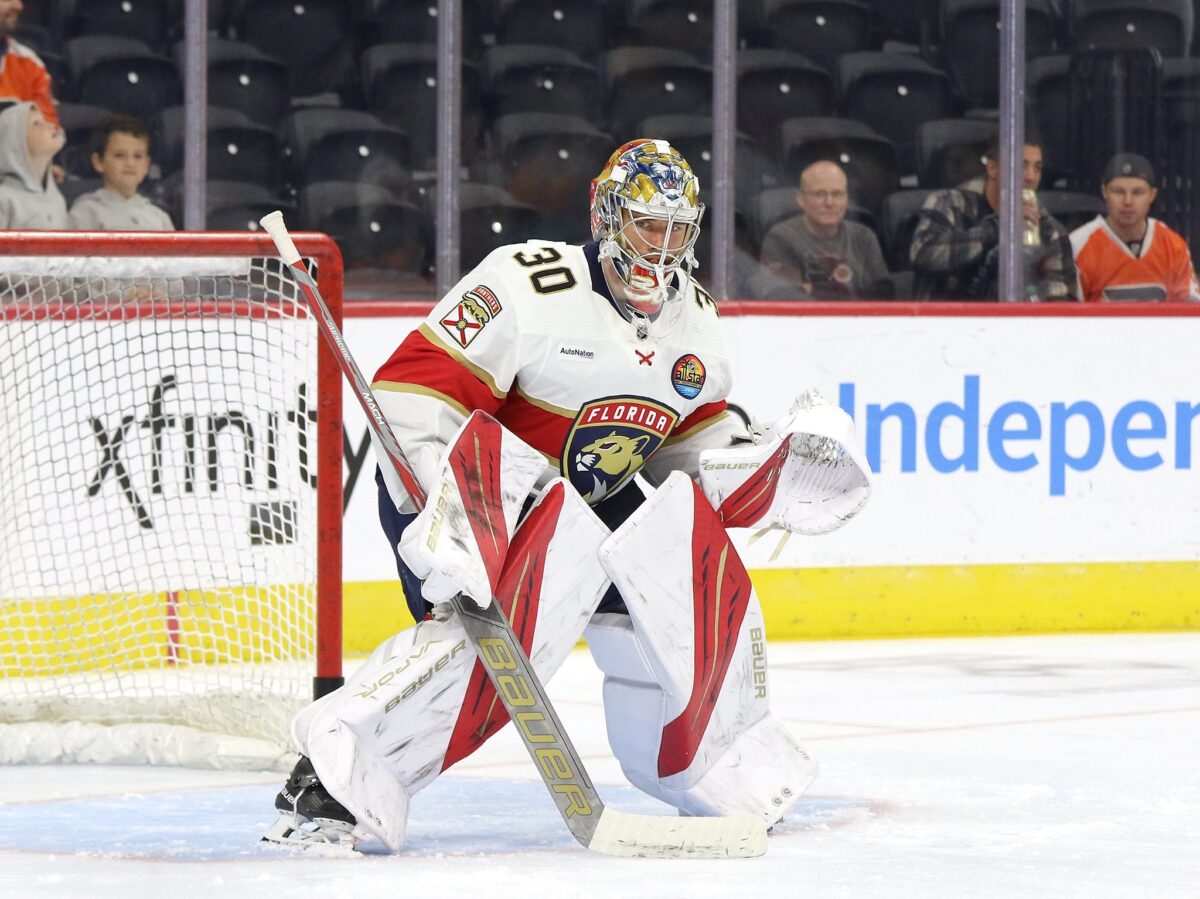 There are ways that the team could make some extra cap space. After suffering rough injuries this past postseason, defensemen Aaron Ekblad and Brandon Montour are eligible to be placed on long-term injured reserve (LTIR). If that move were to happen, it would give them an extra $11 million to work with in cap space.
Is Knight Not Ready Mentally?
When Knight was at training camp this summer, it was his first time hitting the ice since Feb. 18 against the Nashville Predators, where he came in relief for Sergei Bobrovsky in a lopsided 7-3 defeat.
He ended his season going 9-8-3 with a 3.18 goals-against average (GAA) and a .901 save percentage (SV%). Throughout his entire career, he's 49-32-17 with a .906 SV% and a 2.91 GAA with a playoff record of 1-1 with a .933 SV% and a 2.06 GAA.
Related: Atlantic Division Has Gotten More Competitive This Offseason
---
Latest News & Highlights
---
It is unknown what mental state Knight is currently in or if he's back to his NHL level. It is possible that he will get a conditioning stint and be sent down to the Charlotte Checkers to try and return to form and come back at a later point in the season. Only time will tell if this will be the case.
What Do the Scouts See in Stolarz?
In Stolarz's seven seasons of receiving NHL playing time, he's started in 59 games and played in 81. He went 27-24-7 with a career GAA of 2.93 and SV% of .912. This past season, he started in 12 games and played in 19. But he only had five wins. Additionally, he had a terrible GAA of 3.73 and a not-so-different SV% of .899.
Related: Canucks: Revisiting the Luongo Trade
At 29 years of age, it seems that the front office and the scouting department wanted someone with NHL experience at a low cost. As previously mentioned, he is on a deal worth only a little more than $1 million. Another option is, when Knight is ready, they immediately have someone to send down and still receive some sort of playing time.
What's Going to Happen?
It's still up in the air who's going to be on the opening-night roster. But until a big move is made, it looks as if Stolarz will be in the backup roll.

Florida has a ton of options at their disposal on what they can do. A good idea would be to send down Knight to the American Hockey League (AHL) to regain his confidence and get back in stride and let Stolarz hang on to the backup role for the time being. Once Knight is ready, he can be called up. But ultimately, it is up to how the coaching staff, and Knight himself, feels about the move. For now, they should be focused on getting him back up to NHL speed.
---
---