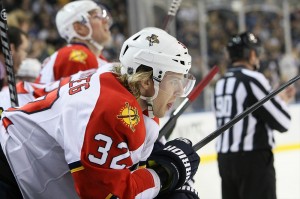 You hear a lot about the "glue" that keeps a team together, and those token "locker room guys" on every team who seem to have the right thing to say… or maybe, know exactly how to loosen each guy up before a big game.
They're important to a team. Who are those guys on the Florida Panthers? A quick trip to YouTube and rifling through video archives gives an indication of the jam in the locker room.
Even though Erik Gudbranson is a young guy, he's got a good sense of humour that can go a long way with the rest of the players. After learning he was going to stay with the Panthers for the season last year, and wasn't going back to his junior team congratulations were in order. All the guys on the team were proud of him, and Gudbranson took the opportunity to celebrate a little by himself. As a young guy, the media is a new obstacle for Gudbranson to face, but he seems to handle himself well with Gerry Dee of The Score.
Goalies are typically in their own world, as we saw with Ilya Bryzgalov, they can be a little out there. Scott Clemmensen on the other hand seems to be a guy that jokes around with everyone. In an interview with Gerry Dee, he joked around and was a good sport about his interviewing style.
The biggest character on the Panthers has to be Kris Versteeg. From his singing, to his banter about team mates, and his rapping, he's definitely a glue guy. I would imagine the room would be pretty quiet when he's not in it, and when he is, everyone would know he was there. He was a pretty good sport doing this video for a grade twelve science teacher in Florida. Not just a personality, but out in the community helping spread not only the brand of the Panthers, but good to those who need it.
There's undoubtedly some hidden gems I've missed, but it's always nice to watch a few videos of players letting loose and taking a look at their personalities we don't get to see during games.