The St. Louis Blues have quickly made a name for themselves this year, being considered among the top NHL teams before the season even started, then stalling out of the gate, before finally rising back to the top through dynamic play-making (we're looking at you 'STL' line) and opportunistic wins. And what's great is that we're only in early December. Here we take a look at each Blues player on their depth chart, and why they fit into the system so well to help all St. Louis fans better understand their boys in Blue. It's like the late, great Herb Brooks said, "We're not looking for the best players, we're looking for the right ones."
This is Part 3 of 3 for this series, where we dive in to the goaltending crew of the Notes team, and see why they have been and will continue to deliver some of the best performances across the league this season.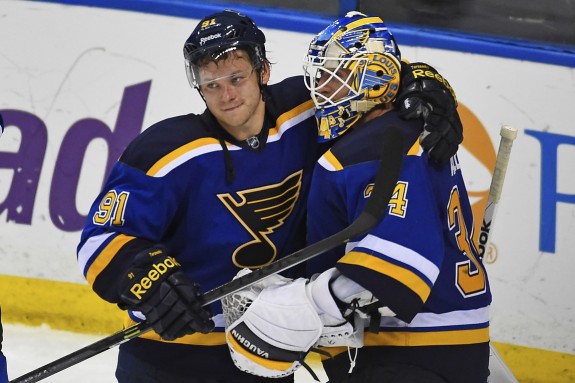 Blues' Depth Chart
Here. We. Go, fans.
Goalies
DISCLAIMER: Until a recent injury and an inevitable questionable game, the Blues held the top 2 goalies in terms of GAA on their depth chart. Jennings Trophy here we come? It's looking good so far.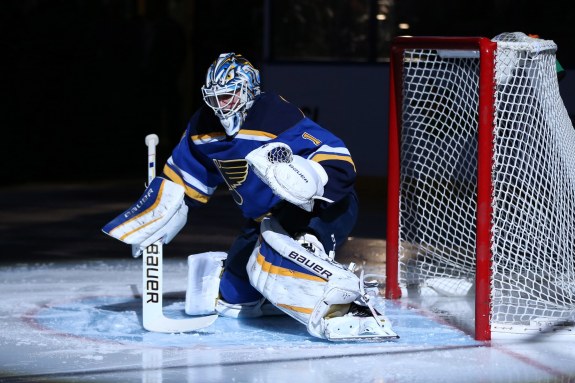 Brian Elliott– The backup that could never make starter is really making a case for another All-Star appearance this season, posting among the best numbers in the league. He has always benefited from healthy competition on a team (just look at his numbers from 2011-12 season when Jaroslav Halak and he claimed the Jennings Trophy) and he certainly has that this season. He looks more calm in the net, and doesn't seem to let any situation rattle him which helps his teammates flow more cohesively every game. He knows his role and is perfecting his deep style of play to fend off all opposing forwards with ease.
On the day Martin Brodeur signs bonus laden deal in St.Louis, Blues' #1 goalie Brian Elliott skates for first time since injury.

— John Shannon (@JSportsnet) December 2, 2014
Now that Martin Brodeur is in the mix, most feel Elliott's future with the club may be up in the air, but he was still the starter when he was injured against his former team, the Ottawa Senators on November 25th, and he will be in the conversation when he comes back too. Though his future as the #1A may be uncertain, you can guarantee he'll battle back and prove to everyone why he was the starter to begin the year.
He's great because: He provides the Blues with a solid consistent base to build on. You know what you'll get from him every night, and he always gives his team a chance to win.  
  Jake Allen– The reigning AHL Goalie-of-the-Year has shown he's the real deal so far this season, and until a couple of recent multi-goal games he held the lowest GAA in the league (1.67 at that time, now 2.16 which is 10th best), and was 2nd for his save percentage (.933 then, now .918 which is good for 17th best). He's still considered an NHL rookie so he may very well be a Calder finalist by the year's end as well. He attacks his angles and looks sharp laterally, which gives him a leg up on the snipers trying to beat him. He also provides Ells that true competition he needs to succeed so it's the perfect storm in the crease for St. Louis this season. Look for Allen to soak up Brodeur's advice and continue to develop his NHL game to All-Star levels. He will benefit the most from the 'goalie trifecta' that is currently unfolding in St. Louis.
He's great because: He's got true talent in goal, and his work ethic shows he's here for the long haul. He sees through screens and is hard to beat in almost every situation.  
Brodeur's new lid. Coming soon. #stlblues #OurBlues pic.twitter.com/NZj32vWFI0 — St. Louis Blues (@StLouisBlues) December 2, 2014
Martin Brodeur– The winning-most goalie in NHL history has just signed a 1 year deal worth 700K (and a 10K bonus for every point he earns the club) with the St. Louis Blues, and it only spells great things for the club. He's a proven playoff hero who boasts 3 Stanley Cup rings, he holds just about every record in the league, and he's looking like his old self in the net (in practice) so far. His award accolades speak for themselves, and include a Calder Trophy, 5 Jennings Trophies, 9 All-Star appearances, 4 Vezina Trophies, and 2 Olympic Gold Medals, wow. Brodeur brings incredible knowledge to the club, and with a Blues team still trying to find its true rhythm, he may have come on board at the exact right time. Ken Hitchcock has been quoted as saying Marty will play as long as he says he's feeling great, but expect him to be in more of a consultant role once Elliott regains his health, barring a few lights out performances by Mr. Brodeur that could murk up the already muddy waters in St. Louis.
His talent is well known, and his presence can be felt as you walk through the rink doors so the longer he's a Blue the better. Fans shouldn't expect him to be a long time stay though, as he may end up finding a more permanent home elsewhere upon Ells' return if he feels he's ready to be a true NHL starter once again. If he does play lights-out (and play like everyone knows he can), he could very well ride the wave with the club into the postseason though, it really just depends on how he feels, and how the front office feels about him. While his stand up style of play is old news across the league, he's the best that's ever played that way and for some reason, it still works for him. That trend could easily continue here in the Gateway to the West.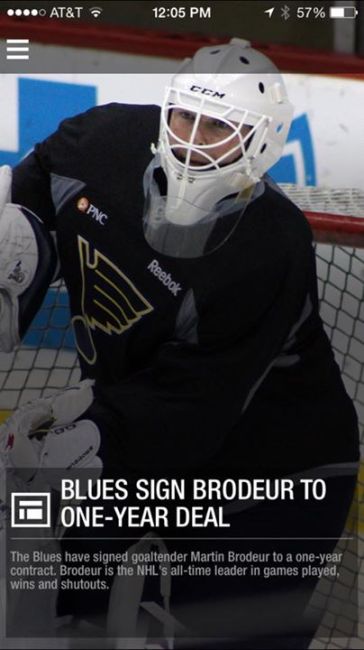 One possible down side is the Blues new quick-up style of play, which may cause Brodeur to find himself hung out to dry on the weak side (backdoor) more than he's accustomed too, which could in turn spell lower numbers for him than fans would hope. However, his upside shows he's still averaged 42.34 starts a year over his past 3 campaigns (which shows a similar split to what we expected from Elliott and Allen this season) and has managed to keep a 2.38 GAA, and a 90.3% SV% over that span as well, all good signs for the Blues. The only other down side to Marty is that he's now 42 years old, and could be a little too slow laterally to truly experience success with the team. Either way he'll be that great mentor to everyone in the locker room which means great things for the team moving forward.
He's great because: He's one of the greatest to ever play the game, and has been ridiculously consistent throughout his illustrious 22-year NHL career. He'll mentor Allen exceptionally, and could even help get the team deep into the playoffs if he sticks around long enough.
@NHLonNBCSports Not very well but it won't look too aweful thanks to Hitch's coaching style. — Trucker Andy (@1truckerandy) December 3, 2014
There you have it. All you need to know about the 2014-15 St. Louis Blues, and why they are doing so well regardless of any adversity they've faced so far this season. They have one of the best (if not the best) depth charts in the entire league, and are making it known. The best thing to think about moving forward is how special this group of men is going to be down the stretch and into the playoffs, and where they will go in the following years. Blues top prospect Robby Fabbri is going to be Fabbrilous in a couple years' time, followed closely by Ivan Barbashev who could be the next Claude Giroux, and Jordan Schmaltz who will further solidify the defensive core. This year is the beginning of something truly special in the Gateway to the West, and we all can't wait to see how it plays out.
Like what you've just read? Follow me on Twitter: @pep30
Mike has covered the St. Louis Blues and Tampa Bay Lightning in depth for The Hockey Writers since 2013. He is also a contributing writer for KSDK News Channel 5, the St. Louis area NBC affiliate, and has been a credentialed media member of the Blues since 2014. Follow him on Twitter @pep30.