Momentum is building behind Patrice Bergeron's Hart Trophy case, albeit mostly driven by Boston's media and fanbase. Detroit Red Wings head coach Jeff Blashill added fuel to the fire earlier this month when he said that he thought Bergeron had been, "probably been the best player in the league for the season up until now". That comment prompted NBC's Joe Haggerty to lay out the 32-year old centerman's case for consideration in more detail.
The reality? There's a zero percent chance that the Boston Bruins' alternate captain is named among the finalists for league MVP at season's end, let alone winning the honour. To be honest, the sooner fans banish any thought of it from their minds and stop talking about it, the better.
It may well be unfair that the league's most prestigious award is mostly viewed through the narrow prisms of goals and points, or occasionally an all-time great save percentage. Of course, there's a lot more to a player's value and success than racking up statistics, but that doesn't change anything as it pertains to Bergeron's Hart Memorial Trophy chances.
Bergeron Does Deserve Recognition
Let's be clear. This is not about "hating" on Boston's top-line center. Arguably the best defensive forward the NHL has ever seen, he has made the Selke Trophy his own, winning it in four of the last six years.
Dominance in the faceoff dot (better than 57% in his career), elite board play, attention to detail in the defensive end, and an almost unmatched determination to perfect a 200-foot game, Bergeron has long been a hockey nerd's dream, regularly frequenting the top of the league for Corsi, Fenwick and other advanced analytics. By the way, he has been doing all of this matched up against the best offensive players in the league and while being among the team's leaders in short handed ice time.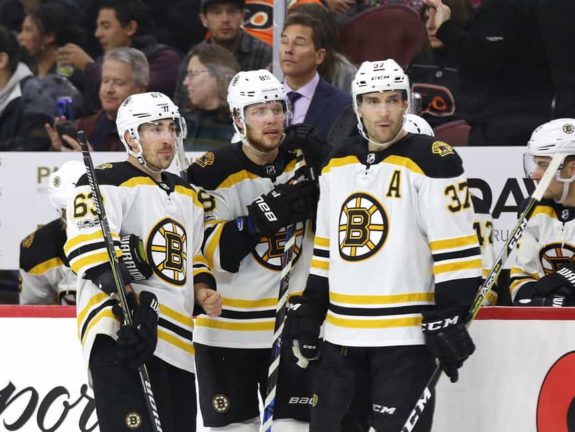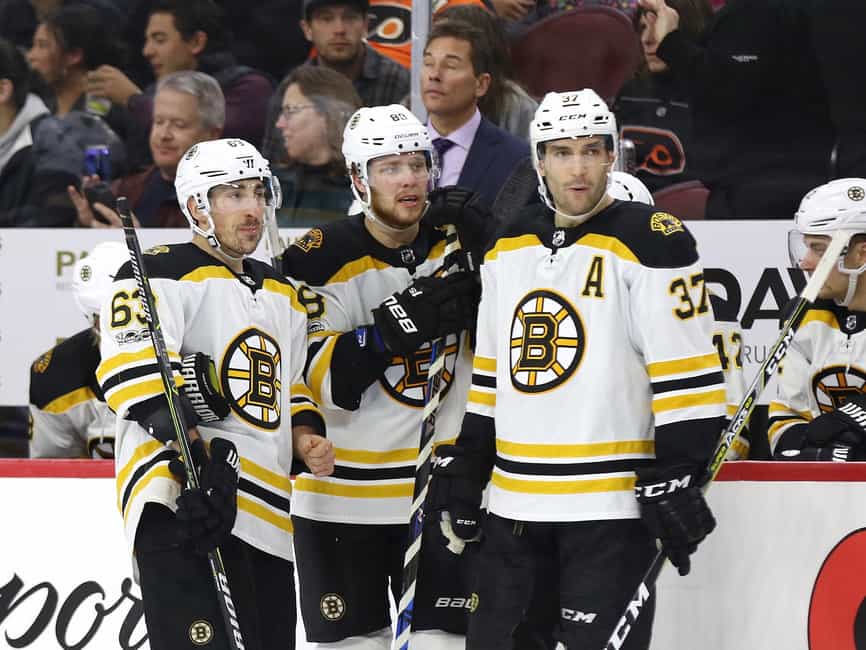 An important leadership figure in the Bruins' locker room and widely expected to become the franchise's next captain when Zdeno Chara hangs up his skates, the 14-year veteran has a habit of stepping up in decisive moments. He has 58 game-winning goals in his career, an amazing 20% of his total – it's a percentage that outperforms most of the league's best including the likes of Alex Ovechkin, Sidney Crosby and Patrick Kane. It's no surprise that he was a crucial factor in Boston's Stanley Cup championship run in 2011 when he tallied 20 points in 23 games.
The "Hart Ross" Trophy
Unfortunately, all of those attributes are redundant in the context of an award that could easily be renamed the "Hart Ross". In the past 12 seasons alone, eight players have won both the Hart and the Art Ross Trophy, awarded to the league's top point getter. Three others have won the Hart and Maurice Richard Trophy (leading goal-scorer) as a combination, and Montreal Canadiens' goaltender Carey Price won it in 2014-15. No skater has won MVP whilst finishing outside of the top three in total points since Mark Messier received the honour as captain of the Presidents' Trophy-winning New York Rangers in 1991-92.
Sergei Fedorov is the last player to win the Selke and Hart together, a feat he achieved in 1993-94, and his style is arguably comparable to Bergeron's, at least in terms of their all-round contributions. However, he also finished second in the league in scoring in his MVP campaign finishing with 56 goals and 120 points.
Perhaps a better comparable for any hopeful Bruins' fans is the 1999-00 MVP Chris Pronger. The defenseman beat out Jaromir Jagr for the award by just one vote. Pronger finished that season with 62 points, second among blue-liners, and edged it because of his greater intangibles and elite two-way play for the for the NHL-best St Louis Blues, especially compared against the one-track talents of scoring leaders Jagr and Pavel Bure.
Currently ranked 38th in the league for scoring, and 10th for goals, that's not likely to get it done for Bergeron's MVP case, potentially even if the Bruins stay red hot and win the Presidents' Trophy.
Bergeron's Current Scoring Pace is Unsustainable (probably)
Before Saturday night's 6-1 blowout loss to the Vancouver Canucks, Bergeron had scored 19 times in 22 games, including two hat-tricks and a pair of two-goal games. That's unlikely to be a sustainable scoring pace for a player who has topped 30 goals just three times in 14 seasons. For all his qualities as a two-way center, only twice previously has he passed the 70-point plateau, and not since 2006-07.
Prior to his recent hot streak, Bergeron had scored eight times and tallied 29 points in 38 games. It's a long NHL season where both players and teams go through their fair share of peaks and troughs. Beating current career highs of 32 goals and 73 points both look very conceivable, but it'll require something else to stay in-form enough to reach the 40-50 goals and/or 85-100 points he'll need to be in serious Hart contention.
Throw in the fact that he currently carries a shooting percentage that is more than 2% better than his previous career best, and that it seems like everything the Bruins have touched since around Christmastime has turned to gold, some natural re-balancing should be expected between now and the end of the regular season.
Defending the Hart Trophy
Only the league's elite scorers or goaltenders who have enjoyed career years win the Hart Trophy. Outcries against the system or the professional writers who vote and perpetuate perceptions of value through the lens of a set of specific statistics are understandable, but probably miss the challenge of assessing who is the 'most valuable player'.
There's nothing quite as elusive as game-changing scorers in the NHL, and ultimately there probably is nothing quite as valuable as a Crosby, Ovechkin or McDavid, unless you're talking about a world class goaltender. Moreover, the impact of scoring goals is measurable, it may be well known that face-offs, board play and leadership intangibles change games of hockey, but being able to truly quantify those factors remains elusive.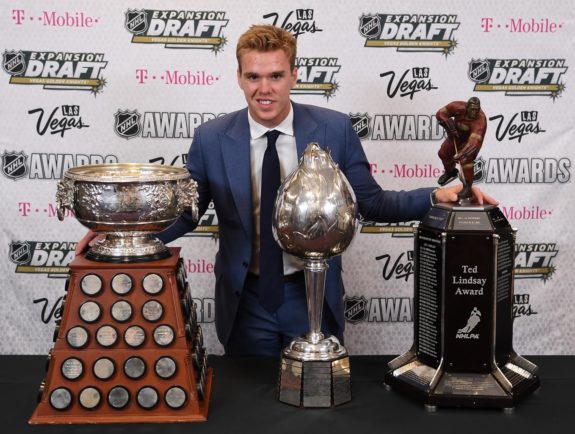 Complexities and nuances within the game are being more effectively dissected than ever before with continued progress in the sphere of advanced analytics, but metrics like Corsi and Fenwick, which aim to measure the player's impact on his team's control of the play and puck, still feel slightly imperfect as pure measures of value.
Arguably, the Bruins' had a stronger case for the club's first MVP since Phil Esposito (1973-74) in 2008-09, when Chara won the Norris Trophy and Boston finished atop the Eastern Conference. The 6-foot-9 defenseman scored 19 goals and 50 points that year, while logging more than 26 minutes of ice time. More than that, his nightly shutdown defensive play and leadership helped Boston to be the best defensive team in the NHL despite a blueline cast bereft of any other top-tier talent. For those who don't remember, that group included Dennis Wideman, Andrew Ference, Aaron Ward, Matt Hunwick, Steve Montador, Shane Hnidy and Mark Stuart. Without their Slovakian captain, that roster would not have made the playoffs.
For his part, Bergeron has largely downplayed the MVP talk in deference to a focus on the roster's overall performance, "It's really something that I feel we're in a team game and that's all I'm worried about right now. It's about staying focused, stay in the moment, it's all about keep pushing ourselves to be a better team and nothing about the other stuff." One more admirable quality for a player who continues to cement his place in Bruins' history, whether he ever wins the Hart Trophy or not.
Seb has been writing about the NHL and ice hockey online for over a decade. A long-time passionate Bruins fan, it's a dream of his to be writing about this team, but don't expect him to hold back from telling some hard truths when necessary. Follow him on twitter @seberead