The Chicago Blackhawks were victorious on Sunday in their second game without star winger Patrick Sharp, beating the Sharks 5-2. Coming off a 3-2 defeat to the Capitals, the Hawks are 1-1-0 since losing Sharp to a knee injury during a victory against Montreal one week ago. With two to three weeks remaining on his injury timetable, the Blackhawks will need someone to fill his role. Considering plenty of guys aren't performing up to expectations, it wouldn't be surprising if one takes advantage of this opportunity.
Not so Sharp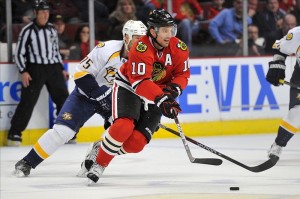 The Blackhawks offensive problems have been pretty well documented. They finally seemed to be breaking out against the Canadiens, but it was obviously troublesome to see Sharp go down. He's a force on the powerplay and has been consistently scoring around 30 goals for the Hawks over the past decade. However, he wasn't exactly keeping the team afloat during their sluggish start.
After beginning the year with two goals in two games, he has since slowed down considerably. With just one goal since that point, Sharp was definitely not finding his scoring touch. There's no doubt his ability to generate shots is beneficial, and there's a good chance the team's league leading Corsi% is going to lower during his hiatus. While he was throwing the puck at the net plenty enough (4th in the league w/ 4.3 shots per game), his 5.4% shooting percentage wasn't helping. Also, it should be noted that all three of his goals were on the powerplay.
The Blackhawks haven't started the season looking like a Stanley Cup contender, but when Sharp returns, he will be better. A month on the shelf could give him a mental rest and let him return with the slump at the back of his mind. That shooting percentage could easily double considering his career average is 11.7% and the Hawks even strength goal scoring will surely improve.
In the meantime…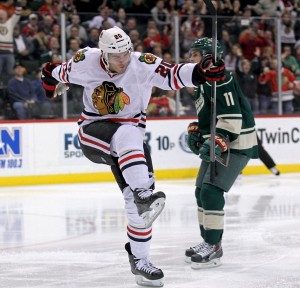 Even though Sharp wasn't scoring in scads, there are a few Blackhawks who can step into his role and help bring the offense back to its elite status. So far, the scoring has been very widespread. Eleven players have scored at least two goals and seven have scored at least three. Only two, however, have scored at least three even strength goals- Jonathan Toews and Kris Versteeg. The scoring depth has been promising, but the skilled players need to improve.
Toews leads the team with six goals, a feat 42 players have accomplished so far this year. Patty Kane and Versteeg are tied for second on the team with four goals, which 123 players have done so far. We know what Sharp has done, but what about Marian Hossa? What about Andrew Shaw and Brandon Saad? Hossa, who recently scored his 1000th career point, is good for around 30 goals a season, while Saad and Shaw scored 19 and 20 last season, respectively. Considering they are both in their early twenties, those numbers could be on the rise.
The problem is, Hossa, Saad, and Shaw have all struggled finding the back of the net, with just seven goals between the three of them. They have also had trouble staying in one spot in the lineup. It seems like every line Coach Quenneville throws out there has had trouble meshing, which could explain why nobody can get going. He could be a little more patient and let some trios gain some chemistry, but that could be a waste of time considering Sharp will interfere with whatever lines are in place when he returns.
The Blackhawks don't exactly have an easy slate going forward, so Sharp may want to take a peek at the schedule before he decides to get hurt next time. Joking aside, the Blackhawks will need to dig deep over the next few weeks so they don't fall too far behind the Western Conference leaders. There have been some early surprise teams and right now, the Blackhawks sit in ninth place in the conference. They will make the playoffs, don't get me wrong, but it could be hard getting one of the top seeds if they go on a skid this month.
Has contributed to isportsweb, the Yawkey Way Report, and Fansided's Chowder and Champions. Host of the weekly radio show Top Shelf Sports on Bryant University's WJMF radio.