The Pittsburgh Penguins did not have a very good end to 2022. The Penguins lost the last four games of the year, which included three division matchups with the Carolina Hurricanes, the New York Islanders and the New Jersey Devils. There are a few different reasons to explain Pittsburgh's performance, but perhaps the most obvious one involves the bottom six. It seems like the team is still searching for those elusive perfect line combinations. Until they find the answer, it looks like January will be filled with more trial and error.
Penguins' Bottom Six
For much of the season, Pittsburgh's third line was made up of Jeff Carter at center, Brock McGinn at left wing and Kasperi Kapanen at right wing. That line struggled through the month of December, earning only 30 percent of the scoring chances. Carter's production severely plummeted in December, and Kapanen's production stayed pretty non-existent. If there was a bright spot in the third line in December, it would be McGinn. He remained a constant presence and outscored both his linemates combined. 
---
Latest News & Highlights
---
The Penguins started switching things up on the third line towards the end of December, placing Danton Heinen at right wing. Heinen scored a career-high 18 goals last season but has done little to contribute after the first five games of the season. He has good offensive instincts and the ability to score goals, however, Pittsburgh can't afford to waste time waiting on his skills to reappear. 
The Penguins had a lot of reasons to be hopeful about their fourth line once Teddy Blueger returned to center. Forwards Josh Archibald and Ryan Poehling were showing promise, and the line was beginning to build chemistry. However, due to injuries to both Archibald and Poehling, Pittsburgh was forced to change things up on the fourth line as well.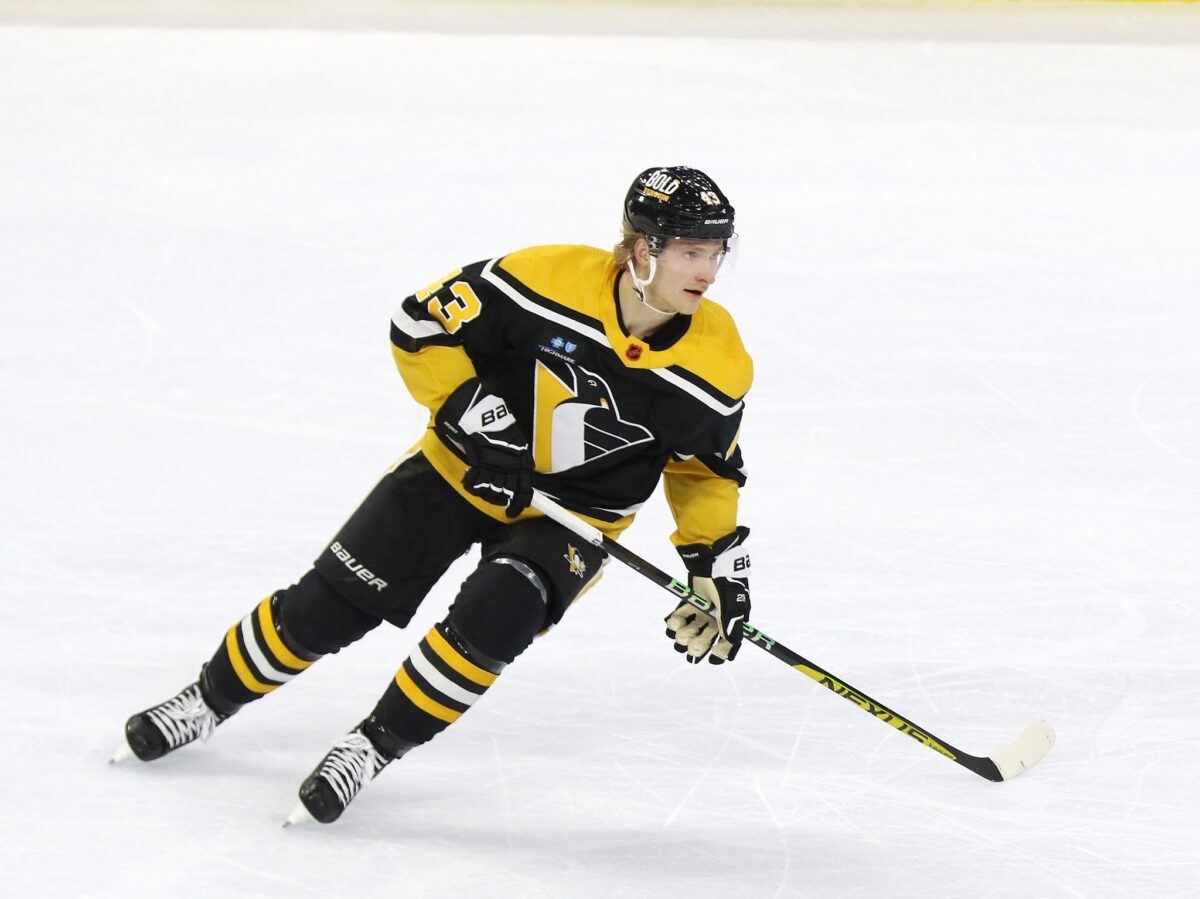 Pittsburgh called up Drew O'Connor from Wilkes-Barre to play on the fourth line, and he showed some early promise. He has played in six games this season and scored one goal. The Penguins have also moved Kapanen down to the fourth line, and on paper, he had a pretty solid month in December. He has played in a total of 28 games this season and scored six goals with 10 assists for a total of 16 points. His problem since he got to Pittsburgh has been consistency. He has not been able to perform consistently well for any length of time. In the last several weeks, his ice time has ranged from seven to 13 minutes per game, and it does not appear he is positively affecting the bottom six. It may finally be time for head coach Mike Sullivan to make a definitive decision regarding Kapanen. 
A New Look for 2023
On January 2, in the Penguins' matchup with the Boston Bruins, the bottom six had a completely new look. The third line was made up of Blueger at center, McGinn at left wing and Carter at right wing. Unfortunately, Carter has turned into a liability for the Penguins, and the move to right wing seems like a desperate last attempt by the team. In his last 28 games, he has scored three goals and one of them was an empty-netter. He is good on the face-off and can not handle much defensive responsibility, so keeping him at right wing permanently may just work. Poehling returned to the fourth line at center against Boston with Heinen at left wing and Kapanen at right wing. 
Related: Pittsburgh Penguins' 50-Goal Scorers
Ultimately the Penguins lost to the Bruins 2-1, and the bottom six growing pains were definitely felt. With a very competitive Metropolitan Division, the Penguins need to get ahead of their bottom six struggles sooner rather than later.
---
---