Pittsburgh Penguins goaltender Marc-Andre Fleury is finding redemption. He is at last breaking free from the shackles of previous playoff mediocrity that have bound his reputation for years. After a 2009 Stanley Cup Final win, Fleury has struggled in the postseason, often catching heat as the reason the Penguins did not advance.
https://twitter.com/FaustAndrew/status/859949144525332480
The Scapegoat
On April 28, Ben Rothenburg wrote at www.nytimes.com that this postseason is different and acknowledged his past scrutiny. Rothenburg wrote:
Although Fleury was the Penguins' starter in their Stanley Cup run in 2009, postseason reliability has not been his strength. The first overall pick in the 2003 N.H.L. draft, Fleury has frequently been a scapegoat for Pittsburgh's disappointing early eliminations, most notably a six-game loss to the Philadelphia Flyers in 2012 in which he posted a woeful .834 save percentage and 4.63 goals against average.
Nearly eight years of criticism have followed Fleury, but, at long last, he appears to be finding redemption and more. He is playing exceptionally well, batting away the naysayers with every save. For Fleury, the newfound success is fun. Rothenburg quoted Fleury as saying,
I've tried to enjoy every game, one by one, and tried to enjoy the moment. And it's always more fun when you win.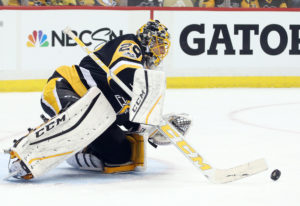 Winning is obviously more fun than losing, but it was not so long ago that Fleury was not having fun. In March 2013, Travis Hughes wrote at www.sbnation.com that Fleury was the worst playoff goalie in hockey, stating: "Since winning the Stanley Cup in 2009 with the Penguins, Marc-Andre Fleury hasn't broken a .900 save percentage in a single playoff year."
Hughes also illustrated that the breakdown of his performance, as compared with other playoff goalies over that four-year period, shows that he was not a reliable force in the playoffs. Without question, it was a tough time to be Fleury when the playoffs can around.
His reputation as unreliable in the playoffs was alive and well as recently as a year ago. In March 2016, I noted that the Penguins' playoff hopes rode on Fleury. His play was a giant question mark heading into that postseason.
Of course, nobody knew at that time that Fleury would get hurt and Matt Murray would take the Pens net by storm, leading his team to another Stanley Cup victory. In a plot that could only be written in the netherworld of NHL lore, now Murray is injured and Fleury is finding redemption in the playoffs.
The Hero
Today, Fleury is playing arguably some of the best goaltending of his career, which started in 2003 and has been entirely as a Penguin. Though many athletes might have publicly shown their displeasure at having been replaced, Fleury was the consummate professional, accepting his role as Murray's backup with dignity. Rothenburg quotes Penguins head coach, Mike Sullivan as saying this about Fleury a few hours before Thursday's game against the Washington Capitals:
Rothenburg quotes Penguins head coach, Mike Sullivan as saying this about Fleury a few hours before Thursday's game against the Washington Capitals:
I think Marc deserves so much credit for his professionalism and for his selfless approach. He's a true teammate, and he puts the team ahead of himself in a lot of ways. We couldn't be happier for how well he's playing for us now, and the difference that he's made in helping this team continue to win games.
To highlight his dedication to his team, prior to Wednesday night's game Fleury taped over the name of former Penguin teammate Matt Niskanen, who in the previous game cross-checked Sidney Crosby, leading to another concussion for the Penguins' captain.
Fleury taped over Niskanen's name on his mask. pic.twitter.com/qmU5SImOIV

— Marc Dumont (@MarcPDumont) May 4, 2017
After the Pens' 3-2 victory over the Caps on Wednesday night, giving them a 3-1 lead in their series, Bill West wrote at www.triblive.com
At no point in this series or the previous one did Fleury present these playoffs as a redemption tour. His performance refuses to go by any other name, though. He finished with 36 saves in Game 4. He matched or exceeded 30 saves for the eighth time since the start of the playoffs.
Fleury may not be viewing these playoffs as a redemption tour, but he is gaining redemption with every save, especially ones like this:
Marc-Andre Fleury comes up HUGE making a flurry of saves. Two words, Playoff Hockey! 😱👏🏻 pic.twitter.com/zLbaIierpx

— Bar South N Celly™ (@BarSouthNCelly) April 28, 2017
Fleury making a flurry of saves is becoming routine and is restoring this goaltender to his rightful place in history as one of the elite goalies in modern times. Yes, he has struggled in the past. But for this time, Fleury is having fun and success, and the rest of the NHL has taken notice.
West quotes Capitals head coach Barry Trot as saying this about Fleury: "Because of maturity and because of the way the game has changed, I think he's evolved. I think he's a lot more patient than he used to be. … Just like any veteran goaltender, they're like a fine wine. They get better."
If he keeps playing at his level, the Penguins may be drinking some of the fine wine Trotz referenced from the Stanley Cup.
Mark lives in the Raleigh, NC area and covers the Carolina Hurricanes.