The Pittsburgh Penguins are still fresh off of their 9th consecutive playoff appearance. However, despite maintaining one of the longest active streaks in the NHL, things are not well in Pittsburgh. Since the exit, the focus has been on the future of management and coaching of the Penguins.
Our own Mike Colligan had initially believed that first year general manager Jim Rutherford and head coach Mike Johnston would not be back next season. But, since that article's publishing, Rutherford's future has, unfortunately, been solidified.
What About Mike Johnston?
The rookie head coach endured quite a bit of criticism during his first year, as he occasionally appeared flustered behind the bench and during media conferences. Given the circumstances, Johnston did the best he could for the Penguins.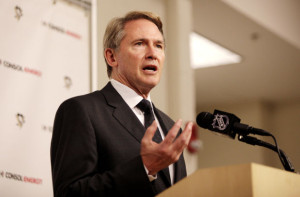 His entire system was based upon puck-moving defenders who joined the rush and contributed offensively. The healthy blueline at the end of the year consisted of Paul Martin, Ian Cole, Ben Lovejoy, Taylor Chorney, Brian Dumoulin and Rob Scuderi.
Johnston's Penguins had to change their entire strategy without Kris Letang, Christian Ehrhoff, Derrick Pouliot and Olli Maatta. Usually, injuries would not be a reason for failure, but any NHL team would falter without their four of their top six defenders.
At the very least Mike Johnston deserves another season with the Penguins, but not just for the coaching.
Dan Bylsma Continues to Handicap Penguins
Despite no longer being a member of the Penguins organization, Dan Bylsma continues to handicap the franchise. His contract was extended before the 2013 season for two seasons (through 2015-2016) and was subsequently fired a year later.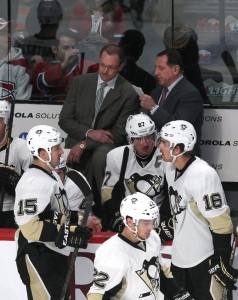 With the way his contract was written, the Penguins are still paying Bylsma, just like they were paying former general manager Ray Shero. But the Pens were fortunate that the New Jersey Devils signed Shero to be their GM and their financial obligations were lifted.
As it currently stands, the Penguins franchise is paying both Dan Bylsma and Mike Johnston as head coaches.
Bylsma's contract will expire at the end of this season if he does not find a job this offseason, but Johnston's still has two years remaining on it.
Penguins Financial Troubles
Frankly, the Penguins are a well financed organization backed by the affluent Ron Burkle and former NHL superstar Mario Lemieux. However, their franchise appears to be slowly failing. Despite a lineup riddled with talent, the Penguins has consistently disappointed in the playoffs.
This past season the Pens TV ratings fell, they had trouble selling playoff tickets and their home game sell out streak almost did not reach 376 games. Their first round playoff tickets were cheaper than the ticket prices at the beginning of the regular season.
Mike Babcock Will Not Be Coaching the Penguins
My initial suspicions were confirmed today when Rutherford announced that they were not interested in Mike Babcock.
Penguins GM Jim Rutherford tells Jason Mackey of Trib Total Media they're not interested in Mike Babcock. That's one down and 28 more to go.

— Chuck Pleiness (@wingsfrontman) May 9, 2015
From a business standpoint, it's clear the Penguins could not fire Johnston, unless Bylmsa had another job at this point. It simply is not feasible to pay two men millions of dollars to stay at home and given potential future issues, tying up more dead money is not a wise course of action.
Could Mike Babcock Have Helped the Penguins?
Absolutely.
If the Penguins managed to hire Babcock this offseason, he would be an instant upgrade over Johnston. Mike Babcock is a winner, he commands a room and holds the respect of his players.
However, I do not believe we have seen the best of Mike Johnston yet. About 40% of the way through the 2014-2015 season, the Penguins were 22-10 and looked dominant. Then the injuries slowly wore down the team, but the Pens managed to make the playoffs.
Take a look at the Penguins man-games lost and impact it had on the team in a graphical interpretation, courtesy of mangameslost.com.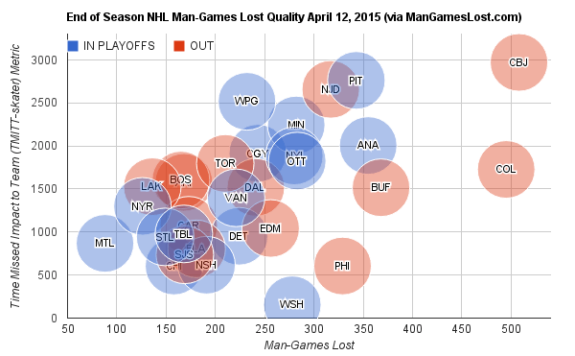 The only other team to suffer a similar amount of injuries and still make the playoffs were the Anaheim Ducks, but they had a luxury the Pens didn't. Anaheim's biggest injuries were at the beginning of the season and as a whole got healthier as the season progressed.
Moving Forward
Mike Babcock won't be coming to Pittsburgh, but was he ever an option? According the Rutherford, he was not and he should not have been. A rookie head coach is similar to a rookie player, there is a reason why they signed him to a three year deal.
Pittsburgh was not going to give up on Johnston after just one season, just like they would not give up on a player after one season.
Mike Johnston will be back next year and should have the Penguins playing at a high level again. Let's just hope the Pens can avoid the injury bug next season and we might finally see what Johnston can do over a full season.
Michael Pityk is an analyst who has written for numerous sites since beginning his professional career. He's acted as a credentialed member of the media for the Philadelphia Phillies, Philadelphia Flyers, Pittsburgh Pirates and the Pittsburgh Penguins. His work has been featured in Sports Illustrated, The Sports Journal, MSN, PensLabyrinth, Montreal Hockey Talk, ESPN Pittsburgh, The Hockey Writers, Todays SlapShot and The Bleacher Report. He formerly was the editor of Pens Labyrinth and an analyst for The Sports Journal. Michael presently acts as an NHL Analyst for The Hockey Writers