Injuries can make or break a team in any sport. The Pittsburgh Penguins have had more then their share this season, especially lately as the playoffs are looming.
PIT injury jinx continues. Kris Letang, hit by ARI's Shane Doan, was taken to hospital, expected to be kept overnight for evaluation.

— Bob McKenzie (@TSNBobMcKenzie) March 28, 2015
Most recently, star defenseman, Kris Letang was injured after this happened Saturday night against the Arizona Coyotes:
By now, we've all seen the hit that Shane Doan put on Letang. Doan explained that he was trying to finish the check on Letang, and that "you feel awful as a player when something like that happens."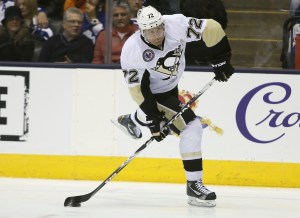 Just when…
The Penguins had a tough week, losing Thursday night to the Carolina Hurricanes. It was clear that they were missing three key players. I wrote about it Friday. Playing without Christian Ehrhoff, Evgeni Malkin, and Patric Hornqvist put the Penguins in a position to lose to a team that is not even sniffing the playoffs.
Evgeni Malkin returned Saturday night and his presence was immediately felt. He had two assists in the Penguins victory, including one on a power play goal by Sidney Crosby. He logged in over 21 minutes of time on the ice.
Derrick Pouliot and Evgeni Malkin earn the assists on the Sidney Crosby power play goal.

— Pittsburgh Penguins (@penguins) March 28, 2015
Patric Hornqvist also returned, getting nearly 18 minutes TOI. He made his presence felt even more significantly in Sunday night's action against the San Jose Sharks, earning the first star.
Here are tonight's #SJSvsPIT three stars. pic.twitter.com/3PQzCbAR1n

— Pittsburgh Penguins (@penguins) March 30, 2015
Just when it looked like injuries were going to stop being such a pronounced issue for Pittsburgh, Letang's concussion looms large. His 54 points currently slots him at fourth among all NHL defensemen, and there is no question will be missed greatly if he cannot return for the playoffs.
The dynamic duo
There is arguably no better pair of teammates on the ice than Sidney Crosby and Evgeni Malkin. Crosby is currently the NHL points leader with 79. Malkin is eighth with 70. When they are both "on" the Penguins are a very formidable opponent.
Evgeni Malkin blows my mind every game

— the kolache fool (@KitKaat_22) March 30, 2015
Goalie play has hurt them in recent playoff outings. The spotlight has been bright on Marc-Andre Fleury, with many wondering how far he can carry the Penguins into this year's run. More importantly, however, is the question of whether injuries will continue to plague this team.
Crosby is Crosby. Without Malkin he is still Crosby, but not with as much potential to break games open. Pittsburgh needs Malkin and Hornqvist to stay healthy going forward. Christian Ehrhoff is not the best defenseman in the league, but his 21:45 TOI is huge. The Penguins latest word is that he is out indefinitely. Michael Pityk wrote on March 26th,
"If the injury proves to be serious this could all but doom the Penguins' Stanley Cup aspirations."
That's what injuries can do to a team, even when it's guy who is not lighting it up, but is counted on as solid on defense.
If Ehrhoff goes on injured reserve, the Penguins will have some cap space to work with in calling up a player. Who that will be is up in the air. All that Pittsburgh Penguins fans can hope for at this point is that the rash of injuries is over, and that the team will get hot for a deep run in the Stanley Cup Playoffs.
After Sunday night's brawl with the Sharks, it's obvious this team can fight hard. Pens fans are certainly counting on good things in the post-season:
WOOOO HOOOO THAT IS WHAT YOU CALL A STANLEY CUP GAME RIGHT THERE BOYZ! @penguins Killed off A 4min OT PP. LOVE IT! #PENS

— Sammie Dee🐧🏒🌸 ⚔ (@SammieScotia) March 30, 2015
The Penguins are talented and somewhat deep. But, no team is deep enough to withstand injuries that keep coming. A healthy Pittsburgh is a dangerous Pittsburgh that no playoff team can look past. Bring on the playoffs!
Mark Shiver is a staff writer for The Hockey Writers  credentialed with the Carolina Hurricanes. You can follow him on Twitter @markshiver