They're a band of misfits. A collective group of individuals shunned by former employers and cast off as liabilities or lazy coach killers. There's no way this Pittsburgh Penguins team, built strictly on speed and skill using spare parts that didn't fit elsewhere, could actually find success.
Sidney Crosby, the leader of this group, is the most talented hockey player in the world but disappears when it matters most. Phil Kessel, the enigmatic right-wing is lazy, lacks work ethic and will drag teams down with his negativity and effortless approach. Trevor Daley and Justin Schultz are defensive liabilities and the Penguins' blue line is a group of nobodies that surely can't compete at this level.
Boy, Pittsburgh sure smashed a lot of those narratives huh?
Admittedly, even the most optimistic of fans didn't see their Stanley Cup run coming. Pittsburgh was on the outside of the playoffs looking in when they faced the most daunting portion of their schedule last March. They were scheduled for 16 games in that span, twelve of which were against divisional opponents.
They also lost Evgeni Malkin to a season-ending wrist injury. All signs of a gloomy forecast.
Unfortunately for the rest of the league and all those who doubted them, the Penguins weren't interested in these circulating opinions. Mike Sullivan deserves a ton of credit for his team's mindset through all the adversity they faced. They never flinched but instead, stuck to their game. As it turns out, the Malkin injury ended up being the birth of Pittsburgh's most dangerous line down the stretch, otherwise known as the HBK line.
That ended up being a microcosm of the entire season. No matter the question, the Penguins had an answer. Things just seemed to work out.
One for the Ages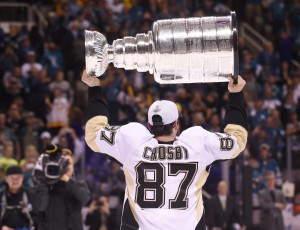 A Stanley Cup win is always extremely special. However, for this Penguins team, winning the Cup was a way for a large percentage of this roster to finally exorcize demons that have haunted them throughout their respective careers.
And it was glorious to watch.
The Crosby and Malkin era in Pittsburgh was widely viewed as a failure. According to many experts and fans, the two-superstar model would never work again. How could the Penguins build the necessary depth when they have so much money wrapped up in two players?
Interestingly, no one wanted to ask the questions that truly mattered such as, why did management continue to search out gritty, unskilled bottom-six forwards to add veteran leadership for playoff runs when they should be focusing on surrounding their superstars with cost-effective contributors? Why was their head coach playing a system that stymied any and all of their offensive creativity, especially considering they have two of the most gifted forwards on the planet? What's different in cities like Chicago and L.A. where both franchises continue to find ways to win, despite a rotating door and continuous moving parts?
Rutherford found the answer, which falls under his outlook during last summer's re-tooling. The Penguins needed to be younger and faster.
When Crosby lifted the Cup over his head on June 12, it meant far more than just another Pittsburgh championship. Combined with winning the Conn Smythe trophy as playoff MVP, it meant that even his biggest critics have to give credit where it's due. It means that no matter what happens in the future, he'll go down as one of the best ever.
His individual accomplishments already spoke to that. Now, his hardware does as well.
Rutherford also turned plenty of heads with Pittsburgh's recent success. After winning a Stanley Cup with the Carolina Hurricanes in 2006, Rutherford was highly criticized for Carolina's lack of success, having only made the playoffs once since their championship. Widely overlooked is that organizations unwillingness to spend, or inability to do so, and the fact that building a Cup contender in that environment is next to impossible. The fact that he did it once should be viewed as extraordinary. Sure, he made plenty of questionable moves but in the end, the results speak for themselves. The veteran GM was willing to learn and adjust his approach.
You Can't Win With Phil Kessel?
Kessel's 2015-16 campaign just may be the best part of Pittsburgh's championship. Remember, according to most of the Toronto media, trading him was the best possible decision for the Maple Leafs if they wanted to turn around that franchise.
Then…
The overall assumption is that Kessel was successful due to a lesser role with the Pittsburgh Penguins. He didn't have to be 'the guy'. Kessel didn't have to carry the team and shoulder the offensive load by himself, as he had both Crosby and Malkin to handle that duty. However, the truth is, no individual can do such a thing in today's NHL.
Oh, and he shouldered a pretty large load having accrued 22 points in 24 postseason games, leading the Penguins in scoring.
Kessel saw plenty of tough match ups, despite the narrative which claims exactly the opposite. He wasn't sheltered on a third line, his placement in that spot was imperative to Pittsburgh's depth and the matchup nightmares it created. Is anyone still interested in whether or not he eats too many hot dogs?
Opinions on Kessel from around the league have changed drastically. He's no longer a coach-killing, lazy, out of shape passenger. He's a big-game performer, capable of finding a new level when it matters most. He's a champion, and he didn't gain that title by letting others do the work for him.
New Season, New Challenges for the Pittsburgh Penguins
Will the Penguins repeat? Probably not. That isn't a knock on them as a team but it's nearly impossible to do so. Though, considering they're entering 2016-17 with nearly every piece of their championship roster in place, I guess you could say there's a chance.
There will be plenty of ups and downs throughout the year, which we'll discuss and analyze over and over again. We'll question their decision-making and whether or not this team can continue playing at the level they found this past January. There will be injuries to overcome, goalie controversies to ignore in order to avoid distractions and although they conquered all of these things last spring, there's no given they can do it again.
I can tell you with almost 100-percent certainty though, a few things we will not question going forward is whether or not Crosby can still lead a team to the promise land. We won't ask if Kessel works hard enough to be a contributing piece of a winning franchise. No one will raise the question of whether or not Rutherford has Pittsburgh's best interests in mind when altering his roster. If someone does pose these questions, I imagine it will be tough to take them seriously.
Pittsburgh Penguins writer for TheHockeyWriters.Com and PittsburghHockeyNow.Com. Youth hockey coach, and student of the game.