Since the Anaheim Ducks fell one game shy of the Stanley Cup Final in 2014-15, they have regressed with an early first-round playoff exit last season at the hands of the Nashville Predators. It doesn't appear steps are being taken forward as thus far this organization boasts an incomplete roster most notably on the wings. General Manager Bob Murray shipped Frederik Andersen to Toronto Maple Leafs in exchange for backup goalie Jonathan Bernier. Murray also signed a few free agent forwards to fill in gaps. However, none of these have been the game-changing, splashy moves many expected the Ducks to make at the NHL Draft and in the offseason.
The most recent addition includes veteran center Antoine Vermette.
Vermette – A Good Signing
As it has been reported, the Anaheim Ducks announced the signing of Antoine Vermette last week. It is a two-year deal worth $3.5 million ($1.75 AAV), according to Eric Stephens of the Orange County Register. Off the bat, it seems Vermette will serve as the replacement at center for Nate Thompson who is out until March with an achilles injury.
The 34-year-old forward was recently bought out by the Arizona Coyotes as analytics didn't approve of his play. Vermette isn't as strong defensively as Thompson, but he adds more of an offensive game. Vermette is a solid two-way skater, with a scoring touch and strong at faceoffs. He's ranked in the top 10 in the NHL in faceoff leaders in the past four seasons and has won 50% or higher in the dot in 11 straight seasons, according to stats via hockey-reference.com.
Vermette recorded 17 goals and 38 points in 76 games played in 2015-16. Ducks fans fondly remember his game-winning tally in Game 4 of the Western Conference Final against the Ducks in double overtime for the Chicago Blackhawks. Vermette also brings versatility. Coach Randy Carlyle can slot Vermette at center while Thompson recovers or on the wing. He also brings playoff experience appearing in 78 games.
Incomplete Roster
The Vermette signing adds depth down the middle and depth scoring, but the roster as it now stands is incomplete for Cup contending standards. The Ducks are missing a true scoring winger to complement Corey Perry and Ryan Getzlaf as the team's top scorers. Murray has yet to find that left-shooting, pure scoring top-six left winger he identified the Ducks desperately need following a fourth straight Game 7 loss on home ice.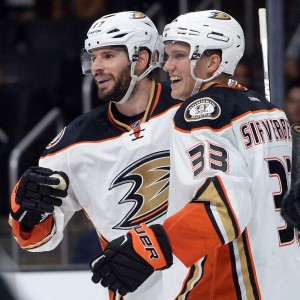 Scoring became more of a dire need when David Perron and Jamie McGinn – both trade deadline acquisitions last season – signed as free agents with the St. Louis Blues and Coyotes respectively.
As of now, the Ducks wingers consist of Perry, Jakob Silfverberg, Andrew Cogliano, Ryan Garbutt, Jared Boll, Mason Raymond, Chris Wagner and potentially Vermette. It's a solid mix of wingers but only one pure scoring threat in Perry isn't enough to compete in the loaded Western Conference. Yes, Silfverberg is coming off a career-high 20 goals after a slow start to the 2015-16. It's a matter of if the 25-year-old winger can follow up with another career best. Newly added Boll and Raymond have 18 combined goals past two seasons.
Last season the Ducks overcame an astonishingly bad start offensively to top the Pacific Division for a fourth straight year before running out of gas and eventually ousted in the first round of the Stanley Cup Playoffs. It's pivotal they find balance scoring to avoid another slow start. Anaheim won't find that with this roster as it stands.
The Solution
The Ducks own the assets to trade for a high-end player but that doesn't mean it won't be tough with this team's unwillingness to spend to the salary-cap ceiling of $73 million. Restricted free agents Rickard Rakell and Hampus Lindholm will eat a big chunk of remaining salary and there's a shortage of high-end talent left in free agency with training camp four to six weeks away.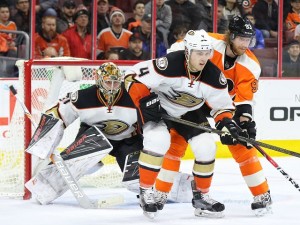 That leaves Cam Fowler as their best trade chip to land the proven scorer to put this team over the top. Anaheim could find a team like the Detroit Red Wings that badly need to bolster their blue line in exchange for Tomas Tatar or Gustav Nyquist. One that makes more sense is the rare hockey trade of Fowler for Leafs James van Riemsdyk. Money is about even, and JVR is a legitimate top-six forward and would automatically enhance the Ducks top six group.
There's another other option if the Ducks and Lindholm's camp can't come to an agreement. The Hockey Writers' Aly Dhanani recently discussed a potential blockbuster trade of Lindholm for the Colorado Avalanche's captain Gabriel Landeskog.
Plus, Murray and the Ducks can look at their young ducklings. Nick Ritchie could get a second shot at impressing after showing that he couldn't keep up with the speed of the NHL as a rookie.