It's mid-January and the Pittsburgh Penguins are ready to drop the puck on the 2020-21 NHL season. The focus of the offseason was to improve the team's speed and aim to get younger. To do that, some fan favorites had to be shipped away in order to acquire players with extra foot speed.
Since there is a fair amount of uncertainty in all aspects of life while the spread of COVID-19 continues, the NHL is allowing teams to carry six extra players in a taxi squad. After a two-week training camp, the Penguins' 23-man roster and taxi squad selections have been set.
For the Penguins, the taxi squad consists of three forwards, a defenseman, and two goalies. The makeup of the squad consists of forwards Anthony Angello, Frederick Gaudreau, Drew O'Connor, defenseman Pierre-Olivier Joseph, and goaltenders Alex D'Orio and Maxime Lagace.
The taxi squad is something that every hockey fan should be familiar with this season. Each team has one and they max at six players. Those players will practice separately from the main roster, but still travel with the team. If a taxi squad player is joining the 23-man roster, no quarantine will be needed and they can play right away. The NHL introduced this as a sort of emergency group, and buffer between the NHL and AHL.
Let's run down every name on the Penguins' taxi squad roster and go over what each of them brings to the table and how this is a good squad for the team.
Anthony Angello
It may not be a lot, but Angello has a small sample size of NHL experience. Getting the call-up from the AHL last season, he played in eight games and scored his first career goal in a 5-2 victory over the Toronto Maple Leafs. A game the Cornell University grad wasn't supposed to play in, he was inserted after Evgeni Malkin fell ill during warmups.
Standing at 6-foot-5 and 210 pounds, Angello is a grinder forward who isn't afraid of getting in front of the net. Being a net-front presence is the way he got his first goal; a deflection on a shot from another former Ivy League player, Sam Lafferty (Brown University).
While there isn't much else to speculate on Angello, the taxi squad is a good spot for him. He can fill in at any forward position and plays a style of game that needs to be revitalized after the Patric Hornqvist trade.
Frederick Gaudreau
Penguins fans might recognize this name from the 2017 Stanley Cup Final, when Gaudreau scored three goals and a pair of game winners for the Nashville Predators. Hopes shouldn't be all that high on him, however, as Gaudreau was rookie at the time and still hasn't held a full-time roster spot in the NHL.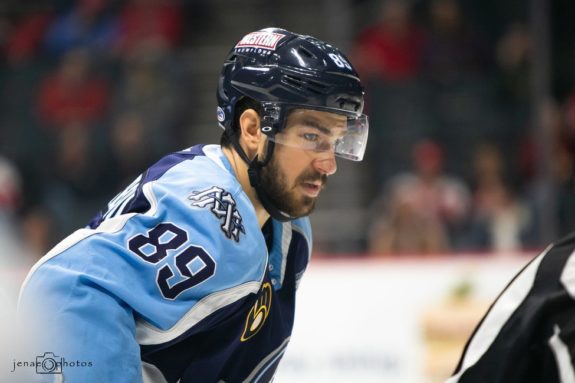 That's not saying Gaudreau won't be useful on the taxi squad. He is a veteran of 84 career regular season games with Nashville and has eight career points. The Penguins signed him to a one-year, $700,000 contract to play the exact role he is in now, a depth forward who has NHL experience and a lot of sitting time won't tarnish his growth or experience.
Drew O'Connor
This is a name that Penguins fans should get acquainted with quickly. O'Connor has one of the brightest futures of any Pens prospect. Like Angello and Lafferty, O'Connor is a former Ivy League star who was signed out of Dartmouth University, where he scored 59 points in 65 games. Another big-bodied forward, the 6-foot-3 winger should soon enough be playing regularly in the NHL and becoming another large net-front presence.
What makes this spot interesting is that O'Connor beat out multiple players who have NHL experience. Most notably from the forward pool, 31-year-old Jordan Nolan, who has played in 375 career games and won a pair of Cups with the Los Angeles Kings. Nolan signed a professional tryout offer with the Penguins and will be reporting to the AHL.
Another way O'Connor set himself apart from other names joining the taxi squad is that he was loaned to Norway to play during the NHL's offseason. While playing for Manglerud, he put up six goals and four assists for 10 points in seven games.
Pierre-Olivier Joseph
Much like O'Connor, Joseph proved his worth over multiple players who have NHL experience. What gives Joseph the edge, though, is just how close to NHL ready he is. If it wasn't for a huge logjam at the defensive position in Pittsburgh, its possible he would be in the starting roster for opening night.
Behind Juuso RIikola and Chad Ruhwedel, Joseph is the Penguins' best option as a fill-in defender for this season. Playing all of last season in the AHL, he had ice time in 52 games and picked up 14 assists.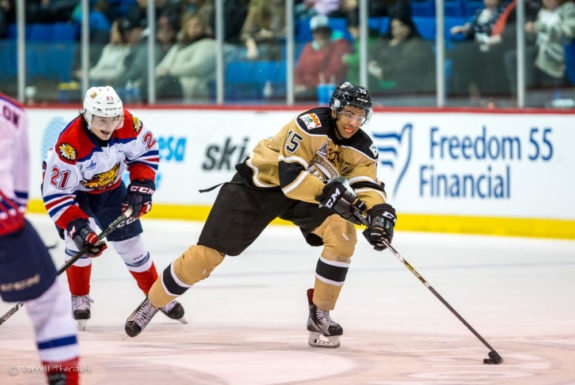 Joseph had to compete for this spot in the lineup, battling guys who have NHL experience like Kevin Czuczman and Zach Trotman. Sure, Czuczman hasn't played in the NHL since 2014, but he has become an AHL veteran and has seen a few chances of making the Penguins roster over the years.
Alex D'Orio
Ever since losing Matt Murray to a trade in the offseason, the Penguins lack of goaltending depth has been exposed. While they have been trying to rebuild it through the draft, the 2020 picks won't be ready for the NHL for a few seasons still. For the time being, the Penguins will have slim experience in net.
Starting with D'Orio, a 21-year-old goalie who spent all of last season with the ECHL's Wheeling Nailers, he finished the season with a 12-15-2 record and .892 save percentage. It's not much to write home about, but the Nailers weren't a good team and couldn't do much in front of him.
Maxime Lagace
Thanks to experience, D'Orio is most likely the Penguins' fourth goalie option behind Lagace. The 28-year-old Lagace has been used mostly between the AHL and ECHL, but has been called upon in an emergency basis.
In their inaugural season, the Vegas Golden Knights saw each of their first three goalies go down with injury, giving Lagace his NHL debut. Eventually, the Golden Knights would reach their fifth different goalie when he left a game early for a back injury.
In 158 career AHL games, Lagace has picked up 82 wins, including a career-high 22 with the Providence Bruins last season. He has proven to be stout in the minor leagues, and with a small sample of NHL experience, he slots in as the Penguins' third-string goalie for the year.
The Penguins' taxi squad is interesting but should be helpful. With injuries and healthy scratch situations, each skater will probably get time in the NHL this season. This provides a pair of NHL debuts for the Penguins in Joseph and O'Connor.
Those are two players that project to have successful careers in the NHL, and the first steps have been taken. For the other four, the future is still unclear, but they provide easy access depth for the Penguins in what should be a successful season.
---
---