The Philadelphia Flyers offseason was mostly muted as the front office made only a handful of notable moves. The biggest takeaways were the signing of free-agent defenseman Erik Gustafsson to a one-year deal and re-signing veterans Justin Braun and Brian Elliott.
Meanwhile, the list of transactions on the Flyers broadcast team, including former players who were broadcasters and served as on-air talent, was more noteworthy and even a bit shocking. With the change the team recently announced and the decisions made by NBC Sports Philadelphia, which airs Flyers games and other content, games and the pregame and postgame shows will sound drastically different than in past years.
Gone are analysts Chris Therien and Colby Cohen, host Katie Emmer, as well as color commentator Bill Clement.
The latest newcomer is Scott Hartnell, who will work as an analyst.
Therien, who spent over a decade as a radio and TV broadcaster and TV analyst, was laid off in late December by NBC Sports Philadelphia. Then, the network did not renew Cohen's or Emmer's contract after each of their two- and one-year stints, respectively, on the telecast's pregame and postgame shows. The next axe to fall was when Clement announced he was retiring.
Let's take a look at what fans are gaining and losing, in terms of analysis from former players, when they tune in this season.
Scott Hartnell
The former fan-favorite and team alternate captain joins the in-studio cast, which will be anchored by Taryn Hatcher. Hartnell debuted as an analyst in 2018 with the NHL Network and has made guest appearances on NBC Sports Philadelphia before and after Flyers games.
He spent 17 years in the NHL, but endeared himself to the Flyers faithful during his seven seasons in Philadelphia. While Hartnell was productive on the ice (he averaged 22 goals a year) and admired as an agitator, fans were also drawn to his affable personality, which he will bring to each telecast.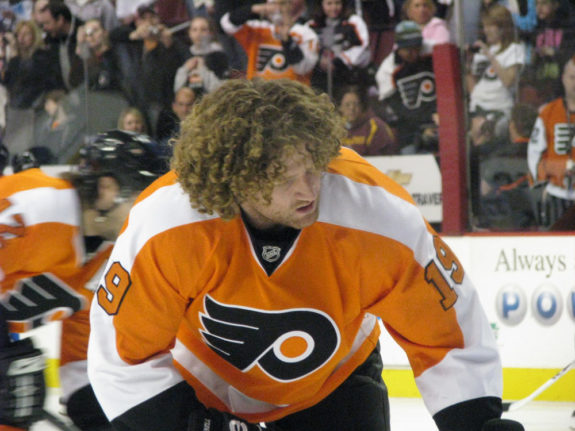 He established a charity called #HartnellDown that supported children and was known for such comical events as hilariously interacting with a Pittsburgh Penguins fan dressed as Hulk Hogan during a playoff round and throwing his gloves at an opposing player to try to stop a breakaway.
However, he will need to bring more than just his charm and stories from the good old days to the broadcast. Hartnell must add sharp tactical analysis and provide positive and negative comments about the team and its hometown players. That is what viewers came to expect and enjoy when watching Therien and Cohen, who didn't hold back on calling out players, even stars, who didn't play well.
As long as Hartnell can remain objective and critical, expect him to make a smooth transition to the telecast.
Chris Therien
It's probably safe to argue that Therien, who is also known locally by his nickname "Bundy," gained more popularity and acclaim as a broadcaster than he did as a Flyers blueliner for 11 years. Despite a successful career (he finished with a plus-126 in plus/minus), many fans and media members felt he never reached his full potential as a player.
However, Therien quickly developed into an excellent analyst. He joined the radio team as a color commentator alongside play-by-play announcer Tim Saunders shortly after retiring in 2006. The former third-round pick became the "Inside- the-Glass" reporter from 2014-2018, when he worked in a booth between the team benches and gave an ice-level report.
Over the last two seasons, Therien was moved into the studio for the pregame and postgame shows, where his skills were probably best utilized. Viewers saw and heard his frustration after a lackluster effort and fans respected his unbiased analysis. He also wrote columns for NHL.com.
When the news broke of his departure, Therien posted a video on Twitter stating he is ready to begin a new project that has nothing to do with hockey. It's good to hear he has plans for the future, but hockey fans have lost an excellent hockey commentator and analyst.
Colby Cohen
We hardly knew you, Colby. Although he spent two seasons on the pregame and postgame set, Cohen made a strong impression. Although he played in just three NHL games in the 2010-11 season with the Colorado Avalanche, the defenseman spent 11 years playing in juniors, college (Boston University), various minor leagues, and overseas.
He knew the game well and how to break it down during a telecast. Like Therien, Cohen wasn't afraid to praise or criticize the team or a player and was witty and funny on the set. It's a shame we didn't get to see what he'd bring to the telecast this season.
Bill Clement
This one more or less came out of nowhere. Less than a week before the 2020-21 season was set to begin, Clement announced his retirement. His friendly and easy-going demeanor, warm smile, and brilliant commentary will be sorely missed.
A member of the Flyers two Stanley Cup championship teams, Clement became a TV color commentator in 1989 and spent two stints in the booth. In his most recent role, he filled in for color analyst Keith Jones when Jones was needed on national hockey broadcasts for NBC Sports. His longtime play-by-play partner Jim Jackson wished Clement well on Twitter.
On a recent radio broadcast, Clement cited his age (70) and the desire to travel — once the pandemic ends — as reasons for his decision. The station has not yet announced his replacement.
It will certainly be a new look and sound different this season during Flyers games and on the pregame and postgame shows. It will be interesting to see how Hartnell fares and what the reactions are of viewers.  
---
---