By the time his current contract expires in 2015, Marc-Andre Fleury will have the second-longest goalie tenure in Penguins' franchise history with 11 seasons—Tom Barrasso's 12 are the most.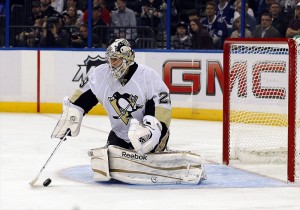 Fleury probably won't need a thirteenth to better the rest of Barrasso's franchise records.
The 27-year-old netminder and former first-overall pick has been every bit a franchise goaltender for Pittsburgh, now 28 victories deep into his eighth season with the team. As Fleury continues knocking down W's for the Penguins (his 28 wins trail only Jimmy Howard and Pekka Rinne league-wide), he also climbs ever-closer to surpassing franchise goaltending records, most of which are held by two-time Cup winner Barrasso.
In fact, Fleury is already within shouting distance of a few of those records, which can realistically be attained this season.
A look at the two goaltenders.
Tom Barrasso
Barrasso arrived in Pittsburgh in 1988 as one of the best goalies in the game. Like Fleury, Barrasso came into the league with accolades—he was the first goaltender to be drafted straight out of high school in 1984 and won the Vezina Trophy in his rookie season as an 18 year old, a record for youngest Vezina winner which still stands.
Barrasso remained with the Penguins until the 1999-2000 season, when he was traded to Ottawa. In parts of 12 seasons with Pittsburgh, Barrasso gathered a number of Penguins franchise records.
226 – Barrasso holds the team record with 226 wins. He was also the first American goaltender to win 300 games and ranks 15th all-time (and second amongst American goalies) with 369 career victories.
460 – Barrasso appeared in 460 contests for the Pens with 416 starts, each a team record.
24 – Career shutouts in a Penguins uniform, a record Barrasso still clings to.
Barrasso also leads the list of Penguins goalies in minutes played (25,879), losses (153), ties (53), goals allowed (1,409), shots against (13,485), points (31), penalty minutes (251).
As for single-season records, Barrasso holds the marks in wins (43), shutouts (7), GAA (2.07) and points (8). In the postseason, Barrasso holds the top spot in career games played (101), career minutes played (5,918), wins (56), losses (42), goals against (287), career shutouts (5), shots against (3,071), career points (7) and career penalty minutes (38).
He also holds or ties single-season playoff records in wins (16, Marc-Andre Fleury) and points (3).
It's an incredible list of accomplishments, made of equal parts longevity and pedigree. Fleury holds a similar pedigree but has a lot of contract left to complete before he nears Barrasso's time with the team.
A look at the young goaltender, where he ranks so far and how much he's accomplished already.
Marc-Andre Fleury
A career Penguin, Fleury was thrown into the fire as a youngster in 2003-04 but since 2007 has enjoyed five-straight playoff appearances. Injuries over the past two seasons have taken Fleury from being a core player to the core player—he was voted Team MVP in 2010-11 after injuries robbed each of Sidney Crosby, Evgeni Malkin and Jordan Staal of half the season.
Despite losing 350 man-games to injury, Fleury steadied the team en route to 36 personal wins and 106 total standings points, second-most in franchise history.
By and large, Fleury is repeating the feat in 2011-12, including a recent nine-game winning streak which helped to bring the Pens from tenth to fifth in the East. Fleury started an average of 66 games in the last two seasons. Assuming 66 appearances again this season, he's on pace for 42 wins—a projected career high.
If he can stay healthy, Fleury should catch Barrasso in short order. In fact, he already holds a few franchise marks.
67 – Fleury holds the mark for single-season appearances with 67, a number reached in 2006-07 (40-16-9) and 2009-10 (37-21-6).
3,905 – The most minutes played in a single season (2006-07).
Fleury also holds the single-postseason records for games played (24 in 2008-09), minutes played (1,447 in 2008-09), wins (16 in 2008-09), goals against (63 in 2008-09), shots against (686 in 2008-09) and shutouts (3 in 2007-08).
In a head-to-head against Barrasso, Fleury is closing in fast. He's got three-plus seasons (at least) left reach the following milestones and assume his spot as franchise leader.
48 Appearances – 460 vs 412, Fleury needs 48 more appearances to catch Barrasso. He's due for 20 or so more this year and about 65 next season. Barring significant injury, Fleury should be the franchise leader by early next year.
39 Playoff Appearances – Barrasso appeared in nine playoff seasons for the Penguins to Fleury's five. If Flower manages 10 or so playoff starts in four more appearances (62 total vs Barrasso's 101), he'll hold the record.
14 Wins – Fleury needs just 14 wins to match Barrasso's 226 career regular season victories. The number is within reach this season; Fleury needs to win 15 of a projected 20 remaining starts to hold the record.
2 Shutouts – 23 represents a new Penguins' record. Fleury has 21. A hot streak (or a few more dates with the Islanders) could put him over the top before this season is out.
Fleury is also closing in on Barrasso's marks of minutes played (25,879 to 23,491), losses (153 to 139), goals allowed (1,409 to 1,052), shots against (13,485 to 11,541), playoff wins (56 to 41), playoff losses (42 to 28) and playoff minutes (5,918 to 4,189).
At 27, Fleury's got a lot of hockey left to play. The Penguins should hope he'll play the rest of it in Pittsburgh, regardless of the franchise marks he gathers along the way.
Information from this piece gathered from GoaliesArchive.com, CapGeek.com and Penguins.NHL.com.