Over the next couple of months, The Hockey Writers will be releasing a series of bold predictions. Team by team, this series will take shape as we look at some of the more questionable possibilities that could come into fruition during the 2017-18 season.
Leaving New York, we head to the state of Pennsylvania where the Philadelphia Flyers are coming off a mediocre season followed by a hopeful offseason that included the second overall pick in the NHL Entry Draft. While the Flyers walked away from the draft with a potential star within their ranks, we'll discuss how 2017-18 might be another long season for the team and their faithful fans.
Recapping 2016-17
While they finished just one win shy of the 40 wins that earned the Toronto Maple Leafs the second wildcard spot in the Eastern Conference, the Flyers ended 2016-17 seven points shy of a postseason berth.
They finished with a minus-17 goal differential, but still put up 39 wins – averaging 2.67 goals per game.
The Flyers were led on offence by Jakub Voracek who scored 20 goals and totalled 61 points while playing a full 82-game schedule. He was followed up by Claude Giroux (58 points), Brayden Schenn (55 points) and Wayne Simmonds (54 points).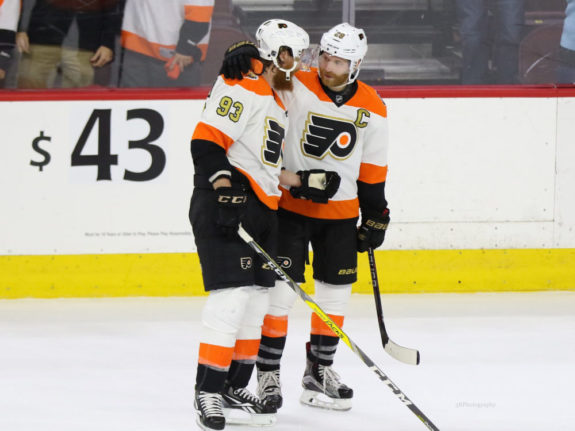 The Flyers also saw rookies Ivan Provorov and Travis Konecny make their NHL debuts last season. Provorov notched six goals and 30 points in 82 games while Konecny put up 11 goals and 28 points in just 70 games in his first season.
On the other side, they didn't get much help on defence. The team had seven players who finished with a double-digit minus rating – including their top five scorers.
In net, the majority of the playing time went to Steve Mason. The 29-year-old finished the year with a 26-21-8 record in 58 games to go along with his 2.66 goals against average and .908 save percentage.
He platooned the crease with fellow goaltender Michal Neuvirth who finished 11-11-1 in 28 games. He had a 2.82 goals against average and a .891 save percentage over that span.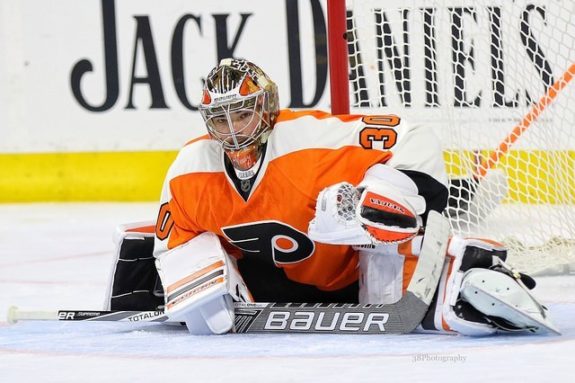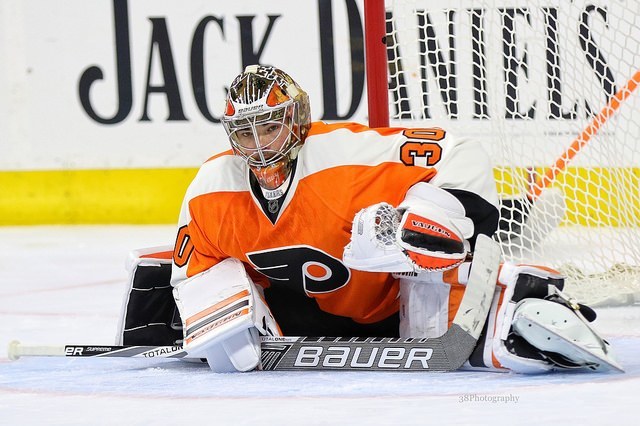 While the Flyers ended up adding Nolan Patrick with the second overall pick at the 2017 NHL Entry Draft – a pick that should add some offence to a team searching for anything but – they did make some other interesting moves over the offseason that may leave fans with more questions than answers.
Mason, Schenn Fly Out of Philly
You hear it all the time – it's a business. Because of that, some players move on in free agency while others are simply moved by the team in what they hope will play out in their favour.
For the Flyers, that meant moving on from their former starting goaltender and trading their third highest scorer from a year ago.
Mason, a free agent after the 2016-17 season, went on to sign a two-year deal with the Winnipeg Jets worth $8.2 million after parts of four seasons with the Flyers. He racked up a record of 104-78-36 in 231 regular season games – compiling a 2.47 goals against average and .918 save percentage.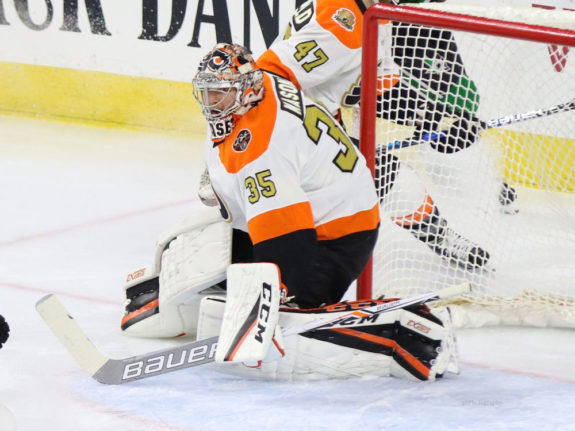 His departure left the team with Neuvirth and room to bring in veteran goaltender Brian Elliott on a two-year deal with an average annual value (AAV) of $2.75 million.
The Flyers also traded Schenn to the St. Louis Blues in late June. In return, the Flyers acquired Jori Lehtera, a 2017 first-round pick (used to draft Morgan Frost) and a conditional first-round pick in 2018.
But possibly their biggest move of the offseason came just two picks into June's draft when the Flyers took Patrick. While he's not expected to have the same kind of impact as both Auston Matthews and Patrik Laine had on their respective clubs in 2016-17, Patrick still has that "game-changer" skill level.
2017-18 Bold Predictions: Playing on Patrick's Past
Patrick made his debut with the WHL's Brandon Wheat Kings in 2013-14. His first full season came a year later, but Patrick was forced out of the lineup due to injury. That year he played just 55 games of a 72-game schedule. He did score 30 goals and finished with 56 points to go along with his 15 points in 19 playoff games, the injuries would just be the beginning.
The next season, 2015-16, was his first full year. He played 72 games for the Wheat Kings with 41 goals and 102 points. He added another 30 points in 21 playoff games helping his team win the WHL Championship and coming the WHL's playoff MVP. But that was his first full season in junior.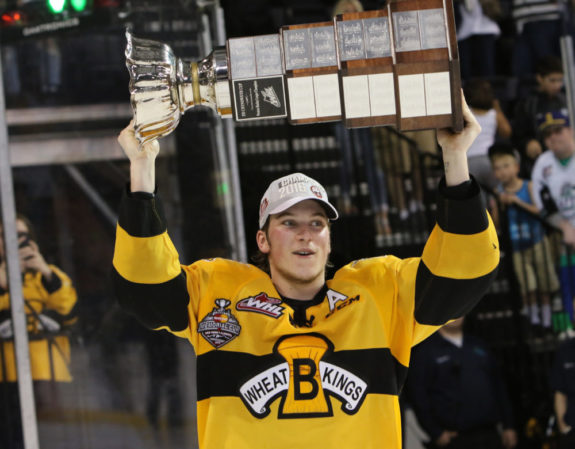 Last season, injuries plagued the young forward again. While he totalled 46 points, he only played 33 regular season games. He dealt with two hernia injuries in 2016-17 and because of that didn't see very much ice-time in his draft year.
Still his play spoke for itself and he was selected second overall.
But 2017-18 might not be that different for the young, talented forward. Already he's dealt with a facial infection leading into his first NHL training camp and that might not be the end of it.
While I think it will be horrible for the Flyers and the fans in Philadelphia, I think Patrick will have a rookie season much like that of Connor McDavid. His talent will be obvious (not the same extent), but he will miss time due to injuries. Chances are he'll play under the 65-game mark this coming season which will be unfortunate for the game of hockey.
As for the rest of the team, expect Lehtera, Konecny and Jordan Weal to combine for 130 points this season as they represent the next wave of young Flyers.