That's our culture!
–        Ed Snider, Chairman
Is there a more maligned team in the NHL than the Philadelphia Flyers? Is there a team year-after-year that has disappointed its fans, its owner, its city and the league more than the Philadelphia Flyers?
I don't think so.
What is it about the Philadelphia Flyers that make so many hockey fans hate this team? God-awful bright jerseys? Dirty hockey? Classless? Bad karma? All of the above? The team playing in the City of Brotherly love hasn't given much love to its fans over the years.
Philadelphia: A Terrific Sports Town
Philadelphia is a terrific sports town and the good folks there live and breathe sports. And they have plenty of teams to follow besides the Flyers: The Eagles, the Phillies, the 76ers. So where are the championships? Philly fans deserve better for their unwavering loyalty. The Eagles have appeared in the Super Bowl twice (1980/2004), losing both times. The 76ers haven't won an NBA title since Dr. J. was finger-rolling his way around the court back in 1983. The Phillies are arguably the city's most successful sports franchise, winning World Series titles in 1980 and 2008, and losing in the October classic in 1983, 1993 and most recently in 2009.
How about the Flyers? Since becoming the first expansion team to win the Stanley Cup ('73-'75) when they were known as the Broad Street Bullies, this franchise has had the highest of hopes and some of the lowest lows.
With the firing of head coach Peter Laviolette three games into the season, deep pocketed owner Ed Snider was a bit snarly while turning aside questions about the need of a culture change in Philadelphia – apparently a question he was uninterested in fielding because he went on to say the team has been winning, has made the finals and ultimately:
That's our culture!

And he's right. The Flyers have won a lot of hockey games and through to last season, had the second best all-time points percentage behind you guessed it, everyone's favourite overrated franchise, the Montreal Canadiens.
Unfortunately for the Flyers they are now in the unenviable position of being fourth in a line of teams who have gone the longest without winning a cup, behind only the Toronto Maple Leafs, St. Louis Blues and Washington Capitals. That's not the company you want to keep.
Say what you want about the Canadiens riding on their 24 cups and their long-winded history, but the truth is — though they haven't won a championship since 1993 — since the Flyers first season in 1967-68, the Habs have won a total of ten Stanley Cups to Philadelphia's two.
The Flyers May Have Made Some Finals But…
The Flyers may have made the finals but in reality, they haven't really been very close to a championship. In 1976, they relinquished the title having been beaten at their own game to the juggernaut Montreal Canadiens who were on their way to four straight cups.
In 1980, they lost in the finals to the next expansion team to win a cup, the New York Islanders – who were also on their way to winning four straight.
Then in '85 and '87, they lost to the Gretzky-led Edmonton Oilers, who would go on to win four cups in five years.
In 1997 the Flyers were swept 4-0 in the finals against the Detroit Red Wings. They would repeat as champs the following season. In 2010, a surprising Flyers team that eked into the playoffs on a shootout goal pushed the Chicago Blackhawks to OT in game six, only to lose once again. The Hawks would win the cup again in 2013.
Now I'm no mathematician, but that's a lot more losing in the finals than winning.
The moral of the story? You want to be a hockey dynasty? You need to face off against the Flyers in the finals. The Blackhawks have now won two cups in four years.
Poor Player Personnel Decisions by Management
Over the years, Philadelphia has made some poor personal decisions and can't seem to see straight when it comes to their goaltending situation.
Their 2010 playoff zero hero, goaltender Michael Leighton, wasn't even playing for them a year later.
But you don't want to go anywhere near that net. Oh yes, the Pelle Lindbergh curse is strong. Playing goal for the Flyers is akin to being the drummer for Spinal Tap. You ain't gonna last.
It's why the Flyers, a team that once evoked fear in opposing squads, have become somewhat laughable around the league.
Let's look at the most recent example: a classic display of a head coach taking the hit for a GM who has been dying on the vine for way too long. It's GM Paul Holmgren that should have been fired.
The timing of Peter Laviolette's firing was completely nonsensical and just shows how bad a state this franchise truly is in when an owner stubbornly lets it slide under the guidance of a GM that time and time again has made poor decisions.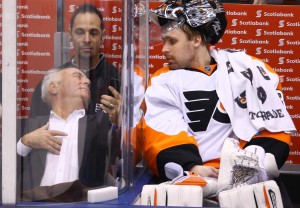 And to Philadelphia's dismay, there are too many bad moves to list. But obviously the Bryzgalov signing comes right to mind. He disintegrated into a loony, ready for his close-up failure now playing in the East Coast League. Paul Holmgren must have should have known that though Bryzgalov had some good seasons for the Coyotes,  he'd never really been tested in a hockey market that expects results.
Then they let got rid of Sergei Bobrovski, who went on to win the Vezina last year with the Columbus Blue Jackets.
That's our culture!
The purging of bad seeds Jeff Carter and Mike Richards also proved to work against the Flyers. Both players ended up winning the cup with the L.A. Kings, and are now part of a solid core that make L.A. competitive for the cup on a yearly basis.
Another bad move, as history shows, was the Lindros deal back in the early '90's. Sure they got Eric Lindros, a terrific hockey player who never quite realized his full potential due to a combination of bravado and injury, but he was bad karma.
He should have accepted a spot with the Quebec Nordiques when they drafted him but no, he was above it all and had no interest in playing there. So Quebec trades him to Philadelphia for Steve Duchesne, Peter Forsberg, Ron Hextall, Kerry Huffman, Mike Ricci, Chris Simon, a first round pick in '93 and '94 and $15 million in cash. Can you imagine?
Of course, Forsberg and Ricci went on to form the nucleus of the Avalanche's cup-winning teams when it moved to Denver from Quebec City. Lindros? Career ended early because of Scott Stevens.
Meddling Owners Rarely Bring Success
You really have to wonder if Ed Snider, the George Steinbrenner of hockey, really has enough hockey sense to meddle in his team's affairs. He's been around hockey long enough to know he should hire the right people, then let them do their jobs with little interference. We witnessed what happened to the Tampa Bay Lightning a few years back with the group headed by Oren Koules.
The Flyers are another classic example of a team suffering under the suffocating guidance of a meddling owner. Steinbrenner at least was able to hire enough of the right people to turn his team into champions on multiple occasions. Snider? He had beginners luck and the expansion draft to help him out. Head Coach Fred Shero, Bobby Clarke, Bernie Parent, a sometimes sober Reg Leach, Bill Barber. He had a darn good team and ushered in a totally new style of play combining hockey skill with bruising physicality. If we weren't going to beat you with our skill, we'll beat you with our fists. And we'll win the game too. That was the Flyers of the mid-seventies.
The intimidation factor was strong back then. Now? Not that much.
The St. Louis Blues, another expansion team that made the Stanley Cup Finals three years in a row only to lose to the Montreal Canadiens twice and to the Boston Bruins, also had an owner that seemed to think he knew better than his young but up-and-coming hockey minds. Sid Salomon III's meddling saw the Blues not only lose HOF coach-to-be Scotty Bowman, but also HOF coach-to-be Al Arbour and Emile Francis.
More recently, one just has to look how New York Islanders owner Charles Wang has held that team back with some odd personnel decisions. But that's another story.
Montreal Only French but Philadelphia Only Flyers
The Canadiens get lambasted by the media every time a coaching change is made there because of the fact that they are limited to hiring candidates who are French-Canadian or in the very least, speak French. That's the reality of their unique market. The Flyers though aren't much better. Snider prefers to hire former players who have bled orange and black. Bill Barber. Bobby Clarke. Their pool consists of mostly men who have played for the Flyers at some point.
Hey! I hear Tim Kerr wants to get into coaching.
After his first game, the latest  new "old" coach Craig Berube displays the surliness that Ed Snider seems to covet:
The reality is the Philadelphia Flyers were not a very good hockey team last year, and no quick fixes are going to help at this point until they settle their goaltending and backend issues. The year before, in one of the most shoddy display of playoff goaltending I can ever remember, the Flyers got past the Penguins solely because Marc-Andre Fleury was even worse than Bryzgalov.
And unless Philly's Flyers figure out something soon, I wouldn't expect to see them invited to the playoff dance at season's end.
Loudspeaker: "Attention Bobby Clarke. Bobby Clarke. Please report to Ed Snider's office. Bobby Clarke you are wanted in Mr. Snider's office immediately!!"
That's our culture!
I'm a goalie — apparently that says a lot. Writer, producer and bon vivant I'm from Montreal but live in Toronto and write from that perspective on HabsFanInLeafLand.com. Young enough to be hip; old enough to remember where I was when Guy Lafleur scored against the Bruins in the infamous "too many men" game in the '79 playoffs. Can you say that?
You can contact Ari Grief on Facebook or on twitter @habsfanleafland