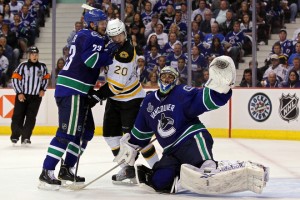 Led by their top pairing of Kevin Bieksa and Alex Edler, Vancouver turned up their physicality and bought themselves to within one win of the Stanley Cup. After recording 58 hits in two games in Boston, Vancouver set the tone early and kept up the charge all night, racking up 47 hits, including a game-high 10 from Edler and another four from Bieksa. Only two players, Henrik Sedin and Christopher Tanev, failed to record a hit in what was another tight game in Vancouver. During Games 3 and 4 in Boston, the Bruins dictated play by pushing the Canucks around. They were not about to let that happen again and took the play to the Bruins every chance they got.
Boston's power play once again failed them as they couldn't take advantage of three early chances, including one 1:39 into the game when Raffi Torres tripped Greg Campbell. They didn't mount much pressure and any shots that were on net were easily handled by a calmed down Roberto Luongo. He made 31 saves for his second 1-0 shutout of the series and was strong on every shot, never looking out of position. This is the second time he has showed tremendous bounce-back ability in these playoffs. After two bad games against Chicago in which he allowed 10 goals and didn't start Game 6, he made 31 stops in a 2-1 overtime win in Game 7. He certainly has the focus and determination needed to out-duel the red-hot Tim Thomas.
Speaking of Thomas, not to say he hasn't been spectacular throughout this series, but Vancouver has been making it easy on him at times. Even when they have traffic in front of the net, they try too many straight-on shots, especially from the point. A good portion of their scoring chances started with a slap shot from a stationary defenseman from the blueline. A lot of those were easy saves for Thomas. It would be nice if they could get the chances Tanner Glass got in the second period, but Boston has done a terrific job of closing down the passing lanes, severely restricting the chances of a cross-slot pass. What they should do is what Bieksa did on Maxim Lapierre's goal and that is a softer wrist shot with an angle change on the shot. Shooting a slap shot allows Thomas to get set far outside the crease where he has been impenetrable. They have to make it harder to judge the shot; a slower shot could throw off the ultra-quick Thomas and changing the angle of the shot by taking a few quick strides or even just turning a bit would make it difficult for Thomas to get his feet set.
Lapierre was one of Vancouver's best players on the night. Aside from being his usual agitating self, he spent the night flying up and down the ice, making plays at both ends of the rink. As the game wore on, he got better and was in on some of their best scoring chances in the third period. If he can keep up his strong, smart play, it will be a huge advantage for the Canucks going into Boston for Game 6.
The Canucks are going to have to take the body at TD Garden on Monday night if they wish to avoid an anything-can-happen Game 7. Playing physical allowed Vancouver to get to loose pucks first and caused several turnovers deep on the Boston zone. It was the exact opposite scenario of Games 3 and 4 when Boston was pushing the Canucks around. But since the home team has been able to set the tone in each game of the series, it won't be easy to do. They are going to have to keep focused and make sure to get the early hits before the Bruins can get any momentum behind them. Luongo is also going to have to forget about the first two games in Boston, but his play in Game 5 showed he is still on top of his game.