Since joining the NHL back in 2010-11 on a full time basis, P.K. Subban has been recognized for both his skills as an elite NHL defenseman and his charismatic personality. For those who don't know Subban as a hockey player, they should know him for his incredible generosity and the philanthropic work he's carried out in Montreal, and now Nashville.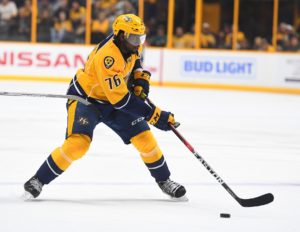 Subban has found himself so involved with charitable and philanthropic work that he established his own foundation, The P.K Subban Foundation, which has made incredible contributions since its inception just a few years ago.
From making large charitable donations to spending quality time with the less fortunate and kids in need, Subban's work has created strong public relations and goodwill within the communities of Montreal and Nashville (and then some). In fact, Subban was in the holiday spirit this past week when he took some kids out on a Christmas ride they'll never forget.
Subban's Sleigh
Subban's latest work comes in the form of The Subban Sleigh, which just this past week spent time taking kids with sickle cell disease for a sleigh ride through the festive streets of Nashville, with Subban tagging along for the ride, of course.
Subban and the participants were seen singing and dancing in the sleigh as they made their way through the Music City, spreading as much joy and holiday cheer as they could while soaking in the surprising experience. In a comical scene which can be found in the video above, the kids even recognized Subban on the side of the Predators' home in Bridgestone Arena before shouting out in pure amazement "you're famous!"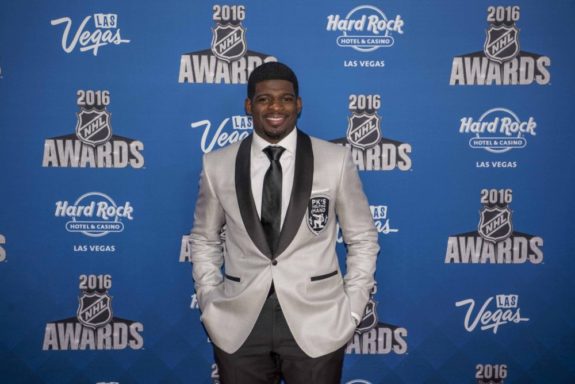 The fun didn't stop there, however, as a stop in at the Predators' team store inside Bridgestone Arena almost seemed mandatory. As the kids entered the store they were greeted by fellow Nashville Predator defenseman Roman Josi, who offered help to the kids in picking out which items they want from the team store — all on P.K.'s tab, naturally.
The kids couldn't believe that they could get whatever they wanted in the store and it all added to the magical event that was taking place. It was a rewarding scene for sure, and all the participants were proud to don their P.K. Subban jerseys and Predators merchandise as they wrapped up their shopping session.
The day was brought to a conclusion during a private concert from country music star Dierks Bentley inside Bridgestone Arena after everyone finished their shopping. The kids received other gifts that were provided to them by Subban, Bentley and others involved with the Nashville Predators' franchise, showing their appreciation with hugs and smiles all around the Christmas tree.
Subban added a further surprise for the kids by pairing them up as pen pals with other children currently at Montreal's Children's Hospital, establishing new friendships and spreading holiday cheer with kids just like them. It was the perfect way to wrap up a thrilling experience for these kids who are facing unfortunate circumstances right around the holidays.
P.K. Subban Foundation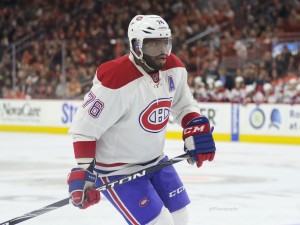 The P.K. Subban Foundation has achieved many accomplishments since being established and the rewards have been exceptional. The efforts were started in Montreal, and now the love and generosity has spread to Subban's new home in Nashville.
Still Love for Montreal
Subban never gave up on his ties to the city and people of Montreal despite being traded by the Canadiens back in June. He still visits the city to catch up with old friends and contributes to the community whenever he can. Though he may not reside in Montreal anymore, a piece of his heart will always remain with the city.
Subban and his Foundation partnered with the Montreal Children's Hospital back in 2015 in order to pledge a minimum $10 million donation to the hospital to assist kids in need. It is considered to be the largest philanthropic commitment ever made by a professional athlete in Canada. In recognition of his support, the hospital dedicated an entire atrium to the superstar within the hospital, donning it the "P.K. Subban Atrium".
Subban also agreed to assist the hospital in being a spokesperson for select Foundation fundraising campaigns and flagship events. The creation of P.K.'s Helping Hand, a fund dedicated to assisting families battling through their children's illnesses, is also still in existence and operating in Montreal despite Subban no longer playing in the city.
With Subban now residing in Nashville, the Music City has to be excited for what the future holds as long as P.K. is around. The guy is warm-hearted, down-to-earth and recognizes the influence he can have in making change, and the results from his actions speak for themselves. He is appreciated just about everywhere he goes and for good reason — there are not many people like him around. We can only expect more wonderful things from the newest Predator moving forward as that is simply what he brings to the cities he cares about. Greatness.
4th year Sport Management student at Brock University.