Much like Thanksgiving Dinner with a bunch of over-anxious relatives, the NHL All-Star break brings about some of the deepest prodding questions one could have about their teams. The Kings have recorded 63 points, have a seven-point cushion between them and second place San Jose in the Pacific division, and are right next to the other Western Conference powers, as they firmly expected to be. It appears that everything is fine in L.A land.
But much like Kevin Bacon trying desperately to keep up the ruse in the movie Animal House, all, in fact, is not calm. The Kings were rolling less than two weeks ago, knocking off rising upstart Dallas and southern California rival Anaheim in consecutive games. A quick glance at their schedule would have revealed the obvious: four very winnable games were on tap before the league officially hits the halfway button. This was a golden chance for L.A. to put some real distance between them and the Pacific pack, and to formally throw their hat in the "best team in the league" discussion.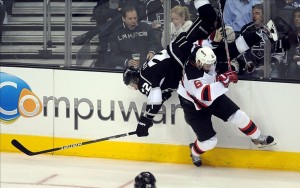 And yet, they flopped. There's no other way to say it. The Kings have lost three out four, with their lone win coming by the hair on their chinny chin chin, as Vinny LeCavalier's magic wand found the net to force an overtime period that Marian Gaborik would end. All teams are prone to rough patches in the NHL, and it's borderline foolish to think that a losing a few games is the end of the world (as we know it). But this poor streak symbolizes something else, something, dare I say, familiar for the Kings and their supporters.
The Kings are losing to teams they should be beating. They are playing down to the competition, the same affliction that placed each member of the active roster on their respective couch or at the nearest golf course last April. It's really telling that this team can get up for games against rivals or the NHL's elite, but struggle to find that same level of intensity against less intimidating clubs.
Many franchises deal with this same issue, and it is caused by a variety of factors. Here are the ones most noticeable for the Kings, and if not corrected, will ultimately prove to be the most troubling down the stretch.
Bouncing Back After a Win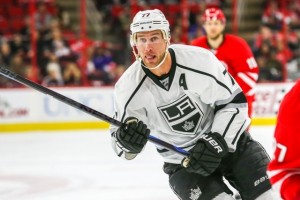 A common narrative in sports involves teams that follow a gut-wrenching loss with inspired play. That certainly holds true and makes for some aroused broadcasters, but there is another side to that same coin. Good teams can recover from horrible losses, but great ones can sustain their effectiveness after wins. For whatever reason, the Kings have been prone to let-down games immediately following victories. This is what happened against Minnesota, as the Wild dominated to the tune of a 3-0 victory at Staples Center.
Again, I'm not dogging any club for losing games over the course of a grueling NHL regular season. It happens. But to see a Wild team, currently slotted sixth in their own division, come into your barn and completely own the action from start to finish? That should never be acceptable.
Respect for the Opposition
Ok, so the Kings got outplayed by the Wild. Surely they would recover against the lowly Coyotes right? Allow me to introduce you to the worst loss of this skid, where the Kings 3-2 defeat was kept close only because of the wizardry of Jonathan Quick. Had L.A.'s goalie not made save after save, the 'Yotes could have netted four goals in the first period alone. Arizona now owns three victories over the Kings, despite a modest 53-point total for the season. The young club from the desert has had L.A.'s number in 2015-16.
I respect how hard the Coyotes have fought this year, and believe strongly in some of their young talent. But L.A. is built to win now, and should not be getting belted by any team that is clearly playing for the future. If you watched the game on January 23, you saw a Kings team that was not ready to play at the opening faceoff. That could have been due to several factors, but it likely derives in part from a lack of respect for Arizona. There is always this terrible thought creeping into an athlete's head: We'll be fine. If the team just shows up, does a little legwork, we can beat these guys tonight.
That might work in the California Penal League, but the NHL wears helmets and sleeves at this level. The myth that the Kings can just coast to victory should have been debunked last year, but damn sure better be out the window now. Any team can win on any given night in this league, and for L.A.'s serious playoff aspirations, they better get used to showing up every night.
Besides, when you're not ready to play, you end up forcing the issue and make poor decisions. Like this little gem, that cost Milan Lucic a one game suspension:
Energy Level
There are really two basic types of disappointing losses in hockey, and the Kings have demonstrated both during their struggles. Against the Coyotes, they simply weren't ready from the onset. When the Kings played the Avalanche in their final tilt before the break, they actually came out as the more dominant and physically imposing team. After racing to an early 2-0 lead, the Kings fell victim to the second category of rough losses, which is deteriorating performance as the game goes on.
Up 2-0, on your home ice, with a rocking crowd? You should never lose that game if we're being frank. The Kings fell back into their bad habit of sitting on a lead, and let Colorado start to dictate play. You don't have to be Scotty Bowman or Reggie Dunlap to understand how quickly an NHL game can change, and how equally fast goals can occur. Here was the first Avalanche goal on January 27th
First, let's get this out of the way. Brutal shift by Kings defenseman Brayden McNabb, who couldn't (and in his defense for the rest of the game, didn't) have played it any worse. McNabb loses the puck along the boards, and was beaten to the front of the net by Avs forward Matt Duchene. But watch the video again, and look at every black sweater without McNabb on the back of it. Anze Kopitar struggles to pick up Duchene when he first gathers the puck. Drew Doughty is a hair late getting to the front of the net, which casts a degree of doubt into his goalie as to what the opponent's decision will be. Quick doesn't' square up on the shot. And the other forwards are in no hurry to help out on the play.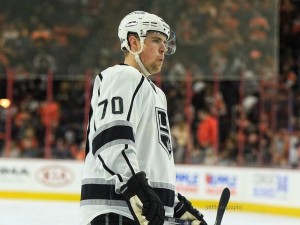 This is one example, and honestly if Quick makes the save it probably goes unnoticed. But contrary to popular opinion, results in hockey are not produced from one big play alone, but rather by tons of intricate smaller actions. The Kings were flying in the first period, scoring goals and offering defensive zone support that propelled them to a lead. When they stopped working hard and took shortcuts, the tide was turned in Colorado's favor. And that's when plays like the one above starting taking place. It was only a matter of time, as the hockey community says, before the Avalanche saw results on the scoreboard.
The best effort by any King in this stretch has come from Jonathan Quick, which should not come as a surprise. Sure, he's made some mistakes and would like to have a few back, but his willingness to battle has kept several of these games closer than they appeared on the ice. Case in point, check out this save against the Avalanche:
Remarkable effort by the product of Milford, Connecticut. With that said, Quick should have never had to make this save. Defenseman Alec Martinez fails to make a play with the puck, and the result is a costly turnover. Two forwards are practically holding hands along the boards, which isn't ideal spacing for mite hockey. The Avalanche once again go on the attack, and not one of their three skaters is effectively guarded in front of the Kings goal. To say that Quick bailed out his team here would be akin to saying that Kanye West has a hard time taking criticism on Twitter.
I'm not writing this to throw shade at the Kings great first half of the season. It's worth pointing out that every team has its flaws, and nobody is a lock to win the Stanley Cup in January. The Kings have proven they can beat the big boys with their attention to detail, level of skill, and workman-like effort. They just need to remember their hard hats every time they step on the ice.
Just a hockey loving American. I grew up in Cleveland, Ohio, and attended Saint Louis University where I skated for the Billikens. From 2013-14 I covered the St. Louis Blues for ESPN Radio St. Louis. I currently work in sports video production in Los Angeles, and will always show solidarity for stay-at-home defenseman.