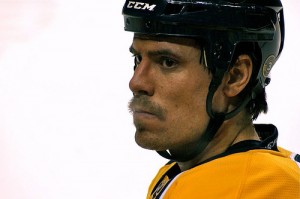 The 2012 NHL Stanley Cup Playoffs are being broadcast nationally in their entirety for the first time ever. That's great.
Early returns show that ratings are up significantly when compared to TV playoff numbers from the past couple of decades. That's even better.
But before the NHL puts that little feather in their cap, they need to ask themselves what type of hockey are they exposing the additional viewers to. Are they showing what true playoff hockey is? Hard hitting, fast paced games played by skilled athletes who are giving everything they have. Or are viewers watching a bunch of games where thugs on skates are taking cheap shot after cheap shot, further advancing the stereotype that is hockey?
Sunday's game 3 between the Pittsburgh Penguins and Philadelphia Flyers, broadcast on NBC, drew a 2.3 overnight rating. That number is up 77 percent from comparable coverage of last year's playoffs. This was also the best ratings the NHL has seen for a playoff quarterfinal game in 11 years.
Saturday night's Boston Bruins and Washington Capitals game drew a 1.5 overnight rating. This is up 36 percent from comparable coverage last year. Also, the NBC Sports channel saw a 22 percent increase in ratings compared to last year in its first two days of playoff coverage.
Unfortunately, it seems the year that the NHL is seeing viewership increase is also the year where suspensions and fines are having to be dueled out on a daily basis. League discipline czar Brendan Shanahan must be putting in some overtime. Since the playoffs started Shanahan has had to rule on over a dozen incidents.
There were 11 game misconduct penalties during the first five games of this year's playoffs. Last year there was a total of 6 in the entire postseason. During the regular season, fights per game were at a five-year low at .49. After the first few games of these playoffs, fights per game stand at .89. That's a pretty dramatic increase.
Some of the lowlights during this young postseason include:
– Nashville's Shea Weber trying to put Detroit's Henrik Zetterberg's head through the glass (only a $2,500 fine there…swing and a miss by Shanahan)
– Ottawa's Matt Carkner's MMA style beating of Ranger's Brian Boyle. Carkner was ejected and suspended one game. If that happened on the street, Carkner would have received two to three years.
– Ranger's Carl Hagelin hitting Ottawa captain Daniel Alfredsson in the head, resulting in a concussion for Alfredsson and a three game suspension for Hagelin.
– Vancouver's Byron Bitz was suspended two games last week for a head hit on the King's Kyle Clifford, who has yet to return to the series.
– Phoenix goalie Mike Smith missed some time at practice after a hit to the head from Chicago's Andrew Shaw on Saturday. Shaw met with Shanahan on Monday and has been suspended three games.
– Continuing on their path of complete implosion, the Penguins have three players Shanahan has to make a ruling on. Craig Adams has already been suspended one game for instigating a fight with Hartnell. Penguins forwards James Neil and Arron Asham also have meetings with Shanahan on Tuesday. Neil is up for taking runs at multiple Flyer players, while Asham is being recognized for a nice little cross check to the head of Brayden Schenn. Penguins coach Dan Bylsma has also been fined $10,000.
– The league has also seen fit to fine both the Ottawa Senators and forward Zenon Konopka for 'verbal abuse' when the Ottawa enforcer shouted at a Ranger's player while he was conducting a live television interview prior to playing game 2 on Saturday. The fines were set at $10,000 and $2,500 respectively.
Bravo gentlemen, and I use that term loosely. You have managed to make mud-wrestling look like a classier sport. Bravo indeed.
Instead of seeing the sport played at its highest level by its top teams, viewers are seeing how ugly the sport can be. The plays in question have nothing to do with 'old-time' hockey or playing tough. It has nothing to do with the fact that the playoffs are a time when players have to dig deep and up their games by a few levels. Where they have to play at a level they never reached before in order to win.
No. What has gone on can be summed up by the simple fact of stupidity. These fines and suspensions didn't come from hard plays that turned bad. They were dumb decisions from the start. Unnecessarily dumb decisions and plays. Were they born out of frustration and emotion? You bet, but these are professionals we are talking about here, not some kids on the pond.
More people are watching now than ever. Don't perpetuate the same stereotypes that have plagued the game for years. If people want that, let them watch Slap Shot.
Instead, show them how great the game is, and can be. Show them the skill of the athletes. Show them the speed of the game. Show them the sportsmanship, teamwork, and personal fortitude it takes to play and win in the playoffs. Show them what hockey truly is and what playoff hockey is all about. Playing tough does not mean handing out head shots and charging players after the whistle.
Don't show them hockey's ugly cousin.
Michael writes on the business of hockey and how it impacts the fan's enjoyment of the game. He is a PR and Marketing professional with a background in journalism and a love for hockey.