The term "shutdown defender" has taken on somewhat of a negative connotation in recent years, but it's also become common knowledge that the best teams have blueline stalwarts that take on the toughest defensive assignments. While the focus on the blueline in recent seasons has been directed at flashy offensive stars such as Erik Karlsson and PK Subban, successful NHL teams often have shutdown blueline staples that are adept at taking care of business in their own end. The Kings have made a name for themselves employing big, shutdown defenders such as Willie Mitchell and Alec Martinez, and last season's Cup champs the Blackhawks recently locked up Brent Seabrook, an important cog in their dynastic machine, to a 7 year contract that will keep him in Chicago until 2024.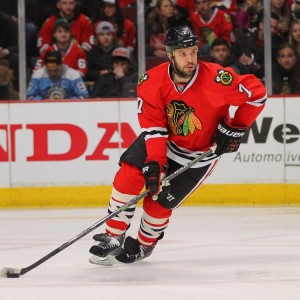 It's uncommon to see safe, steady defenders taken with high picks, so it's telling that some of the top-ranked shutdown blueliners in last year's draft, such as Brandon Carlo and Gabriel Carlsson, didn't come off the board until late in the first round. That trend has continued this year, as the list of first-round prospects lacks a consensus top defensive defender.
Young defensemen are notoriously hard to project, which makes it unsurprising that it's rare to see one without explosive offensive instincts taken high in the draft. However, cautionary tales such as Edmonton's annual search for dependable defense stress the importance of these tough minute-munchers on successful teams. Here are 5 young defensemen who may not be elite prospects or go high in the first round, but have the potential to develop into that tough, mobile, shutdown defensemen that are essential to the success of their teams.
Libor Hajek, LHD, Saskatoon Blades (WHL)
Libor Hajek came to North America before this season with big expectations after being tagged by the lowly Saskatoon Blades with the second overall pick in the 2015 CHL Import Draft. The Blades, who iced a skeleton-thin roster as a result of some ill-advised deals in seasons prior, finished third-last in the WHL this season. However, this was no fault of Hajek's, as the Czech import finished first in points per game among Blades defensemen and was chosen in January to take part in the CHL Top Prospects Game.
While he doesn't possess the overwhelming mean streak normally associated with shutdown defenders, he has a long frame and reach he uses to effectively shut down the opposition's passing lanes in his own end. He is a great skater, showing good agility and mobility on the back end. He's able to utilize his skating ability in all situations and can skate the puck out of his own zone or make a quick stretch pass to a teammate. Future Considerations had this to say about the young Czech defender:
Hajek is a physical and smart defender who consistently just makes the right decision for the situation. He skates with a powerful stride that is both agile and quick. He covers a lot of ground whether he is stepping up to lay a big hit or trying to recover quickly on the defensive side. Strong on the puck and likes to have it on his stick, making solid passes up the ice to his forwards. The Czech Import utilizes aggressive positioning and physical play to be effective defensively.
His style of play isn't flashy, but his safe and steady game would be appealing to a team at the back end of the first or early in the second round. His skating ability, puck moving skills, and defensive instincts could make him a defensive stud at the next level.
Logan Stanley, LHD, Windsor Spitfires (OHL)
Arguably the most imposing defender available, Stanley recently wrapped up his first appearance for Canada internationally as a part of the Under-18 World Championships. Despite missing out on a medal, Stanley proved that he could shut down the top players in his age group, a concern after bowing out early in the playoffs and seeing his draft stock falling slightly down the stretch. Standing 6'6″ and weighing in well over 200 pounds, Stanley has room to grow and already possesses a mean streak that makes him effective as a crease-clearer and along the boards.
Stanley isn't just a big body, however, as he is an above-average skater, and he has improved his puck-moving abilities throughout the course of his draft season. Despite his NHL-ready frame, Stanley is definitely what you'd consider a "project". His skating, while good for a player of his stature, could use work before he enters the pro ranks. His defensive game is strong, but his puck skills and play in the offensive zone needs to be developed before he can maintain a steady role on an NHL squad. Given the right team, Stanley could be coached up into a rare commodity with his size and skating ability.
Andrew Peeke, RHD, Green Bay Gamblers (USHL)
Andrew Peeke leaped up into the draft spotlight after making great strides in his first season in the USHL. The 6'3″, 200 pound blueliner is a heavy and physical defensive player who flashed his improving offensive ability this year, raising his draft stock. He now sits as a potential late second-round pick, but his large frame and progressing two-way game may see him develop into a player worth far more than his modest draft position. He consistently uses his size and mean streak to outmuscle opposing forwards and isn't shy about throwing his weight around to catch opponents with a big hit.
Peeke's rapid improvement can be attributed to his above-average skating ability and high-level hockey IQ. Peeke, who earned the chance to compete in the USHL Top Prospects Game and internationally for the United States at the Ivan Hlinka Tournament and the World Junior A Challenge. Elite Prospects has this to say about the big American blueliner:
Big, mobile defenceman with great vision and hockey sense. Possesses a hard, accurate shot, but needs to use it more. Smooth skater, but has room for improvement in his acceleration with the puck. Reads plays well in his own end and has a well-rounded understanding of the defensive game. Starting to play a gritty game, but that will take time to develop. Physical game is definitely ripening.
With his rare combination of size, physicality, and mobility, Peeke looks to be a potential steal later on in the draft. Add in the fact that he's an increasing rarity in the NHL as a right-handed defender, and Peeke could become a very valuable commodity for the lucky team that selects him this June.
Andrew Peeke – The Next Ones: NHL 2016 Draft Prospect Profile
Griffin Luce, LHD, US National Development Program (USDP)
One of the unsung heroes of this season's rendition of the Under-18 US National Team, Griffin Luce handled some of the toughest assignments on his team as one of their top penalty killers and shutdown blueliners. With strong NHL bloodlines, as his grandfather Don played over 10 seasons in the NHL, Griffin has long been on the radar as an NHL prospect. However, Luce's rapid improvement in recent seasons has convinced NHL scouts that he can be an effective NHL player, despite his underwhelming counting stats.
Charlie McAvoy, RHD, Boston University (NCAA)
Charlie McAvoy played this season with last season's national championship runner-up Boston University as one of the youngest players in NCAA Division 1 hockey, and the right-hander didn't fail to impress. He tallied 25 points and a positive plus-minus in just 37 games as the youngest defenseman on Boston University, taking on the opposition's top players and being selected to take part in the World Junior Championships as a member of Team USA's bronze medal-winning squad. Despite being slightly undersized for a modern NHL defenseman at 6'0″ and just over 200 pounds, McAvoy's skating ability and poise from the back end makes him arguably the top defender on this list and a sure-fire first round prospect. And despite his size, McAvoy possesses sneaky strength and has the ability to absolutely lay into bigger forwards.
https://vine.co/v/i6EawpUEFen
McAvoy paced all Boston University defenders in scoring as a freshman, but it's his vision and defensive abilities from the back end that has NHL teams convinced he can make the transition to the professional ranks successfully. He has top-notch hockey IQ, and it shows with his calmness from the back end and his top-notch gap control. Regarding McAvoy, scouts seem to be divided, with some believing his game pro-ready and heady, while some condemn his infrequent risk-taking and penchant for toeing the line in the physical part of his game. However, McAvoy's skating and hockey IQ make him a safe bet to become a steady shutdown defenseman in the NHL.
***
Joseph Aleong is an At-Large writer for THW from Toronto, Ontario. He is a graduate of Brock University in St. Catharines, ON. Follow him on Twitter @josephaleong11