The Nashville Predators found themselves on the outside looking in during the 2023 NHL Playoffs. A season propped up by its mind-bogglingly great goaltending could only drag an impotent offence so far. Sprinkle in an injury to almost every prominent player the Preds have, and you get a team that missed the playoffs for the first time in eight years. The time of contention is closed. Turning towards youth began near the end of the team's season, springing Luke Evangelista, Tommy Novak, and Jake Livingstone into action. This year, the 2023 NHL Entry Draft finds itself in Nashville, Tennessee, giving the Predators the coveted hosting position. With the team possessing a lottery pick in what many scouts deem the deepest draft in years, hitting on this selection, pick number 15, is essential to building winning hockey in Nashville again.
Axel Sandin Pellikka, RD, Skellefteå AIK (SHL)
The Predators' primary target this draft season should be Axel Sandin Pellikka. Touted as the second-best defenseman in the draft by most scouts, behind David Reinbacher, Sandin Pellikka looks to be an offensive dynamo capable of quarter-backing a top-line powerplay. His play draws similarities to Vancouver Canuck defenseman Quinn Hughes. Both players sit under 6-foot, and both weigh 180 pounds. Due to being undersized, the biggest knack on their games, their silky smooth skating and offensive instincts drive their game. The physical comparables and play styles draw fair comparisons; however, while Hughes looks to be a generation-level offensive talent, projecting Sandin Pellikka to be a Hughes-lite is a much more reasonable expectation. The right-handed player has his defensive decencies, notably being a weaker part of his game.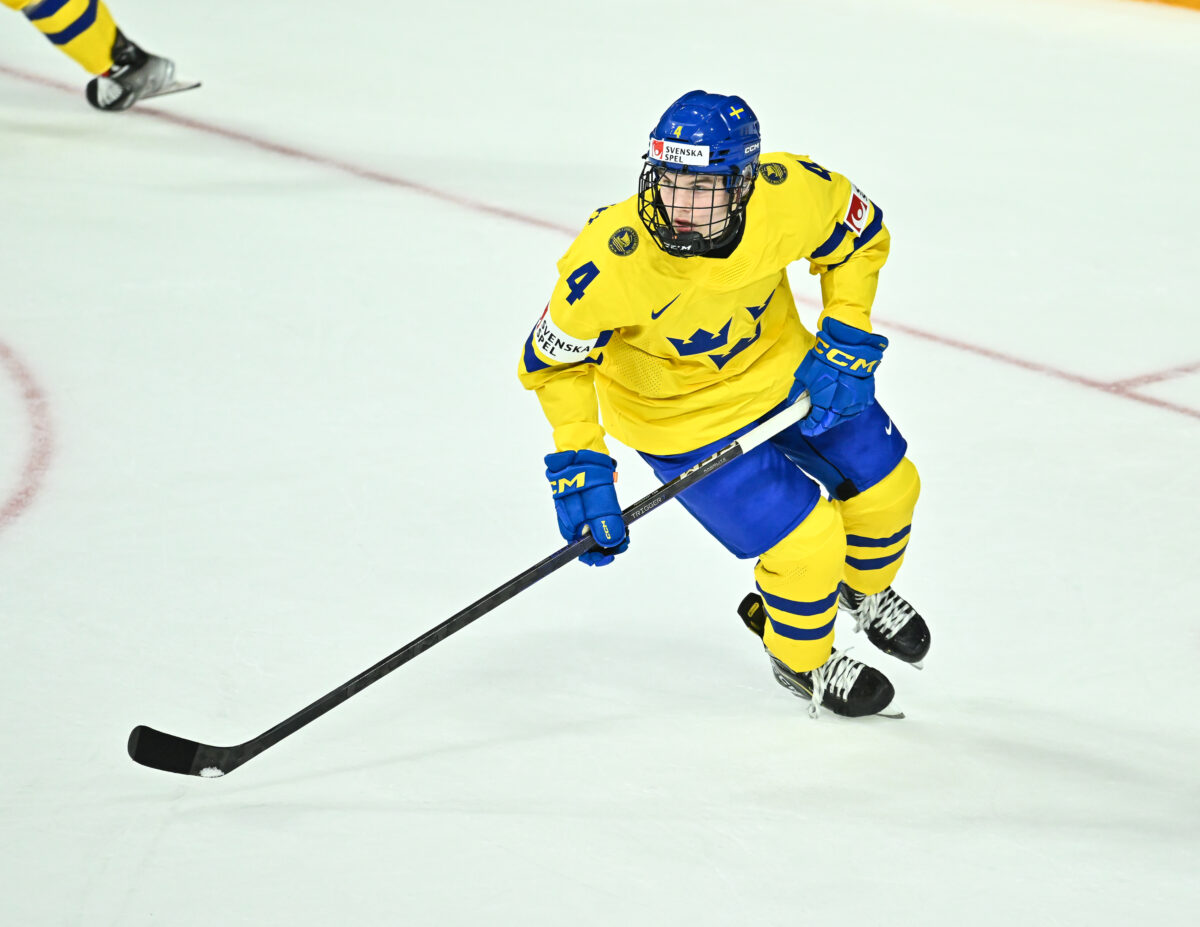 For Skellefteå AIK J20 in the J20 Nationell Swedish Junior League, Sandin Pellikka scored 36 points in 31 games (16-20-36). Against competition in the Swedish Hockey League (SHL) for Skellefteå AIK, he scored two goals and three assists for five points in 22 games—impressive for an 18-year-old playing against men in the top professional league in Sweden. Playing against mature competition is great for development, helping build intangibles and learning to play against stronger opponents at a young age. This season, his play has elevated his draft stock, vaulting him into a consensus top-20 pick, while some feel he may go as high as 11.
Related: Canadiens' Top Pick Targets in 2023 NHL Draft
---
Latest News & Highlights
---
The Predators have not selected a defenseman in the first round of the NHL draft since 2016 when they drafted right-handed defenseman Dante Fabbro with pick 17. Sandin Pellikka would fill a position of need for the Preds in the future. Roman Josi, Tyson Barrie, and Ryan McDonagh are all on the wrong side of 30, with little artillery on the way. While hoping for him is more of a reach than an expectation, if he falls, the Predator should pounce on the opportunity to pick their next top-of-the-line d-man. The Predators were once an organization capable of effortlessly churning out NHL calibre defensemen. If Sandin Pellikka joins the Preds, that perception can begin to ring true once more, as he would be a risk-free selection with a high upside with their first selection. 
Brayden Yager, C, Moose Jaw Warriors (WHL)
The Predators drafting Brayden Yager would address their other positional need in their organization—center. The Preds' center depth going forward is lacking, with only Cody Glass and Novak yielding top-six potential. Ryan Johansen and Matt Duchene, their current one-two punch, lack the youthful punch they once had as they enter the twilight of their careers. Their career resurgences helped negate the need for young help through the middle, but this structural flaw will erode any successful re-tooling plan management envisions.
"He's a ton of fun to watch, with a threatening, attacking, puck-dominant game plus a highlight-reel quality to his skill in straight lines and in cutting sequences in transition."w

-Scott Wheeler (The Athletic, NHL Mock Draft 2023: Connor Bedard to Blackhawks as we pick for every lottery team, 8 May, 2023)
Yager is a natural center with a strong two-way game. His potential can potentially max out at a number-one center, but Predators fans should hope for a solid shut-down middle-six forward with a booming shot and fantastic awareness on either end of the ice. With a 6-foot frame, weighing in at 165 pounds, Yager has a smaller frame, making it potentially hard for him to see NHL ice in his first two years post-draft. In 67 games with the Moose Jaw Warriors of the Western Hockey League (WHL), Yager scored 28 goals and 50 assists with a plus-6 while serving as an alternate captain. He raised his game in the WHL Playoffs, scoring six goals and 10 assists for 16 points in 10 games. If the Predators want to improve a struggling offence, Yager is the player to pick at 15, assuming he is available.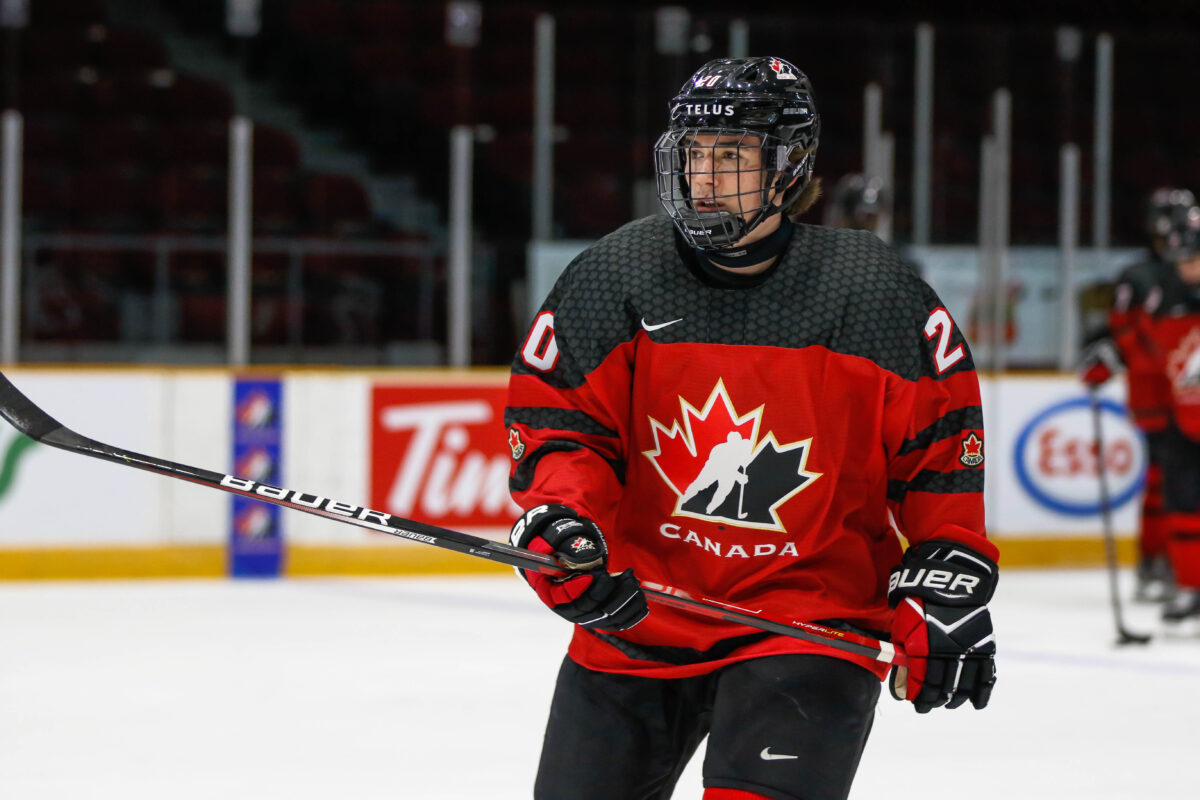 Brayden Yager and Axel Sandin Pellikka are two realistic picks for the Predators with their first first-round selection. Each player provides a positional need in the organization while simultaneously being the projected best player available. Barry Trotz becomes the team's new general manager on July 1, 2023. While he will technically have minimal-no authority over their draft choices, expect him to be very vocal on selecting the young star he envisions to help guide his Predators. 
---
---