Nashville Predators rookie Luke Evangelista is proving to be worth the hype. The 42nd-overall pick in the 2020 NHL Entry Draft is a driving force for why the organization has one of the better prospect pools in the NHL. Touted as the Predators' fourth-best prospect by The Athletic's Scott Wheeler (from 'Nashville Predators are No.10 in 2023 NHL prospect pool rankings,' The Athletic, Jan. 31, 2023).
---
---
Naturally, eyes would turn to the 21-year-old in anticipation of what he could do in the major leagues. He has not disappointed. The third rookie to play for the Preds this season has two goals and two assists for four points in five games but, most notably, has yet to have a bad game, which is impressive for the wide-eyed two-way winger.  
Before the NHL 
Before being called to the NHL, Luke Evangelista played for the Predators' AHL affiliate Milwaukee Admirals, putting up nine goals and 32 assists for 41 points in 49 games. His fantastic play as a rookie in the AHL forced the Predators to take notice following the NHL Trade Deadline, where the Preds proved to be sellers, trading away two top-nine forwards in Mikael Granlund and Nino Niedereitter. Evangelista earned his opportunity to have a chance with the big club and has outworked his opponents, proving to be an effective player. 
Evangelista's First 5 Games 
During his first five appearances in a Nashville sweater, Evangelista, analytically and by the eye test, has arguably been their best player. Using game score, a widely respected form of advanced analytics that provides information on the players' offensive, defensive, overall production and other miscellaneous data that the human eye can miss throughout the game, Evangelista is outperforming all expectations. He currently has a game score of 1.45. The next closest on the Predators roster? Captain Roman Josi, with a game score of 1.00. A game score nearing 1.5 is unsustainable for a rookie like Evangelista; however, his early productions are a promising sign for the organization and proof of his strides.
Breaking down his first five games further provides a bright pattern: he is a consistently positive force on the ice. He had a negative impact on defense once and twice on offense; those games came against the Florida Panthers on March 2 and the Arizona Coyotes on March 9. Despite his poor offensive play against the Coyotes, his defense throughout the match encouraged coach John Hynes to allow him to play tough minutes down the stretch, where he tallied an assist. Evangelista ended up as one of the better defensive forwards for the team that night. Most nights, he impacts the game more, or equal to any other forward on the Predators, and in positive ways.
Related: NHL Rumors: Flames, Predators, Maple Leafs, Senators, Oilers…
---
Latest News & Highlights
---
His best game by far was his spectacular two-goal third-period performance versus the Vancouver Canucks. According to the stat sheet, Evangelista was the best player in the game, leading all players in goals and tied in points with two, and by game score, with an astonishing 4.18. The analytical darling is not just impressing people through fancy stats. Four points in five games is an excellent start to an NHL career, but how he holds himself on the ice is equally impressive. 
Evangelista's Staggering Skillset  
Evangelista's first NHL goal displayed his deceptive body movements. Having a nose for the puck, Evangelista drove to the net in anticipation of the rebound, kicked the puck to his stick, and his body movements tricked Canucks netminder Arturs Silovs, leaving a gaping net where he slid the puck. His body movements, good release and puck control make him dangerous in the offensive zone. The 6-foot, 183-pound player is on the average end of height for forwards in the NHL.
Despite this, his ability to shake off defenders due to his previously mentioned offensive instincts is impressive. Evangelista has an element of physicality to his game. He is unafraid to throw down big hits and provide some sandpaper when the matches atmosphere calls for it. His fantastic start and his excellent rookie season in the AHL support his creativity and offensive instincts. Evangelista also eclipsed 111 points in his final season in the OHL playing for the London Knights. To put it plainly, he knows how to put the puck in the back of the net. 
The Toronto native is by no means a defensive dynamo; however, he can read plays well, typically has good man-to-man coverage, and has decent defensive instincts. He possesses the tools to be a future second-line penalty killer and play fluidly through the lineup. It is unlikely he will ever cost the Predators a game due to a defensive mishap, which is a significant reason why he rarely plays a bad 60 minutes, regardless of which level he plays. The promise of his two-way game should entice Predators fans, as he is a hockey version of a Swiss army knife; he can do it all. 
The Hole Evangelista Fills  
The Predators lack offense. Despite winning six of their last nine and being in a prime position to make the playoffs, they are 26th in goal scoring and 23rd on the power play at 19.0%. The 31-24-7 team is missing their best forward, Filip Forsberg, who has missed 12 straight games, and while he is participating in team skates, he is not taking contact, meaning his return is still a ways away.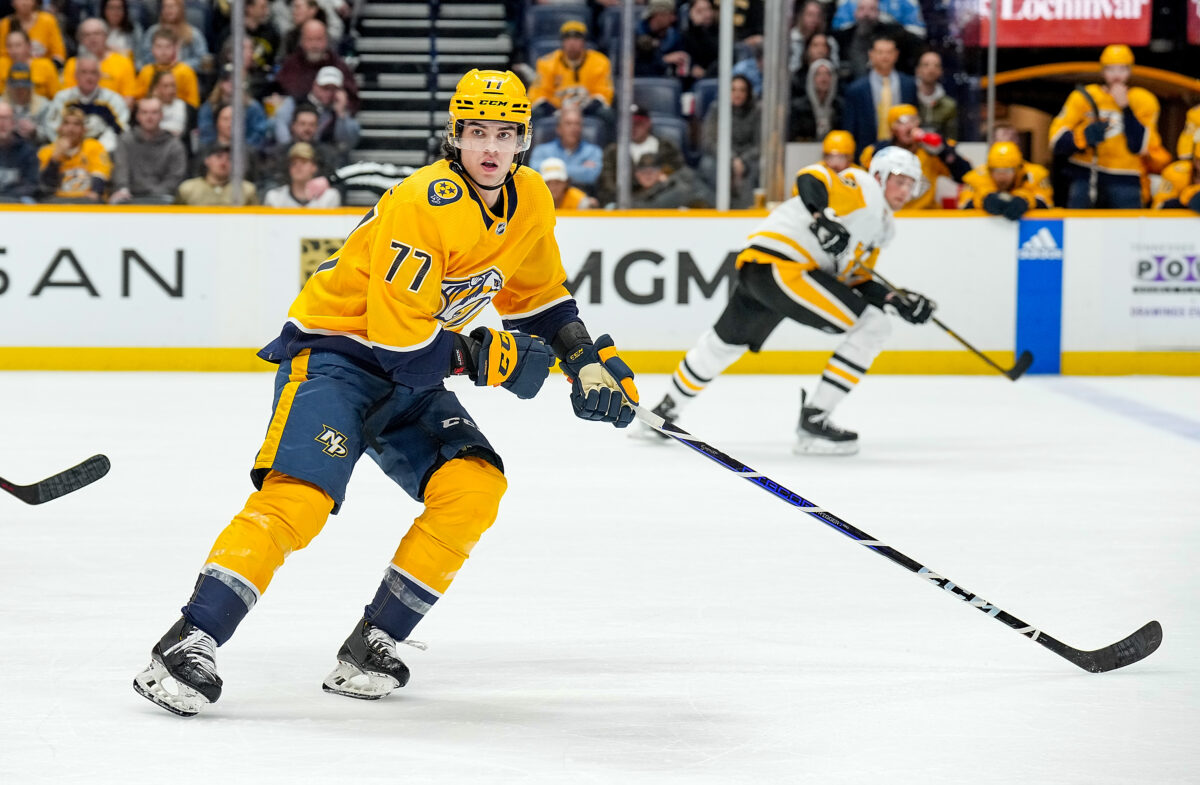 Trading away forwards Granlund and Niedereitter depleted this offense more than it already was. Evangelista will continue to be an impact player offensively, and the Preds need it while Forsberg is injured. John Hynes is giving him a chance on the first-line power play, and he already has a power play point to boot. His defensive impact is notable; while he will not get many looks on the penalty kill this season, it is something to look for in the coming years. 
Related: Predators 2023 NHL Trade Deadline Grades
Evangelista will be a driving force for the Predators' offense in the coming years. His immediate impact in his short stint, yielding no bad games while boasting impressive advanced analytics, is a surprising yet fantastic revelation. The emerging two-way right wing will aid in the Preds' hunt for the playoffs. His lengthy strides, defensive awareness, pronounced physicality, and persistent effort to take the leaps needed to succeed in the NHL will make him a mainstay on the Predators roster this season and for those that follow.