It's been a big week for Harvard Crimson junior forward and 2012 third-round Nashville Predators draft pick Jimmy Vesey. He announced he was returning to school for his senior season, and was selected as one of the three finalists for the Hobey Baker Award as college hockey's top player.
Jimmy Vesey Staying at Harvard
The Crimson came into ECAC tournament as the sixth seed, and were an outside shot to win the ECAC tournament. Harvard caught fire and routed regular season champion Quinnipiac and beat Colgate in the title game to win the automatic bid. Vesey won the tournament MVP and conference's player of the year awards that weekend.
RELATED: ECAC Hockey Semifinals & Championship Preview
RELATED: Nashville Predators Prospects In NCAA Tournament
Vesey and Harvard were eliminated after by Nebraska-Omaha. The speculation grew that Vesey would leave school and turn pro. However, early reports stated that Vesey was likely staying put. Nashville General Manager Dave Poile told The Tennessean about this.
"We've been in contact with his family through his mom and his dad and family representative," Predators general manager David Poile said Tuesday morning. "We're just going to give them the time. We've told them what we think of their son and how he is as a hockey player. It's their decision as to whether this is the right time for him now or after the year or even next year. We would never tell a player to leave school."
Vesey finished the season with 32 goals, and was deemed "NHL ready" by Poile when he talked to the media at the league general manager meetings in Boca Raton. Even Boston Bruins GM Peter Chiarelli, a Harvard alum, needled his Music City counterpart that Vesey would stay for his senior season.
This tweet from TSN's Bob McKenzie confirmed that Vesey was staying in school.
Harvard's Jimmy Vesey has informed NSH he intends to return to school next season. He won't be turning pro right now.

— Bob McKenzie (@TSNBobMcKenzie) March 31, 2015
RELATED: Nashville Predators, Jimmy Vesey Have Vibrant Future
Nominated for the Hobey Baker
Vesey was nominated for the Hobey Baker along with the coveted draft pick Jack Eichel of Boston University and North Dakota goalie Zane McIntyre. Many think that it will be a coronation for Eichel, but Vesey did the Walter Brown Award over Eichel. The honor is bestowed to the best American-born Division I player in New England.
Jimmy Vesey might be a long shot, but he's made people take notice of him. Eichel winning may not be the lead-pipe cinch that most think. Vesey was the leading goal-scorer in the country, and he makes Harvard a threat to win the ECAC regular season title in 2015-16.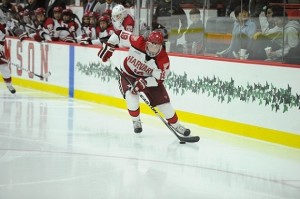 The Crimson could also make some noise on the national scene. The ECAC may struggled this tournament, but did win the national title in 2013 (Yale) and 2014 (Union). Harvard would be a solid pick to make a deep run.
What It Means for Nashville
While Poile was hopeful that Vesey would sign a contract with the Preds organization, I'm sure he doesn't mind waiting one more year for the dynamic playmaker. Vesey does possess speed that has drawn comparisons to New York Rangers forward Chris Krieder. This goal in the ECAC title game shows what Vesey can do with a goal-scoring chance.
He also clocks in at 6'1", 195 pounds, and that size would translate into the NHL when Vesey does decide to turn pro.
I know Predators fans would love to have seen a dynamic speedster like Jimmy Vesey join the team and infuse life into an offense that has struggled at times. However, you can't fault him for wanting to get a degree from a prestigious institution like Harvard. He'll also get a chance to get some more seasoning under head coach and former Bruins player Ted Donato. That experience could go a long way in preparing Vesey for life in the NHL.
Vesey will feature prominently in the team's plans, but the pressure will be on management to sign him before the four-year clock runs out.
Subscribe to our Predators stories to get email updates every time a new story is published.
Dan Mount is a Nashville Predators staff writer for The Hockey Writers. You can follow him on Twitter, @DanMountSports.
Covered hockey since attending SUNY Oswego in Upstate New York in the early 2000s. Has written about college, major junior and professional hockey for the last five years.
Resides in Watertown, NY.