The week of Nov. 13 to 19 started off rough for the Nashville Predators as they wrapped up a five-game road trip before returning home. That home cooking was necessary as they dropped three in a row to end the trip, including two to start the week, before turning it around in their first game back at Bridgestone Arena.
A slow start was the theme of the Predators' Nov. 13 matchup against the San Jose Sharks. Three straight goals had the Predators down 3-0 to end the first period and while they fought back to tie it by the end of the second and even take the lead early in the third period, two Sharks goals in 13 seconds gave them a lead they wouldn't relinquish.
Related: Growing Fangs: Introducing Tolvanen, Fabbro, and Others
Two nights later the Predators were in Glendale to take on the Arizona Coyotes in a game they lost 2-1 despite outshooting the Coyotes 45 to 23. Arizona's 10th shorthanded goal of the season and a stellar performance from Darcy Kuemper in net was too much for the Predators to overcome.
Ah, what a feeling to come home to Smashville after a tough few games on the road and they quickly realized what a little home cooking can do as they beat the Los Angeles Kings 5-3 to stop their losing streak. The uptick in performance at home didn't end with the Kings either as the Predators beat the shorthanded Tampa Bay Lightning who were missing Ondrej Palat, Anton Stralman, and Andrei Vasilevskiy by a 3-2 score.
Injury Woes at Key Positions
While the Predators ended up turning their week around, the theme that stole the team's headline this past week was injuries. On Nov. 15, the team announced that Viktor Arvidsson and P.K. Subban were headed to injured reserve, Arvidsson with a broken thumb and Subban with a lower-body injury. While Subban's injury is vague as we're left uncertain how long he'll be out, Arvidsson's is more clear with a six-to-eight week timetable.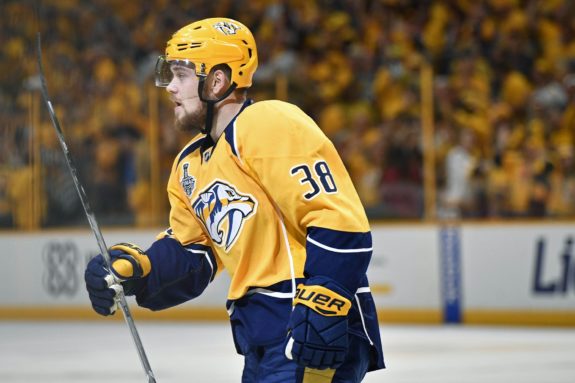 What that means is the Predators have to come up with a way to replace both, as Subban is one of the league's top defensemen and Arvidsson plays on the team's top line. The team can sustain Subban's absence given the talent that remains in the top-four and the depth they have rounding out the defense. However, whether or not they can generate enough offense with Arvidsson out will be the biggest question.
Craig Smith has gotten the start in Arvidsson's place in recent games and as long as he performs he'll likely hold onto that spot. However, if he doesn't produce or the line struggles, another player at the NHL level will be asked to step into the role and if that doesn't work, there's always Eeli Tolvanen in the AHL.
Plus, it should be remembered that the Predators general manager is David Poile and no GM loves making trades more than he does. While the team has scored in Arvidsson's absence with at least three goals in three of four games this past week, losing his production is tough as only 15 players scored at least 29 goals each of the past two seasons and Arvidsson was the only Predator to do so.
Jarnkrok Stepping Up at Right Time
With the Predators missing Arvidsson and Subban and struggling with three straight losses, a major reason they broke out of their mini-slump with a victory over the Kings was Calle Jarnkrok. Choosing the optimal time to register his first career hat trick, Jarnkrok netted three straight goals to twice tie the game and his final tally gave his team the lead.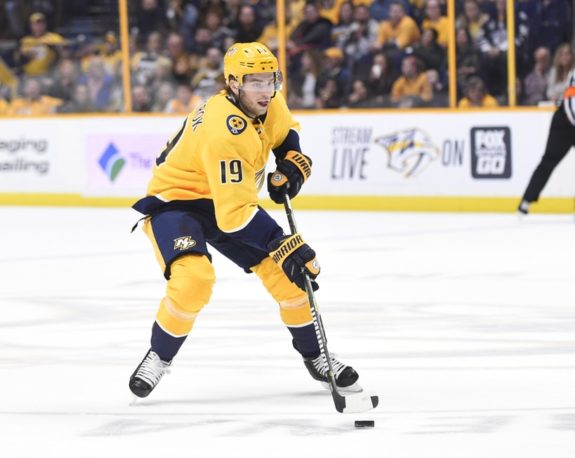 He scored his goals three different ways – even strength, on the power play, and shorthanded. It's interesting because he's averaged just 41 seconds of power play time per game this season but played over two minutes on the man advantage that game. While all three goals were impressive and put his talented shot on display, it was his shorthanded tally that stood out.
Breaking up the Kings' power play in the neutral zone, Jarnkrok skated into the offensive zone as the Kings had men back. However, as he drew the attention of a defender, he pulled the puck closer to his body, hiding it, before he wristed a perfectly placed shot above the Kings' netminder.
Saros Continuing to Struggle
Juuse Saros may be the heir apparent to Pekka Rinne and looked dominant last season with the largest workload he's ever received, but he is struggling this season with a .903 save percentage (SV%) and 2.94 goals against average (GAA) in nine starts. And while he's still giving his team a chance to win with a 7-3-0 record, he has allowed at least four goals in four games this season, something he did five times all last season.
In his most recent start, on Nov. 13 against the Sharks, he gave up five goals on 37 shots, including three on 18 shots in the first period. His teammates picked him up by roaring back in the second and third periods to tie the game only for Saros to allow two goals in the final frame to give the Sharks the victory.
Of course the loss doesn't fall entirely on Saros' shoulders as the Predators were outshot 35 to 20 at five-on-five and allowed him to face 10 high danger shots while his opponent, Martin Jones, faced just four in the game. Saros managed to stop seven of the 10 high danger shots, but it still wasn't good enough.
The issue is that while some of his struggles can be blamed on poor team play in this game, it doesn't provide a reason for him allowing at least four goals in consecutive games and in three of his past four starts. The Predators need Saros to step up his game, not just to win games this season, but so he can continue progressing towards taking over the net in the next few seasons.
News, Top Performers, and the Week Ahead
Not long before publishing this, TSN's Bob McKenzie retweeted a tweet from the Niagara IceDogs breaking the news that they had acquired two prospects, Jason Robertson and Jacob Paquette, from the Kingston Frontenacs. The reason this is interesting is because Paquette is a Predators prospect whom they drafted in the seventh round of the 2017 Draft.
ROSTER MOVEMENT | We have acquired Jason Robertson and Jacob Paquette from the Kingston Frontenacs.

Transaction Details 📎 https://t.co/xR0zgQbP9z#BornReady pic.twitter.com/c0DMkRjXuN

— Niagara IceDogs (@OHLIceDogs) November 20, 2018
He is a defensive defenseman who totaled just four goals and 15 points in 63 games last season and has one goal and four points in 24 games this season. But despite lacking high offensive upside, Paquette is viewed as a shutdown defender who is tough to beat one-on-one and has the potential to develop into an NHL player. He will be interesting to watch the remainder of the season as he moves from the Frontenacs, last place in the OHL's Eastern Conference, to the IceDogs, currently tied for third.
Top Performers
Pekka Rinne – 3 starts, 2-1-0, 7 goals allowed on 82 shots, .915 SV%, 2.35 GAA
Calle Jarnkrok – 3 goals, 1 assist, 1 even strength goal, 1 power play goal, 1 shorthanded goal, 1 game-winning goal
Filip Forsberg – 3 goals, 1 assist, 3 even strength goals
Roman Josi – 4 assists, averaged better than 25 minutes of ice time every game
This Week's Games
Nov. 21 – vs. St. Louis Blues
Nov. 23 – at St. Louis Blues
Nov. 25 – vs. Anaheim Ducks
*All stats came from Hockey-Reference, Elite Prospects, and Corsica
My name is Kyle, and I'm the managing editor of The Hockey Writers. I joined THW in Oct. 2017 and am always striving to bring you the best hockey coverage possible. You can email me directly at kyle@thehockeywriters.com.