The Philadelphia Flyers start playing preseason games on Sept. 16, and there are some spots still to be determined including that of the third line center.
Possibilities for the Flyers' Third Line Center
The two in-house candidates to fill the spot are Scott Laughton and Jordan Weal. Of course, there is always the possibility that one of the prospects has a great preseason and wins the job.
Laughton played a career-high 81 regular season games last year scoring 10 goals, another career best, and added 10 assists for 20 points. Nine of his 10 goals were scored at even strength and he won 314 of his 604 face-offs, a 52% win percentage. Head coach Dave Hakstol trusted Laughton more in the defensive zone last season as he started 52.6% of his shifts in his own zone vs. 53.7% of his shifts started in the offensive zone in 2015-16.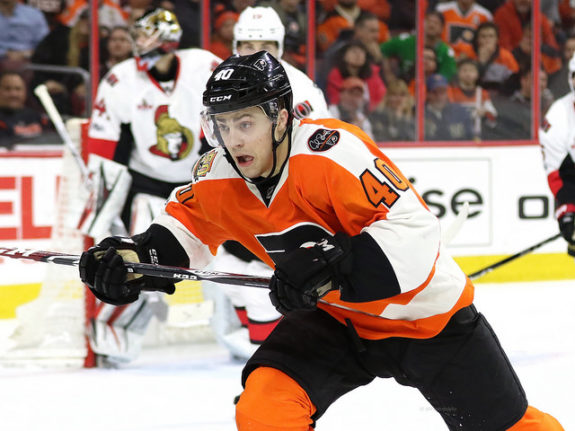 Jordan Weal is also in contention to be the Flyers' third line center come Oct. 4. He played 69 games last season and was a healthy scratch at times. Still, he managed to set career-highs with 13 assists and 21 points. His eight goals tied his previous best set during the 2016-17 season and he started more of his shifts in the offensive zone (50.2%) than in the defensive zone.
Evaluating Laughton's Play
Laughton will never be a flashy player who gets a ton of attention during a game even though he does the little things right. He is good at creating turnovers to get the puck out of the defensive zone and can backcheck. He's also not afraid to get in on the forecheck and will get to the front of the opposition's net knowing he might take a beating.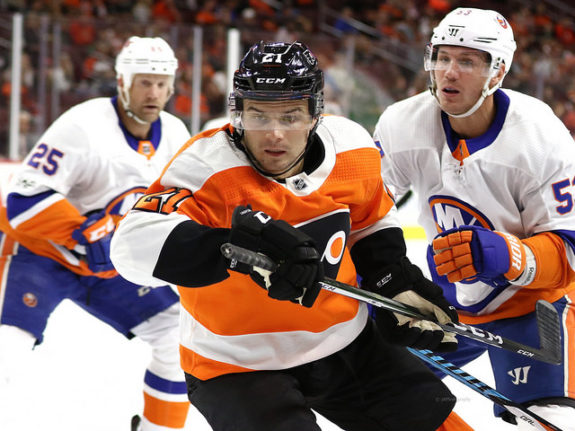 Laughton isn't the most consistent player offensively. He can go seven or eight games without registering a point and then get one or two in a game. In 2017-18, he scored his first two goals on Oct. 14 then didn't score again until Dec. 4, a span of 21 games. Laughton needs to get more pucks on net if he wants to improve. When he plays smart but with an edge, he's playing his best.
The Curious Case of Weal
Weal has the potential to be a 50 to 60 point-per-season player. He has the speed to beat opposing players to loose pucks or to break away from them. Weal's vision is really good and he can set up his teammates for goals. He also has good hand-eye coordination, which helps with scoring deflections off shots from the point. His quick hands help him find room in tight spaces, like getting around a defender along the boards or in front of the net.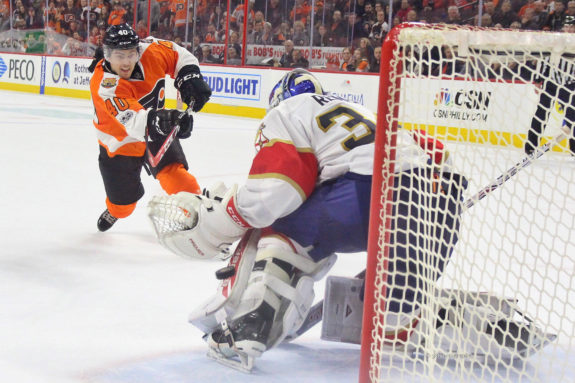 The downside to Weal is that he can be inconsistent in a game. He can have a great shift and then in the next one look like he belongs in the minors. He also needs to tighten up his defensive game to anticipate what the opposing player is going to do next.
Potential Third Line Player Combinations
There are a few third line options for the Flyers' opening night. The most likely combination has Oskar Lindblom and Wayne Simmonds on the wings. If this happens, Weal has the advantage to be their centre since he played more than a few games with Simmonds last season. Laughton hasn't spent much time playing with either player so he would have to get used to their style of play.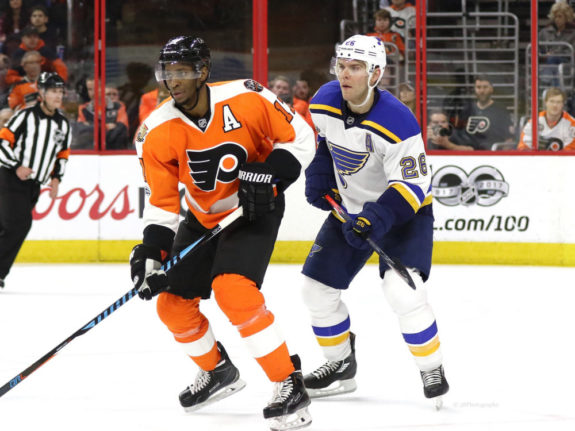 The second but less likely combination would have Weal and Michael Raffl on the wings with Laughton in the middle. This line was used at times last season and could be an option if Lindblom has a slow start or gets injured.
Laughton Will Be the Third Line Center If…
Laughton was a big part of the team last season but to be the third line center, he will have to improve considerably. He needs to show that he can develop chemistry with wingers Lindblom and Simmonds. He will need to take chances in the offensive zone during the preseason. Overall, he will need to break out offensively and produce more consistently winning face-offs and from game to game, more than he has in his career.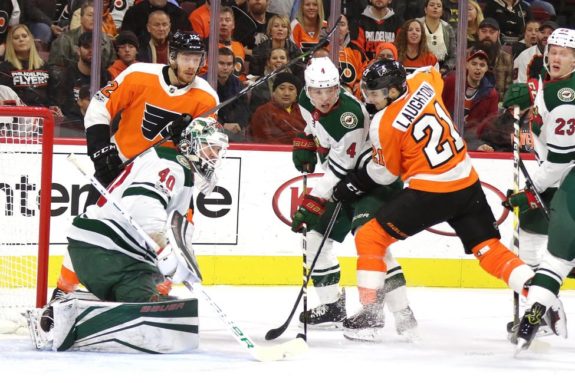 Weal Will Be the Third Line Center If…
Weal should be able to handle the job if he has two defensively responsible wingers like Lindblom and Simmonds. This would free him up to create chances in the offensive zone, knowing that if he makes a mistake someone is there to back him up. He has previously played with Simmonds so that gives him an advantage over Laughton. Weal seems to like to play behind the net and with his good vision, he will be able to set up goals from that spot. He is also fast, giving the line a decent combination of size and much-needed speed.
The Flyers have the preseason to figure out who will be the team's third line center. Once the season starts, I think Weal will be the starting center for that line. He is in a contract year and has something to prove if he wants to stick around past this season.
I graduated from Temple University with a journalism degree. I have always liked watching hockey so one day I decided to write about it too. I discovered that I was pretty good at it and have been writing ever since.
While in college, I wrote for a local website called gcobb.com. After college, I continued writing at The Pink Puck for the next two years.