The Edmonton Oilers have a powerhouse roster heading into the 2023-24 season. With Connor McDavid and Leon Draisaitl likely headed for another one-two finish at the top of the points leaderboard, the race for third place in points on this Oilers' team will be fun to watch. With guys like Zach Hyman, Ryan Nugent-Hopkins, Mattias Ekholm, and Evander Kane all poised to help lead this team to their first Stanley Cup since 1990, and players like Evan Bouchard, Dylan Holloway, and Raphael Lavoie ready to take the league by storm, it will be interesting to see who steps away from the pack and has the biggest impact. 
Last season, the Oilers had three players reach the 100-point mark. McDavid, Draisaitl, and Nugent-Hopkins all did it, and while a good amount of their points did come on the power play, they were electric to watch at even strength and produced just as much as they did on the man advantage. It's never easy to predict how many points someone will get, but based on the last couple of seasons and trends with the team, here are my predictions for the top 5 point-getters on the Oilers this upcoming season. 
Connor McDavid – 165 Points
McDavid is going to be superhuman yet again. Time and time again, he's able to prove that he's the best player in this century and silence everyone who argues that. His campaign last season saw him score 64 goals and add 89 assists for 153 points through 82 games, which of course, led him to be the NHL's point leader. He has the same firepower around him as last season and will be looking to continue adding to his already, hall-of-fame resume.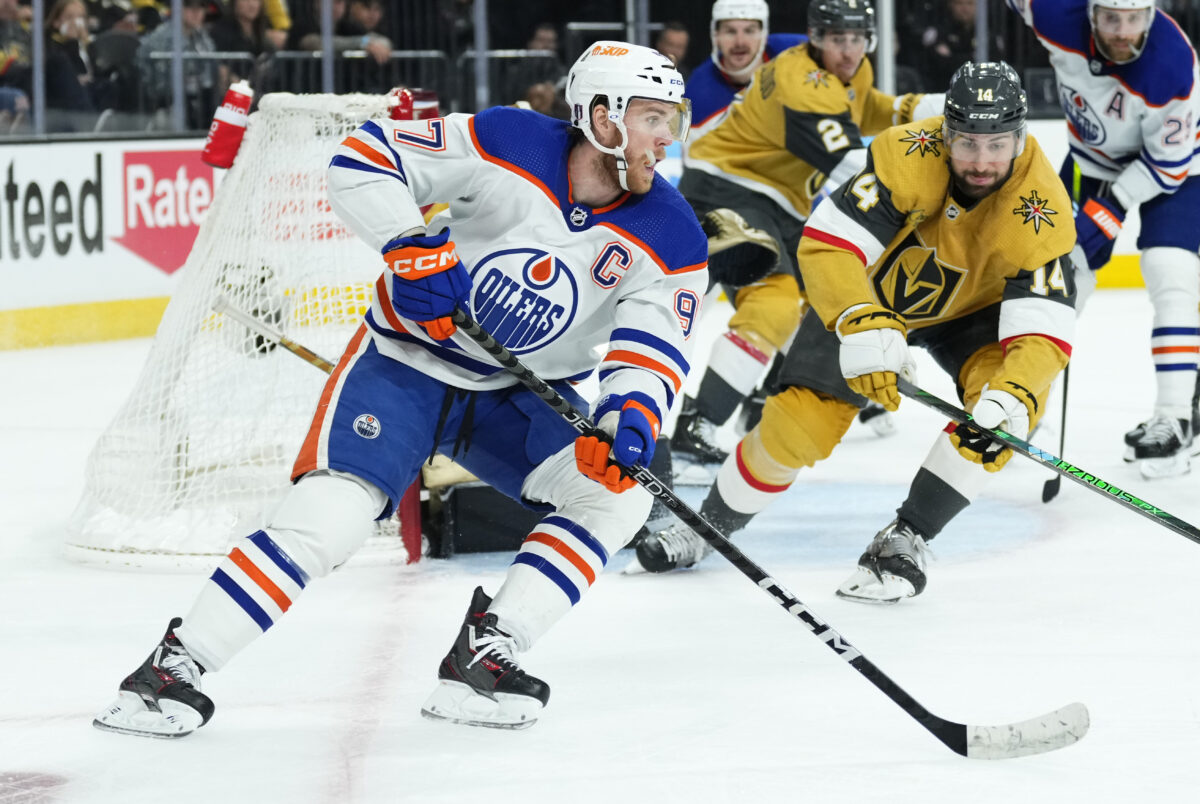 I think McDavid will lead the Oilers in points this season and break the 160-point mark. I think he breaks two points per game and hits 165 points. If I had to break it down and guess the exact total, I would predict 62 goals and 103 assists. He is dominant, so there is almost no way he won't surpass his point totals from last season. 
Leon Draisaitl – 135 Points
Draisaitl was second in team scoring in the 2022-23 season, and there's no doubt in my mind, he'll be second again this season. He's coming off of a career-high 128-point season, but I think he'll be able to break his own record and surpass the 130 mark. He is a natural goal scorer being fed by the best playmaker the NHL has ever seen, he's bound to push for 60 goals this season, which he hasn't achieved yet in his career. 
Related: Oilers: What The Sanderson Extension Means For Evan Bouchard
---
Latest News & Highlights
---
Without a doubt, the two stars in Edmonton will lead the team to victory and will put up a lot of points on the way there. The tricky part is predicting who will come in after them in points. As mentioned, Nugent-Hopkins had a really solid year last season, as did Hyman, so it's a tough choice, and it'll be a fun internal battle for third. 
Zach Hyman – 105 Points
After some deep thought, I think the safest bet would be on Hyman to take another step forward offensively and break the 100-point mark for the first time in his NHL career. He's a veteran on the Oilers at 31 years of age, but he doesn't play like he's slowing down. It was really impressive last season seeing how well Hyman battled compared to some of the younger guys and how consistent he has remained as he gets older.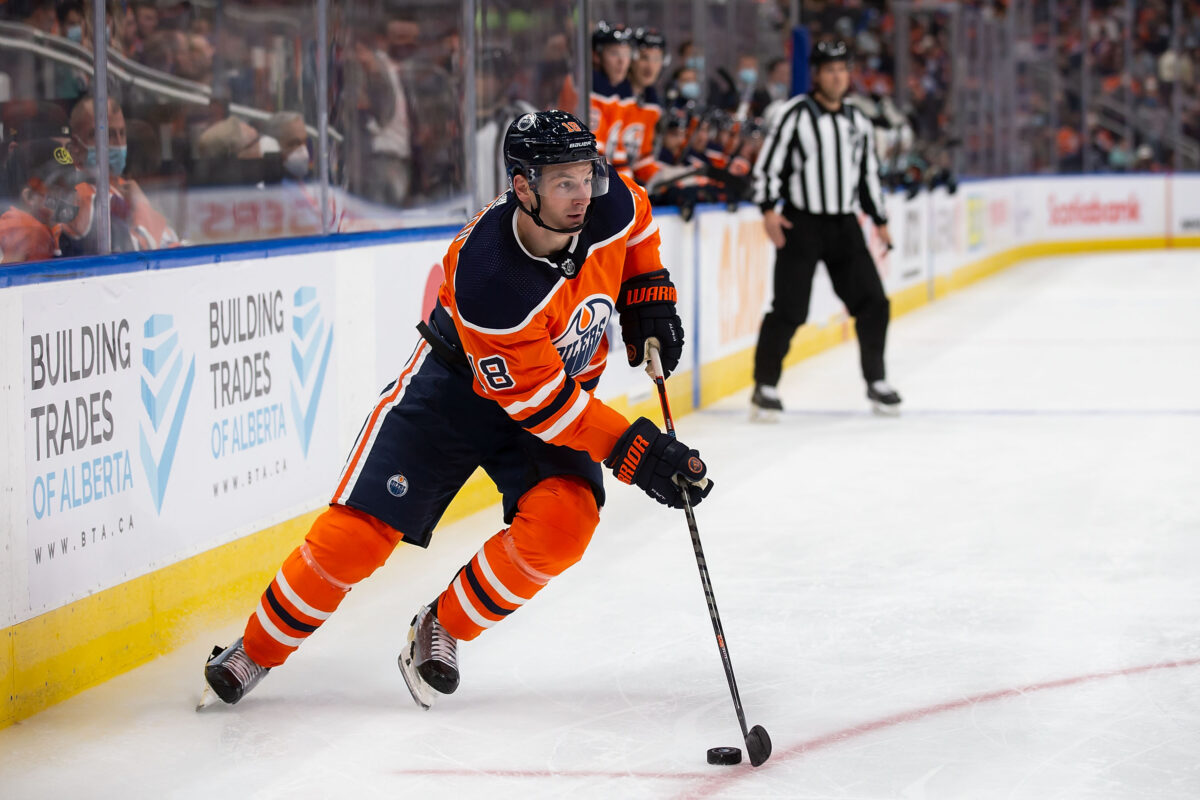 This is nothing against Nugent-Hopkins, who I also expect to have a massive season. It's just really tough to have back-to-back 100-point seasons, even though McDavid and Draisaitl make it look super easy, so Hyman taking some of the stress off of Nugent-Hopkins that he will have heading into the season will put him in that third spot, I believe. 
Ryan Nugent-Hopkins – 90 Points
Nugent-Hopkins exploded offensively last season, putting up 37 goals and adding 67 assists for 104 points through 82 games, marking the first time he's ever surpassed 100 points in a single season. Prior to last season, the highest point total he had came in the 2018-19 season when he had 69. While he has always remained fairly consistent offensively, nobody expected him to break out like that, and he proved everyone wrong.
With that being said, it will be tough to follow that insane performance up, but I think he'll do quite well for himself again. Going into a new season knowing what he has to follow up will add some stress, which is the main reason why I have Hyman finishing above him. But, I don't think he will take a huge step back, and I think 90 points seems accurate for him this upcoming season.  
Evan Bouchard – 65 Points
The gap between fourth and fifth in points for the Oilers last season was 40 points. Hyman had 83 and finished fourth, while Darnell Nurse had 43 and finished fifth. I don't see that big of a gap happening this upcoming season, and I'd bet the house on a Bouchard breakout season in 2023-24. I've been hard on him before because of his defensive game seeming lackluster, but he's in a great situation with Ekholm as a shutdown defenseman as his defensive partner, as well as quarterbacking the best power play the NHL has ever seen. 
I think 65 points is a fair bet for Bouchard, who has a shot that always seems to find the back of the net, and is very smart with the puck on his stick. As long as he can keep his defensive game at even strength sound, he has a real chance of being called one of the best defensemen in the NHL this season. 
It's tough to guess something like this, and I may be totally off, or I may be bang on. What is known for sure though, is the Oilers have the offensive power and depth in their lineup to make a huge push for a Stanley Cup. Points aside, this season will be really fun to watch if you're an Oilers fan.
---

---